Max Payne 3 Multiplayer Double XP Weekend Starts with Live Streaming Event this Friday, July 6th, Across All Platforms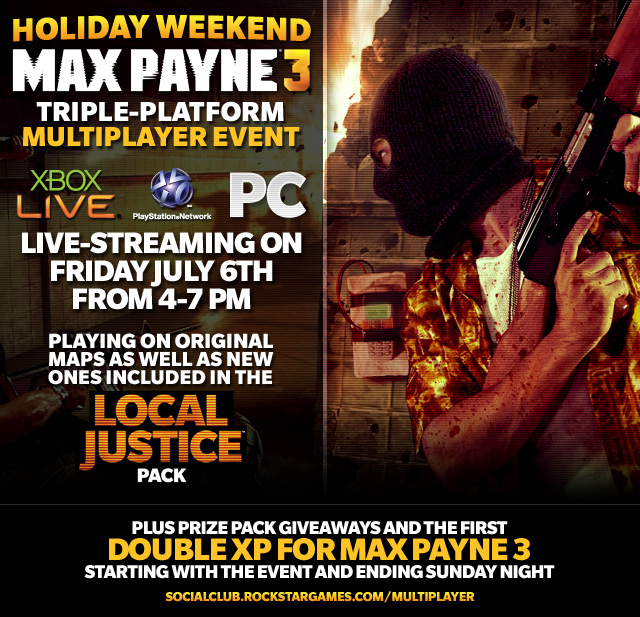 Update: Today's triple-platform Max Payne 3 Social Club Multiplayer Event has ended. Thanks to everyone that joined us - enjoy the Double XP in Max Payne 3 Multiplayer all weekend!
Whether you're working your way towards a new Item for your Loadout or Level 50 Legendary status, play any Max Payne 3 multiplayer mode this coming weekend and you'll get Double XP for your efforts across Xbox LIVE, PlayStation Network and PC, from Friday night thru 'till Sunday night.
That means twice the reward for every kill scored, bag dropped, Vendetta settled and more. Better still, play with fellow members of your Crew at your side and any Crew bonuses will also be doubled – soon you'll be rising through the ranks like Serrano himself.
We're kicking off this Double XP weekend in grand style with a live-streaming official Social Club multiplayer event on Friday July 6th from 4-7pm EST / 9pm-midnight BST, and we'll be playing all modes including those in the Local Justice DLC pack on consoles.
To join us, simply log on to Max Payne 3 multiplayer on your platform of choice and select the 'Social Club Multiplayer Event' option from the in-game Playlists menu, and look out for one of our official Rockstar players, marked with a special visible in-game dog tag logo:
MaxPayneDev1 (PC)
MaxPayneDev2 (PSN)
MaxPayneDev3 (Xbox LIVE)
MaxPayneDev4 (Multiplatform)
*MaxPayneDev5 will be playing on PC between 2-4pm EST / 7-9pm BST and that will be streamed live on our Twitch page
Be sure to join us at the Social Club multiplayer events page for the dual live stream, special event leaderboards and Rockstar hosted live chat, as well as our Sweepstakes where you can enter your details at any time during the day to be in with a chance of winning a Deluxe Prize Pack, including a Max Payne statue, a Hawaiian Shirt just like the one Max wears in the game, a bullet keychain and assorted stickers. Additionally, ten runners-up will receive a t-shirt, keychain and stickers.
Also make sure you're following us on our Facebook, Twitter, Google+ and Steam (for PC) pages to get word of additional impromptu multiplayer sessions all summer long and beyond...