Details & Screens: The M4 Assault Rifle, New Achievements/Trophies and More from the Max Payne 3 Local Justice Pack DLC

360-degree render of the new M4 Assault Rifle, part of the Max Payne 3 Local Justice DLC Pack, coming to PSN and Xbox LIVE on July 3rd for the limited-time price of 480 MS Points / $5.99.
Along with the three all-new maps tailored for online action, the Local Justice DLC Pack also features high-powered new weaponry, a battle-ready faction of characters, 5 new Achievements/Trophies and more to add-on to the Max Payne 3 Multiplayer experience. Today, we've got updated details and some new screens of them in action.
NEW WEAPON: THE M4 ASSAULT RIFLE (WITH ATTACHMENTS)
Used by military combat units around the world, the M4 Assault Rifle (as seen in the above 360-degree render view) is designed for lightweight mobility, speed of target acquisition, and delivering heavy and reliable firepower. More accurate than Shotguns, SMGs, and many other weapons in the Assault Rifle class, the M4 has the capacity to shoot for distance and is versatile enough to handle close-quarters combat effectively.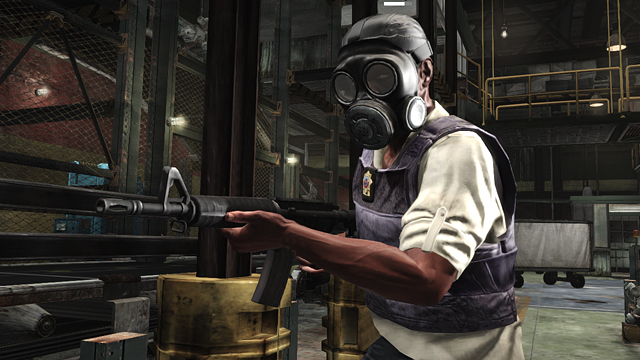 A member of the São Paulo Police faction wields the M4 Assault Rifle.
NEW FACTION: SÃO PAULO POLICE (SPP)
The Local Justice Pack adds a seventh faction to Max Payne 3's multiplayer killing fields, the São Paulo Police. The SPP comes with their own unique head and body armor Loadout options along with several male and female
customization options
.
NEW LOADOUT ITEM: LIGHT FINGERS
The Light Fingers Item cuts down how long it takes to loot corpses in Multiplayer, speeding up how fast you can pour salt in those wounds.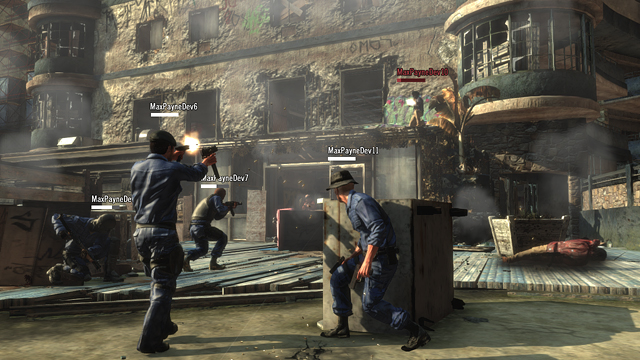 A well-placed grenade here could earn you the Express Checkout Achievement/Trophy.
NEW ACHIEVEMENTS & TROPHIES
We've also added 5 new unique multiplayer in-game challenges and accomplishments to add to your Xbox LIVE Gamerscore or PlayStation Network Trophy collection that are directly tied to the content in the Local Justice Pack:
Air Ace
Get 2 kills in a single Shootdodge in the Departure Lounge
Express Checkout
Kill 4 players within 3 seconds in the Imperial Palace
Keep Your Nose Clean
Get 100 kills as a member of the SPP
Long Arm of the Law
Win 20 Vendettas in the 55th Battalion HQ
M4 Murder
Level up your M4 all the way to level 10
The
Local Justice DLC Pack
will be available for Max Payne 3 on Tuesday July 3rd for the special launch week promotional price of 480 Microsoft Points (Xbox LIVE) or $5.99 on PlayStation Network. It will also be available for PC on July 17th. For more info and screens on the pack and all other Max Payne 3 DLC, visit the official page at
www.rockstargames.com/maxpayne3/dlc
.
Previously: