The Crew Cut - Leaderboard Stars & Rockstar References
It's now been just over a month since the dawn of the Crew age on Social Club. This week's Crew Cut checks in on the top of the leaderboards to see which private Crews have maintained the frantic pace of the opening exchanges. Sustained effort and savvy recruitment from LXG Crew, Dangerous Liaisons and Pick Your Poison has helped them hold on to their positions as best private Crew on their respective platform leaderboards. Their places are by no means assured however: the blood thirsty hordes chase them every day, motivated by glory and often times revenge. In particular, Pick Your Poison should be keeping a close eye on the Underground Thugs, who are making a bid to upset the status quo on the PSN leaderboards. They leapt from 20th place to 17th over the weekend and with an impressive 85% Feud win percentage show no signs of slowing down.
At the top of the Deathmatch leaderboards, American Most Wanted currently take the title of best lone gunmen among the private Crews on Xbox 360. On PSN, their standing is matched by the Royal Legends, one of only two Crews we've found with their own website. Elsewhere, Army Of Two's 32nd place position amongst PC Crews for Payne Killer may initially seem modest, but their Crew name is no lie - their two members pack some serious punch. Longtime Crew Cut favorites T Bagging Yo Moms and much more recent discovery SoldiersSpainKillers have both picked out Gang Wars on PSN as their specialist subject. The rivalry between these two is well established: SSK currently edge out T Bagging 15 to 13 on Feuds - total kills are currently at an incredibly close 238 to 225 - we're eager to see if either can gain a significant upper hand.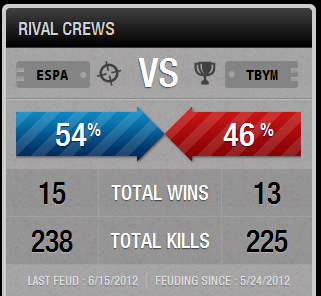 Specialist Crews are also out in force away from the multiplayer battlefields: Los Pollos Hermanos are proving to be no chickens when it comes to the New York Minute SP Game Mode; they currently dominate well over half of the Xbox NYM leaderboards. Meanwhile, Hearts and Spades "shineth into the Dark" on the PSN NYM leaderboards. They're facing some significant competition from a well-known duo around these parts: Niko and Roman (aka slave_oonnee and woitexxx12) clearly fare well under a time pressue, whether in Liberty City, Hoboken or São Paulo.
ROCKSTAR REFERENCES

Niko and Roman are far from being the only Crew to take inspiration from the Rockstar catalogue. Among the others are CousinLetsGoBowling - a Crew dedicated to one of the Bellic boys' favorite leisure activities in GTAIV - and a posse calling themselves the Bigfoot Hunting Club who are on the lookout for the elusive creature known as Sasquatch. Atxa02 has created a fantastic portrait of the Harwood Butcher himself, Vice City's Tommy Vercetti (complete with trademark threads) for The Vercettis. Still no sign of any Feuds with the Forelli Crime Family but we imagine that's only a matter of time...
Dedicated to the highest peak found in Grand Theft Auto: San Andreas, the well organised Chiliad Jumpers has its own Facebook page as well as prizes for members who hit XP milestones. They even have a specific schedule when they play, which is great for team practice and useful information if you're a rival Crew with some unfinished business. It's great to see that long running fansite WarriorsGang.com have set up The Warriors Gang to rep themselves in Max Payne 3. Although the Baseball Furies, Lizzies, Rogues, Hurricanes, and the Riffs and are all begging them to "Come Out To Play".
EMBLEMS OF THE WEEK

Last week's Crew Cut featured a fantastic GTA-inspired Parisian revolution emblem from YourTaxesAtWork and this week he's gone one better with an impressive homage to the late Tupac Shakur that's good enough for both of his Crews (Shine Thugz and Texas Finest) to sport it. Alongside it, we feature a creation from the whimsical land of My Little Pony by Time_Victim, who has filled the gallery of his Crew Mercs Inc with a range of colorful cartoon animals.
Previous Crew Cut Editions: