Friday's Live-Streaming Max Payne 3 Multiplayer Event on PSN (5-8pm Eastern) with Rockstar and Special Guest Crew: HEALTH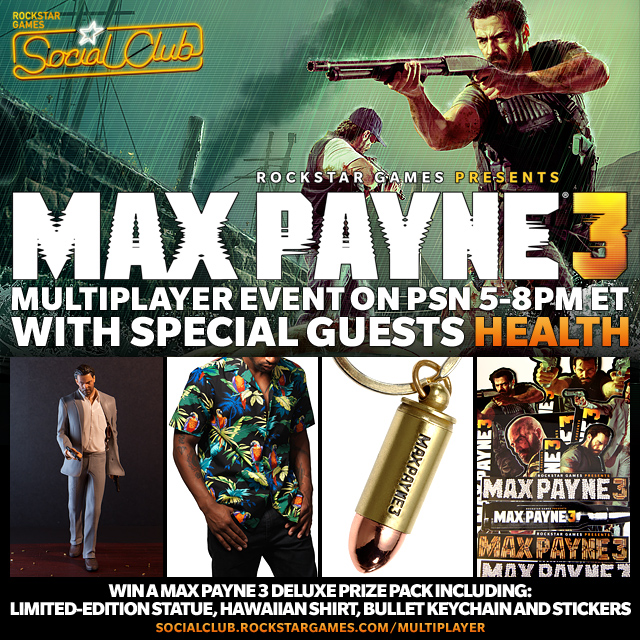 Update: The playlist and event have ended. Thanks to everyone that joined in, whether you were chatting, watching the live streams, playing or just stopping by to enter the sweepstakes...
In this week's scheduled live-streaming official Social Club multiplayer event, HEALTH, the band behind the original Soundtrack and score of Max Payne 3 including "TEARS", are primed to join you and the Rockstar devs for some online Bullet Time® and Shootdodge™ galore in Max Payne 3 Multiplayer June 22nd on PlayStation 3 from 5-8pm Eastern. Preceding the event will be a live video stream with our own MaxPayneDev5 on our Twitch page from 3-5pm, so feel free to join us there before HEALTH goes online at 5. When that happens, two MaxPayneDevs will be featured in the dual video stream on the Social Club multiplayer events page along with a chat and special leaderboards, so expect a full evening of action.
And during the day you can enter for your chance to win a Deluxe Prize Pack including a Max Payne statue, a brand new Hawaiian Shirt just like the one Max wears in the game, a bullet keychain and assorted stickers. Additionally, ten runners-up will receive a t-shirt and stickers. Fill in your details on this page under the 'Sweepstakes Entry' tab on June 22nd.
PSN IDs
Look for HEALTH's Crew in-game as the event rolls along:
DEATH_MINUS

(John Famiglietti)

tsutsu187

(Jupiter Keyes)
We may be announcing more band-member PSN IDs by event time so check back soon.

Keep an eye out for our official Rockstar players, marked with a special visible in-game dog tag logo:
MaxPayneDev1
MaxPayneDev2
MaxPayneDev3
MaxPayneDev4
If you can't join us for this one, don't worry as we will be going online several times this summer at times that we won't be announcing ahead of time. Sometimes we just like to jump on and play our games with the public, and when we do we always post a message on our Facebook, Twitter, Google+ and Steam (for PC) pages...