Max Payne 3 Gear Update at the Rockstar Warehouse: The Magazine Flask, Tactical Duffel & More

The Rockstar Warehouse has just been updated with an all-new range of custom gear in our Max Payne 3 Collection. Today's line-up features a custom built, premium-grade stainless steel Magazine Flask that holds 7oz. of your favorite chug as well as the high-end heavy duty Tactical Duffel - and more.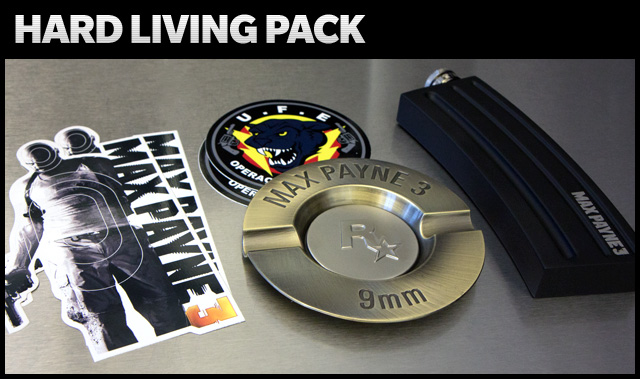 Max Payne 3 Magazine Flask: Modeled from an AR-15 magazine, this 7 oz, premium-grade stainless steel, spill-proof flask has a diamond plate textured screw-down cap featuring the Rockstar logo. The black matte painted exterior has the Max Payne 3 logo etched in silver coloring.
Max Payne 3 Shell Casing Ashtray: Modeled to look like it was forged from spent 9mm shells, this sleek yet substantial solid brass ashtray features Max Payne 3, Rockstar, and 9mm all machine pressed into its sturdy fittings.
Two sets of high-quality vinyl Max Payne 3 Target and U.F.E Stickers.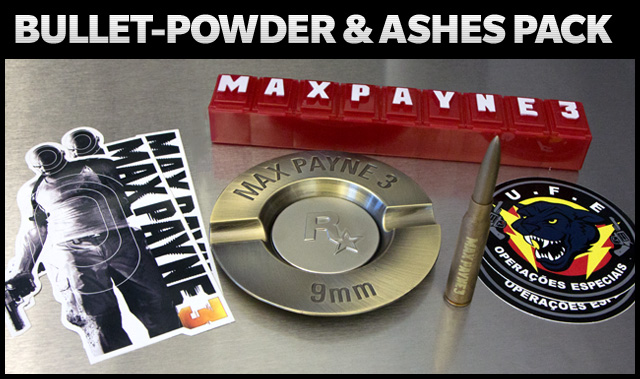 Max Payne 3 Bullet Pen: Modeled after a .50 caliber rifle round, whip this brass Bullet Pen out at your next meeting for some badass note-taking.
Max Payne 3 Painkiller Pill Box: Not your Grandmother's pill box. Bold red with white lettering, this sturdy plastic pill box has 9 lockable compartments big enough to carry Max's daily dose of painkillers.
Two sets of high-quality vinyl Max Payne 3 Target and U.F.E Stickers.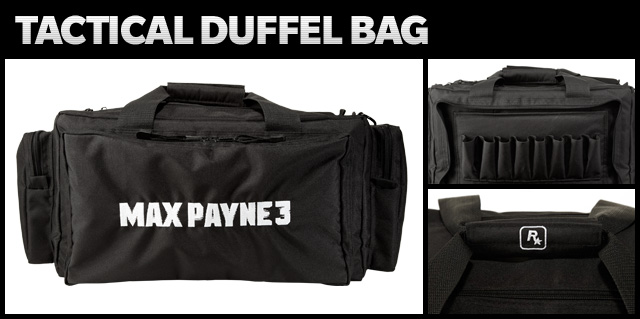 The
Tactical Duffel Bag
is a jet black carrier that features five heavy-duty zippered accessory pockets for all your gear. With the white embroidered Max Payne 3 logo on the front ammo pouch, and the Rockstar logo on the reinforced handles, this bag will show everyone that you mean business.
Additional features include:
• Secure storage compartments originally designed for laser sights, flashlights, supplies, and other attachments
• Large, heavy-duty, U-Shaped dual zipper lid for easy access
• Compartmentalized storage
• Reinforced nylon handles for all-terrain, and all-weather, mobilization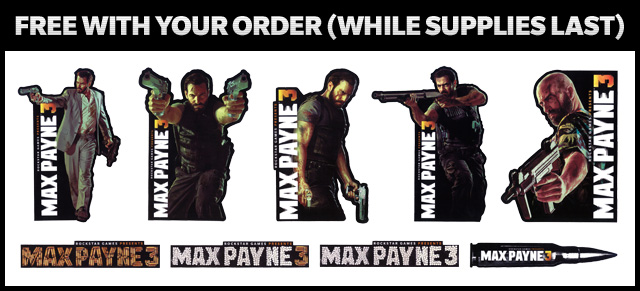 Order any Packs or the Tactical Duffel from the Max Payne 3 Collection at the Rockstar Warehouse (or a copy of Max Payne 3 on Xbox 360, PlayStation 3, or PC) and we'll additionally include this collectors' set of high-quality vinyl stickers for free (while supplies last).