Rockstar Game Tips: Max Payne 3 Pro Loadouts Part Three – Payne Killer
For the latest in our series of choice strategic Loadouts suggested by members of the Max Payne 3 Multiplayer development team, we turn our attention to Payne Killer (with a special shout to Social Club member CrazyNiko187 who requested some Payne Killer Loadout suggestions back when we did our Deathmatch set). Designed as the multiplayer evolution of Max Payne 2's "Dead Man Walking" mode, Payne Killer puts a team of two players in the shoes of Max and Passos, with everyone else gunning to take them down.
When playing as the opposing force, your primary objective is killing Max or Passos in order to become them. Easier said than done though, as they're given a full complement of painkillers, adrenaline and high-powered ammo. Therefore, the key in building your Loadout is creating a combination that allows you to get in close, and provides you with the firepower to stand up to them once you do.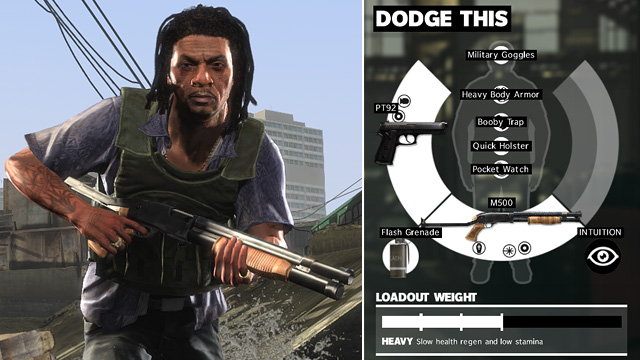 "DODGE THIS"
This Loadout has a strong emphasis on dealing damage while also absorbing it, for those players looking to go toe-to-toe with Max and Passos. The M500 shotgun will ensure your attacks leave their mark, while the crafty Item strategy will nudge the balance of power over to your side.
Two Handed Weapon Slot: M500 (with Barrel Upgrade, Laser Sight and Gas Systems Kit)
Single Handed Weapon Slot: The PT92 (with Extended Mag and Gas Systems Kit) deals damage while you work your way into shotgun range.
Projectile: The Flash Grenade prevents Max and Passos from locking on as you approach
Burst Slot: Intuition will tell you where Max and Passos are if they go into hiding
Item Head Slot: Military Goggles will protect your eyes when Flash Grenades are popping all around you
Item Chest Slot: Heavy Body Armor offers protection while you unleash your shotgun
Item Gear Slot: Booby Trap will score you some points whenever Max or Passos try to loot your fallen body
Item Gear Slot: Quick Holster gives you faster reloads when you're in a tight spot
Item Gear Slot: Pocket Watch takes the sting out of their Bullet Time and turns it into your friend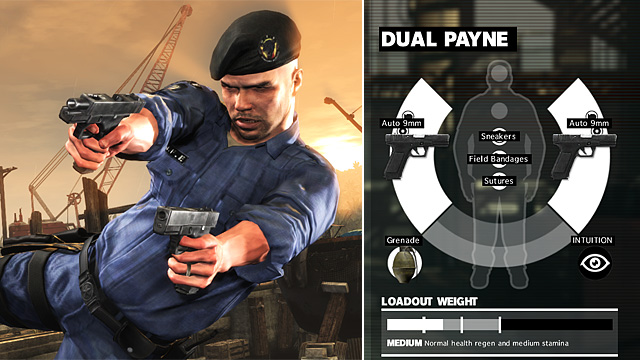 "DUAL PAYNE"
Dispatching Max and Passos quickly and quietly is the thinking behind this custom Loadout. By keeping the weight down and selecting items designed for stealth and quick recovery, you can ambush your targets when they least expect it, and before the other players have a chance to pull the trigger.
Single Handed Weapon Slots: Dual-wield Auto 9mm (with Extended Mag and Gas Systems Kit) to get the lead flying
Projectile: Use a Grenade to knock your targets down as you approach
Burst Slot: Intuition will tell you where Max and Passos are if they go into hiding
Item Gear Slot: Sneakers will mask your footsteps so you can spring your attacks
Item Gear Slot: Field Bandages will start the healing process more quickly if they do land a shot on you
Item Gear Slot: Sutures will also get you back to full health more quickly
Give these Loadouts a try and let us know in the comments if they make a difference - or if you think you've found even stronger combinations. Also give us a shout to request anything else specific from Max Payne 3's multiplayer or single-player experience that you'd love some tips on and we'll look to oblige in a future edition.
Previous Rockstar Game Tips:
Max Payne 3 Pro Loadouts Part One - Gang Wars
Max Payne 3 Pro Loadouts Part Two - Deathmatch Variants
Tailoring Your Controls in Max Payne 3