Because It's Friday: Max Payne - The Mixtape by DJ Whoo Kid (2002)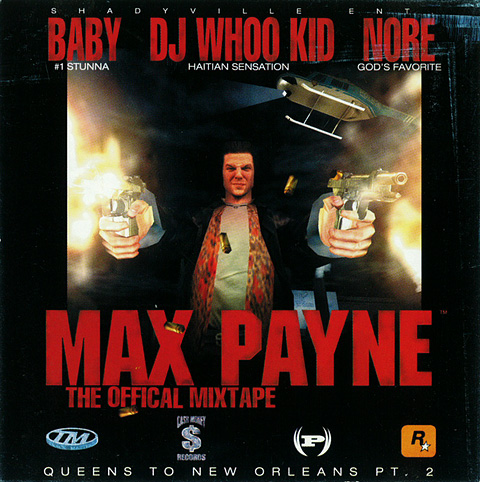 With the original Max Payne now available on both iOS and Android devices, here's a nostalgic look and listen at a direct by-product of that first game's release from over a decade ago.

In 2002, the trend of the hip-hop street mixtape was in full swing - inexpensively mass produced and released on CDs (no longer commonly available on cassettes and not yet made obselete by the Internet). DJs like Clue (heard on the radio in Liberty City Stories), Kay Slay, and Queens-based DJ Whoo Kid ruled the scene with releases chock full of rap exclusives and original freestyles. To up the showmanship and excitement around each of these CDs, DJs would often enlist high-profile hosts and theme up the mixtape with a homage or parody of popular sporting events or hit movies of the time like Final Destination, Unbreakable and more.

Owing to his own videogame obsessions and to his friendship with Grand Theft Auto III's DJ Stretch Armstrong, Whoo Kid was the first DJ to theme up popular rap mixtapes around our games - starting with Grand Theft Auto: The Mixtape (hosted by Capone of CNN) in early 2002 - and followed up shortly thereafter with this blockbuster Max Payne mixtape hosted by both N.O.R.E. and Baby aka Birdman of Cash Money and filled with then-heavily-anticipated remixes, freestyles and dis records.

Today, you can hear a crisp digital rip of this decade-old gunshots, Max Payne samples, and BulletTime sfx-laden mix at mixtape site DatPiff.com - a nice, nostalgic treat for both hardcore Max fans and fans of early aughts street rap.

A few highlights to check out in there:
Tracks 2, 18, 26 - Original samples from Max Payne 1 ripped by Whoo Kid from his PS2 copy of the game.
Track 7 - Lil Wayne's "Max Payne" - made custom for Whoo Kid specifically for this mixtape, a pre-YMCMB Wayne freestyles over Nas' "Ether" instrumental with lines like "They call me Bad Wayne / And I'm like Max Payne / The sickest shit to hit since anthrax came ... I come through and do my Grand Theft thing / my cran-ap, tan cap, slant back thing...".
Tracks 8, 15 - Some seminal G-Unit street cuts, hitting as part of 50 Cent's mixtape world domination before he would explode later that year as the hottest new rapper out (50 would host Whoo Kid's Max Payne 2 mixtape later that year, pre-dating the game's sequel itself).
Tracks 9, 16, 29 - The Lox aka D-Block have been mixtape staples since the heyday, and Whoo Kid made sure this mixtape had them present in full force. Keen GTA soundtrack fans may remember some vintage late 90s Lox mixtape freestyles licensed for an appearance on DJ Clue's Liberty City Stories radio station mix. Some of the most serious gamers and down to earth guys in the rap biz, we're still good friends with The Lox to this day and they've made cameos and soundtrack appearances in many of our games from The Warriors to GTAIV.
Track 27 - Big Noyd's "Maximum Payne" - the Mobb Deep affiliate rapper is responsible for a few street classics himself, and here blessed Whoo Kid with a little custom freestyle all about gunplay and bullet-time.
http://www.datpiff.com/DJ-Whoo-Kid-Max-Payne-The-Official-Mixtape.300322.html