Live-Streaming Max Payne 3 Multiplayer Event on Xbox LIVE this Thursday, June 14th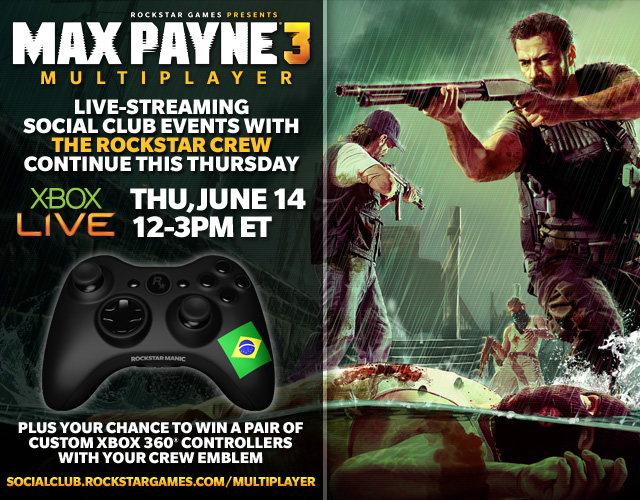 Update: The event has ended. Thanks to everyone that joined us in the event, whether you were playing, chatting, watching or just stopping by to enter the sweepstakes...
Since the launch of Max Payne 3, our hand-picked squad of the most skilled players across our worldwide development studios have been trading bullets with the community as part of our Social Club Multiplayer Events Series.
On Thursday, June 14th from 12-3PM EST / 5-8pm BST, we're jumping on to Xbox LIVE for another bloody session full of Gang Wars, Payne Killer and Team Deathmatch, and we hope to see you there as well representing your Crew. Our dev players have been sharing some of their Loadout tips over the past week, so we expect to see real variety and imagination with the weapons, Bursts and Items you choose to bring to the fray.
In order to take part, just select 'Social Club Multiplayer Event' from the in-game Playlists menu and look out for the Gamertags listed below. You'll also be able to watch the live double-stream of the entire event right here and, for the first time, we'll also be streaming a third player on twitch.tv. You can also talk to us in the Rockstar hosted live chat and enter the Sweepstakes for the chance to win a one-of-a-kind, hand painted Xbox 360 controller bearing your Gamertag and Crew emblem.
GAMERTAGS
Official Rockstar players are marked with a special visible in-game dog tag logo:
MaxPayneDev1
MaxPayneDev2
MaxPayneDev3
MaxPayneDev4
Also make sure you're following us on our Facebook, Twitter, Google+ and Steam (for PC) pages to get word of additional impromptu multiplayer sessions all summer long and beyond...