The Crew Cut: PC Crews
PC players have taken quickly to the fast-paced gunplay of Max Payne 3 multiplayer and the Social Club Crew
leaderboards
have been ablaze with activity since the moment of release. One Crew that wasted no time in making their mark is
Dangerous Liaisons
– more than a hundred strong, they burst into the top four on Day One and are still clinging to top ten status at the time of writing. However, with margins tight in these early days of online warfare, they'll need to keep plugging away if they want to hang on to that berth. Their closest threats include all-Russian Crew
Army of Red Fuel Can
, cross-platform contenders
The Vidya
;
Steam Powered
, who have been doing a good job of bullying the four members of
Francis Inc
; and a Crew from the forums of
Facepunch
, who have been keen to
let us know
via Twitter
just how well they're doing.


BEST OF THE REST
The Red Army has gathered outside the gates of the Top 10 PC Crews, as our Russian community seems to have hit upon on their perfect platform. Sc2tv-ru, SteamVK, Russian Bears Team and IgroManiaVK have all amassed their ranks from Mother Russia – their common tongue allowing for enhanced strategy, teamwork and tactics over the headsets. Valkyr Abuse round out the fan-made Crews who have made the Platinum PC leaderboard, but unless they quickly improve on a less-than-stellar 14% win rate during Feuds their position in 22nd is surely under threat.
SOLID GOLD
Congrats to the Heroic Soldiers, who caught our eye with their standings on the Gold PC Leaderboards this past week. Having officially graduated to the Platinum ranks now, they'll have some serious competition looking to replace the "Honor In Their Hearts" with hot lead. On their way to 7th place, Kamikaze Death Squad's 8 members have built up a fantastic Feud win pct of 80%. This includes a vital Feud win over Gold Top 30 competitors No Shirts Crew, who have been displaying the Union Jack (as well as their bare chests) proudly since last weekend.
ATTENDANTS TO DETAIL
Over on the
Emblem Editor
side of things, we've been admiring the fantastic detail that
Knickyx
put into the emblem of
Pizza This Delivery
.
atrockhouse
has also shown an almost pathological attention to detail, designing the emblems of
Avenged Sevenfold
. We've enlarged them here so you can fully appreciate the time and effort that has gone in:
Finally, a mention for the
Lords And Ladies
in The Crew Cut is long overdue. Not only do they place very respectably on the Xbox 360
Leaderboards
but have also filled their gallery with a fantastic array of aristocratic animals and psychedelic shapes. They've clearly realized that if you're going to leave your emblem on a lot of dead bodies, might as well make them as awesome as possible.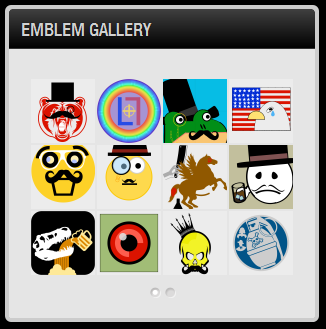 The emblem gallery of the Lords and Ladies
Previously: