Rockstar Game Tips: Max Payne 3 Pro Loadouts Part Two - Deathmatch Variants
Earlier this week, we spotlighted a few custom Loadout variations favored by members of the Max Payne 3 Multiplayer development team - Loadout combinations specifically well-suited for Max Payne 3's dynamic and story-driven Gang Wars Multiplayer mode. As promised, today's Part Two brings you a couple more custom Loadouts that our internal experts have found effective for upping your K/D ratio in Deathmatch and Team Deathmatch.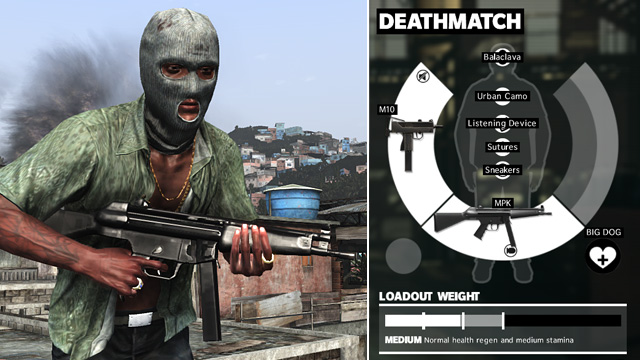 DEATHMATCH
When it's every player for themselves, you'll want to isolate and hunt your enemies, while also taking precautions to hide your movements and avoid being hunted down yourself. Our Deathmatch Loadout is focused on taking out individual enemies quickly and quietly, while also having supplies on standby in case things don't play out the way you want them to.
Single Handed Slot: M10 (with Silencer)
Two Handed Weapon Slot: MPK (with Laser sight/extended mag)
Burst Slot: Big Dog
Item Head Slot: Balaclava
Item Chest Slot: Urban Camo will make your Gamertag/PSN ID invisible when peeking out from cover
Item Gear Slot: Sneakers will hide your footsteps, so you can sneak up from behind for the kill
Item Gear Slot: Sutures to speed up recovery
Item Gear Slot: Listening Device so that you can always know when someone is behind you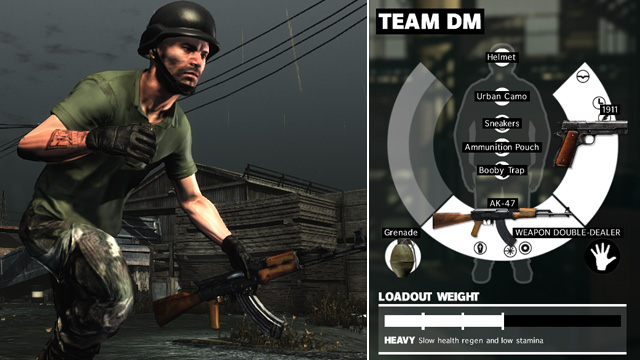 TEAM DEATHMATCH
For Team Deathmatch, you should be looking for a good all-round Loadout, adaptable to many situations but erring on the side of serious firepower with multiple attachments to help ensure that your kill count keeps on rising.
Single Handed Weapon Slot: 1911 (with compensator/mag guide/gas block)
Two Handed Weapon Slot: AK-47 (with barrel upgrade/laser sight/gas systems kit)
Projectile Slot: Grenade to help with enemies in cover and chalk up multikills
Burst Slot: Weapon Double Dealer
Item Chest Slot: Urban Camo
Item Gear Slot: Sneakers
Item Gear Slot: Ammunition pouch
Item Gear Slot: Booby Trap
Give these Loadouts a try and let us know in the comments if they make a difference - or if you think you've found even stronger combinations. Also give us a shout to request anything else specific from Max Payne 3's multiplayer or single-player experience that you'd love some tips on and we may oblige in a future edition.
Previous Rockstar Game Tips:
Max Payne 3 Pro Loadouts Part One - Gang Wars
Tailoring Your Controls in Max Payne 3