Max Payne's Signature Hawaiian Shirt is Now Available at the Rockstar Warehouse
As we intimated in an earlier post this past weekend, you can now outfit yourself with a key piece of Max's ensemble from his decent into the dangerous São Paulo favelas in Max Payne 3.
Max Payne's signature Hawaiian shirt,
now available from the Rockstar Warehouse
in both Men's and Women's sizes, features a Rockstar logo embroidered on the left chest along with a Rockstar label on bottom hem and Coconut buttons. Produced by
RJC Hawaiian Clothing
on the island of Oahu, this 100% cotton, high-quality Rockstar branded
Aloha shirt
will effectively compliment your summer wardrobe.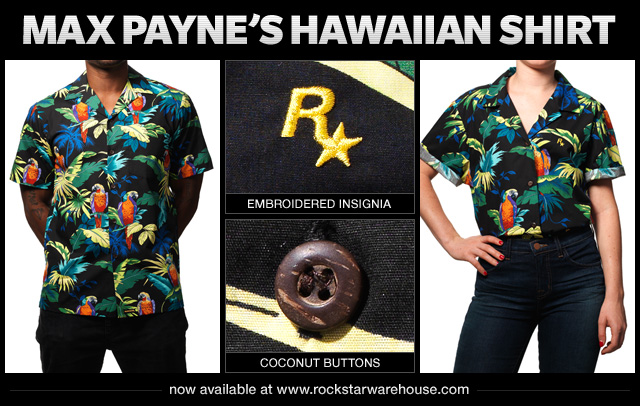 Max Payne's Hawaiian Shirt Features:
Authentic RJC Hawaiian clothing
Left chest Rockstar embroidered logo
Woven Rockstar label on bottom hem
Made of 100% Cotton
Coconut buttons
Pattern matching pocket - Men's shirt only
Also keep an eye out for more items in the Max Payne 3 Collection, coming to the Rockstar Warehouse later this summer.
Previously:
Coming to the Warehouse Next Week
Now Available at the Rockstar Warehouse: New Max Payne 3 Tees and Official Poster