Rockstar Game Tips: Max Payne 3 Pro Loadouts Part One - Gang Wars
Since the arrival of Max Payne 3 on PlayStation 3, Xbox 360 and now for PC - and throughout our daily online Multiplayer sessions where our devs from across Rockstar Studios have been facing off and teaming up with many of you worldwide - we've been asked for pro tip advice on what may be the best and most strategic Loadout combinations. The truth of the matter is that there is no one perfect Loadout as it really depends on your personal playing style to tailor which special ability Bursts, which additional strategic Items and which guns work best for you - and depending on the Loadouts chosen by your adversaries that you're about to face. That said, we're happy to share a couple of the personal Loadout combos favored by some of the members of the Max Payne 3 Multiplayer development team when they play.
Today's Part One in this Game Tips series highlights a pair of situation-specific Loadout options culled from the deep library of Weapons, Bursts and Items found in Max Payne 3 Multiplayer that are particularly well suited for use in Gang Wars mode (look for some more dev-favorite Loadouts for Deathmatch variants later this week).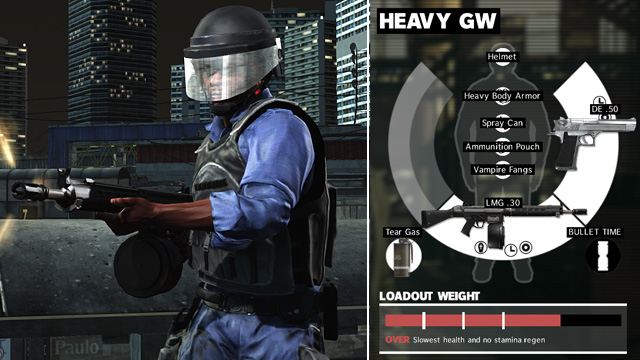 GANG WARS (HEAVY)
Gang Wars dynamically generates objectives to provide a varied, narrative driven multiplayer experience. Due to the unpredictable nature of the gameplay, we've prepared two Loadout options – classified here as 'Heavy' and 'Light' – that you can easily switch between depending on what the situation calls for. The 'Heavy' variant, featured in the screen above, is especially effective when trying to defend a patch of turf or territory against aggressive opposition.
Single Handed Weapon Slot: The DE. 50 (with Mag guide/Gas systems kit) – strikes a good balance between long and short range stopping power
Two Handed Weapon Slot: LMG. 30 (with Barrel upgrade/Mag guide/gas systems kit)
Projectile Slot: Tear Gas is effective for turf and territory based rounds
Burst Slot: Bullet Time® is excellent for taking multiple enemies down when they attempt to capture your turf
Item Head slot: Helmet
Item Chest Slot: Heavy Body Armor
Item Gear Slot: Spray Can is helpful for taking turf more quickly
Item Gear Slot: Ammo Pouch is an effective companion to the LMG
Item Gear Slot: Vampire Fangs will recover your health (providing you keep killing enemies) despite the very heavy Loadout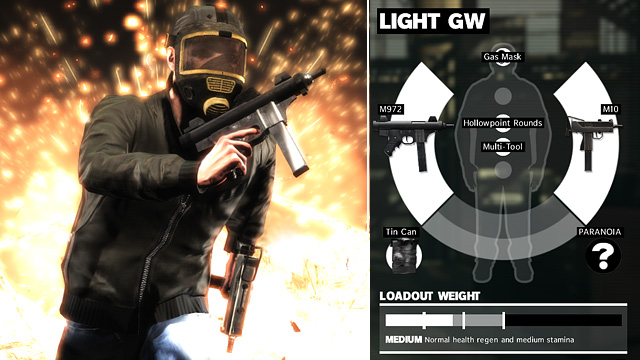 Gang Wars (Light)
The Light variant of our preferred Gang Wars Loadouts is all about keeping weight down and using a combination of handguns and deception to ensure your enemies' last moments are lost in a haze of confusion. This Loadout is particularly effective when attacking turf or territory, as well and planting or defusing bombs.
Single Handed Weapon Slot: The M10 is powerful up close when running into opponent territories
Single Handed Weapon Slot:The M972 works well in dual-wield with the M10 and provides some range
Projectile Slot: The Tin Can can confuse enemies when you're running into territories or turf, and when attempting to plant or diffuse bombs
Burst Slot: Paranoia is useful alongside the Tin Can in confusing enemies
Item Gear Slot: Hollowpoint Rounds keep enemies away for longer
Item Gear Slot: Multitool will help you plant and diffuse bombs quickly
Please note that some Weapons, Bursts and Items do require you to reach a certain multiplayer level before they're unlocked. Check out the in-game Loadouts menu for further details.
Give them a go and let us know if these set-ups work for you, or if you've got other sureshot Loadout combos you don't mind referring to other players. Are there any set-ups that you save for specific situations, or perhaps you have a more versatile go-to setup? Share 'em in the comments below...