Rockstar Games Presents: The 39th Annual Harlem Skyscraper Cycling Classic - Sunday, June 17th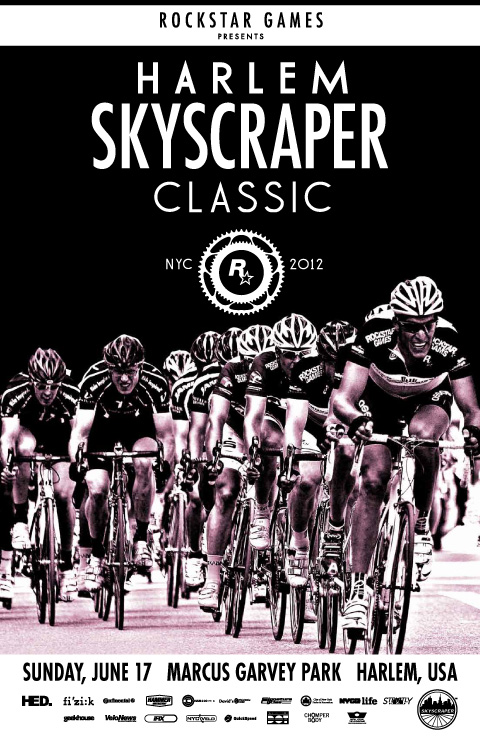 Rockstar Games is pleased to present the 39th annual Harlem Skyscraper Cycling Classic on Father's Day, June 17 at Marcus Garvey Park in New York City (121st Street and Fifth Avenue). The historic community event provides a unique opportunity for cyclists from all levels and age groups to converge on the streets of Harlem in a day-long celebration of cycling filled with competitive, high-speed racing; music, food; and family entertainment.
After continued support and recognition on the professional circuit, the David Walker Memorial Race, the highlight of the festival for all cycling enthusiasts, has been awarded national status and is one of only four races nationwide named to the two national criterium - or short course - racing calendars for 2012. Some of the world's finest professional riders including Tour De France stage winner Léon van Bon of Holland will be taking part in what promises to be an outstanding sporting event. The race will be televised live on NYC Life TV, Channel 25 in New York City, and streamed live online – further details to follow.
"The Skyscraper is a perfect example of a strong USA Cycling National Criterium Calendar event" said Micah Rice, USA Cycling Managing Director of National Events. "As a stop on USA Cycling's National Criterium Calendar, the professional men's race will attract some of world's finest racing talent for an unparalleled display of speed, power and skill on the iconic streets of Harlem."
"I am excited that the USA CRITS Series is coming to New York City as a part of a great American tradition on Father's Day," stated USA CRITS founder Gene Dixon "As the longest running event on the series, there is no better place to define the sport of criterium racing."
Founded in 1973 by David Walker, a Community Affairs Officer with NYPD's 25th Precinct, the Skyscraper was designed to attract children to a cycling safety program through the excitement of professional racing, and to offer amateur riders a chance to race in a beautiful urban setting. Mr. Walker's vision continues with
Bike New York's Learn to Ride
program, which will be available, at no charge, to children from 1:00 to 3:00PM during the amateur races. Additionally, a BMX stunt show will take place, including BMX racing instruction for children.
Registration opens at 11AM on Father's Day followed by a series of children's and amateur races starting the day's festivities at noon. Race winners will be going home with new bicycles - another David Walker tradition honored by the event. The day will conclude with the prestigious David Walker Memorial Race.
11AM - Registration opens for Kids, Amateur, Pro races
12PM - Kid's sprints and lap races begin
1PM - BMX stunt show begins with performances throughout the day and BMX classes for children
1 - 3PM - Bike New York's Learn to Ride program
1PM - Amateur races featuring various men's and women's categories and events
3:55PM - Call to line for pro racers
4PM - Skyscraper NCC and USA Crits event - David Walker Memorial Race
The Skyscraper is, above all, a community cycling festival, with fixed gear races, children's events, great food and music, and some of the most spectacular, professional racing to be seen anywhere. We're extremely proud to be sponsoring the event for the fourth year in a row and members of the Rockstar Games team will be on-hand with Rockstar-branded merchandise to give away near the start and finish lines.