Rockstar Game Tips: Tailoring Your Controls in Max Payne 3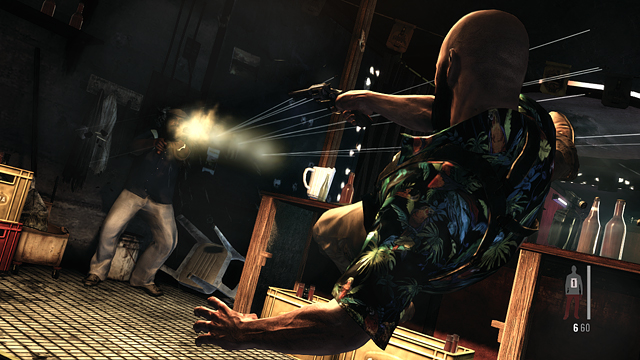 Max Payne 3
was designed to offer players an immense amount of customizable control with four unique controller configurations along with easily adjustable sliders providing unique ways to tune the game to your liking:
CONTROLS

Max Payne 3 provides four contrasting controller configurations for both the PS3 and Xbox 360 version (PC users also have fully mappable controls).

Type 1
The default control layout keeps Shootdodge™ and Bullet Time® accessible without having to take your hands off of the aim or movement sticks.
Type 2
Type 2 configuration puts cover on a shoulder button for those that are used to layouts from previous Rockstar titles like Red Dead Redemption and L.A. Noire.
Type 3
Similar to the default layout but this configuration swaps reload and Bullet Time® buttons for players who want to maintain aiming while reloading.
Type 4
The most notable difference with this configuration is that sprinting is swapped with going into crouch or prone and is now done by clicking down on the left analog stick.
In addition to those four main types of controller configurations, lefties can also select a Southpaw control option which swaps the movement and camera control functions between the left and right sticks. You also have the ability to alter both the horizontal and vertical aiming speed between 10 different settings designed to fine tune the rate at which the camera moves when using the analog stick, and can further customize by adjusting Aim Acceleration, which controls how quickly the camera reaches full rotation speed when moving to the left or right. And of course you have the option to invert both the horizontal and vertical movement controls.
TARGETING

As mentioned in
a previous edition of Max Payne 3 Game Tips
, the single-player game offers 3 unique targeting settings for players of varying skill levels (Hard Lock, Soft Lock and Free Aim). Soft Lock and Free Aim are also selectable for the game's multiplayer modes, with those specific players segregated in multiplayer accordingly. Beyond the core targeting options, there are also a number of additional targeting-related options that you can adjust, including:
Target Tracking
This option, which is set to ON by default, offers a subtle assist when tracking enemies on the move.
Target Slowdown
This assist reduces your aiming speed slightly when the reticle is close to an enemy.
Reticle Settings
* Default: A white dot reticle that changes red when over an enemy.
* Weapon Specific: A reticle that changes based on the weapon Max is carrying
* All White: Similar to Default, but without the transition to red when over a target.
Got a personal favorite custom-tailored control or targeting scheme in the game that you feel works best and want to share it with others? Share it in the Comments area below.
A reminder as well that we are
still collecting community feedback
to help inform dynamic tuning updates as well as Title Updates and more - if you'd like your opinion heard make sure you submit it to
MaxFeedback@rockstargames.com
.
And of course if you are experiencing any technical issues, our Support Team is happy to help at
http://support.rockstargames.com
and
http://twitter.com/rockstarsupport
.
If you've got any preferred control or targeting set-ups, share 'em in the comments section, and be on the lookout for more
Max Payne 3 Gameplay Tips
to come - including a look at a few pro Loadout combinations suggested by our Multiplayer development team.
Previous Max Payne 3 Game Tips