Ready Your Crew for the Summer 2012 Social Club Multiplayer Events Calendar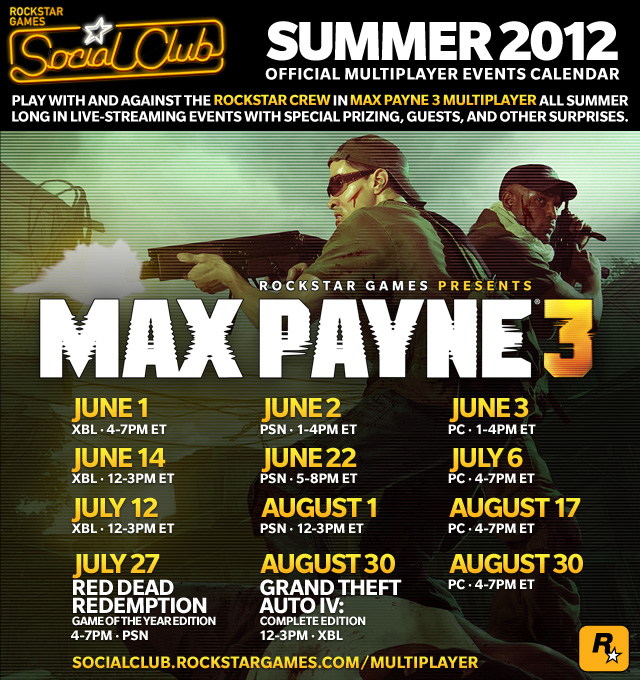 UPDATE: Thanks to everyone that took part in our triple-header weekend of Max Payne 3 Multiplayer action! Keep an eye out for us online all summer long and be sure to join us for the full slate of live-streamed multiplayer events.
Presenting dates for our official summer Social Club Multiplayer Events calendar - three torrid months of intense Crew Feuds, raging Gang Wars and burning up of the Social Club leaderboards in Max Payne 3 Multiplayer - starting this very weekend with a triple-header that includes our first PC event on Sunday. And while we'll be heavy Shootdodging™ and Bullet Timing® throughout the online killing fields of São Paulo and New Jersey in Max Payne 3, we've also got dates reserved this summer for a couple blood-soaked day trips to Chuparosa and Liberty City respectively as well.

We've hand-picked a selection of some of our fiercest players from across all the Rockstar Studios around the globe to play as members of the Rockstar Crew in Max Payne 3 and will be painting bullseyes on their chests in the form of Gamertags and PSN IDs to be announced shortly before each event here at the newswire. All you need to do is meet us online via Max's in-game Social Club playlist during the scheduled times and make sure your Load Out is professional grade for action.
And as debuted in our recent inaugural Max Payne 3 Multiplayer Events - we will have Live Double-Stream Broadcasting, special prize giveaways to get your CREW emblem on custom gear and more, live Rockstar-hosted chat, Event-specific Leaderboards to see who the stars of the day were and other surprises to be announced all over at the Social Club Multiplayer Events page. Incidentally, congratulations are in order for last weekend's controllers winners, Social Club members Giggity62 of the Payne Killers Crew and theSG-17 of the RedDeadNet Crew. In this weekend's June 1-3 events, we'll be giving away another pair of Crew controllers at Friday's Xbox LIVE event and at Saturday's PSN event - and Sunday's PC event, Social Club members can score a grand prize GeForce® GTX 670 AMP! Edition by Zotac graphics card courtesy of NVIDIA. We're also working on some custom Crew mouse designs and Rockstar mousepads for future PC events this summer so stay tuned for that.

And in addition to the live streaming dates listed in the calendar, you can also expect to see us online for impromptu sessions including daily bouts of Max Payne 3 every single day through June 15th. As always, we'll be giving a shout exclusively via Twitter and Facebook to let you know when we're powering on our consoles and booting up our PCs to throw down.
CALENDAR OF MULTIPLAYER EVENTS
Friday, June 1 (4-7PM EST / 9pm-midnight BST)
Max Payne 3
For Xbox 360 on XBL
Saturday, June 2 (1-4PM EST / 6-9pm BST)
Max Payne 3
For PlayStation 3 on PSN
Sunday, June 3 (1-4PM EST / 6-9pm BST)
Max Payne 3
For PC
Thursday, June 14 (12-3PM EST / 5-8pm BST)
Max Payne 3
For Xbox 360 on XBL
Friday, June 22 (5-8PM EST / 10pm-1am BST)
Max Payne 3
For PlayStation 3 on PSN
Friday, July 6 (4-7PM EST / 9pm-midnight BST)
Max Payne 3
For PC
Thursday, July 12 (12-3PM EST / 5-8pm BST)
Max Payne 3
For Xbox 360 on XBL
Friday, July 27 (4-7PM EST / 9pm-midnight BST)
Red Dead Redemption
For PlayStation 3 on PSN
Wednesday, August 1 (12-3PM EST / 5-8pm BST)
Max Payne 3
For PlayStation 3 on PSN
Friday, August 17 (4-7PM EST / 9pm-midnight BST)
Max Payne 3
For PC
Thursday, August 30 (12-3PM EST / 5-8pm BST)
Grand Theft Auto IV: Complete Edition
For Xbox 360 on XBL
Thursday, August 30 (4-7PM EST / 9pm-midnight BST)
Max Payne 3
For PC
GAMERTAGS AND PSN IDs
Official Rockstar players are marked with a special visible in-game dog tag logo:
•MaxPayneDev1
•MaxPayneDev2
•MaxPayneDev3
•MaxPayneDev4
•MaxPayneDev5
•MaxPayneDev6
•MaxPayneDev7
•MaxPayneDev08
•MaxPayneDev9
•MaxPayneDev10
•MaxPayneDev11
•MaxPayneDev12
•MaxPayneDev13
•MaxPayneDev14
•MaxPayneDev15
•MaxPayneDev16