The Crew Cut: Feudal Lords
BLOOD FEUDS

This week's
Crew Cut round-up
of featured squads and notable action shines a light on the blood spilt during the ongoing Feuds between high-ranking private Crews on the leaderboards. The
Classic 187
caught our eye rising quickly up the Gold tier of the
Xbox Leaderboards
. With just a dirty half-dozen members, they've racked up an impressive count of #1 finishes and have lost just 5 of 61 Feuds for a pretty sick 92% win percentage. Two of these losses came at the hands of the
TheProd1gyX Alliance
, also riding high on the leaderboards. Classic 187 have won out the other 4 times these Crews have met - particularly impressive considering their fraction of manpower.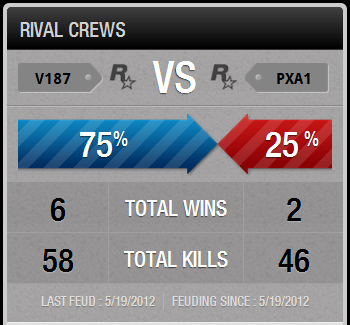 The Classic 187 ("V187") have won 75% of their Feuds against The Prod1gyX Alliance ("PXA1")
Amongst the
PS3 Crews
,
ThaDoneSquad
, are in a similar position to Classic 187, having taken on a much larger Crew while managing to hold their own. The
Sons Of Anarachy
(a squad so nihilistic, they lack regard for all laws of war and spelling) aka SAMCRO have over 6 times the membership of ThaDoneSquad but have lost three of their five Feuds. However, with the overall kills very similar, this could develop into a Feud to rival the Montagues and the Capulets - especially now that SAMCRO leader CincysRocker has laid down the
intra-Crew bylaws
.
FEUD FIGHTERS
When the red mist descends during a multiplayer game and a Feud is declared, some Crews just know how to focus their reticles and take their targets down. The 4 ninjas of
Shinobi
state in their Status that they're recruiting for good Xbox 360 players who can also make good emblems, but you better make sure you can also handle yourself hunting other Crews – these guys have won 38 out of 39 Feuds in the Max Payne 3 multiplayer arena for an astounding 97% win percentage.
Top The Food Chain
also operate an exclusive membership policy and it appears to be paying off dividends with 82% of Feuds won at press time. The even standard of their members indicates they know that warring in packs is the best way to feast on online prey.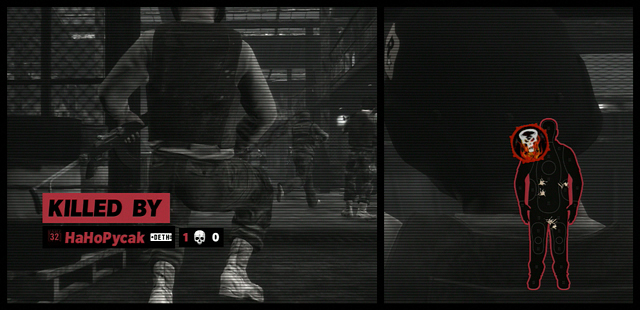 The Death Bringers leave their mark on another corpse during last weekend's Multiplayer Event.
FEUD SHAMINGS
When a Feud is declared, some of the most experienced players can still crumble under the pressure.
The Death Bringers
' 61-strong band of warriors seem to be able to live up to their name in all areas but in-game Feuds. Despite racking up considerable XP and a platinum rating on the PS3 leaderboards, when a Feud occurs, it seems that the only Crew they are able to bring death upon is themselves.
The Italian Job
are in a similar position. While they are certainly capable of blowing more than just the bloody doors off when it comes to racking up Accomplishments (up to Level III in Legend, XP and Solidarity) - they've lost 162 of 297 feuds, leaving them with just a 45% win percentage. Step it up, we'll be watching.
EMBLEM ARTISTES
A weekly nod to appreciate those Social Club members who've gone for Goya over gore, Dali over death.
The Part Time Heroes
trio may not be making much noise in Multiplayer, too busy apparently holding team meetings over Cluckin' Big Burgers and Fowl Wraps at the local Cluckin' Bell. Their impressive gallery of GTA-inspired emblems also includes re-creations of Well Stacked Pizza and Memory Lanes logos. Meanwhile,
Hawaiian Shirt
(motto: "
We're not tourists
") made us chuckle with their parrot and palm tree styled emblem design in tribute to Max's impeccable fashion sense. Elsewhere,
The Coconut Experiments
want us all to "
feel free to experiment with
" their coconuts. We are also loving the fire-wielding gremlin created by
The Explosive Alans
, a Crew with an equal footing on ID design along with Multiplayer achievement - given their solid 70% Feud win percentage and Accomplishment unlocks.
THE SHOWOFF CREW