Max Payne 3's Customizable Multiplayer Avatars

A great fan-created tour of Max's avatar customization options on YouTube. 8 minutes of character creation using various options just to scratch the surface of what's possible.
After you have tailored a custom Loadout of guns and special abilities and before you step into the hail of bullets on one of Max Payne 3's multiplayer maps, you can create a custom player character with some of the deepest avatar customization yet seen in an online shooter. You can personalize up to six different gang member avatars, each one representing a vicious faction from Max's story - from the Crachá Preto paramilitary of São Paulo to the trigger-happy De Marcos mob family of NYC. And whether you're playing Gang Wars, Payne Killer, Deathmatch or Team Deathmatch, your uniquely customized character can be deployed for action.
Check out the video clip above found on YouTube which offers a nice little guided tour of avatar creation from a fan - and at www.rockstargames.com/maxpayne3/multiplayer/avatars, you can also preview a sampling of gang faction avatars and options available with choices ranging from gender to hair styles to facial characteristics and tattoos to really add a unique and menacing touch. Select a faction and randomize for a just a sampling of the virtually limitless character results you can create for online war. Find out how to modify some of your faction-specific gear from your custom Loadout, plus check out a selection of new Multiplayer screenshots showing custom-created avatars of the UFE, De Marcos, Punchinellos and more in action.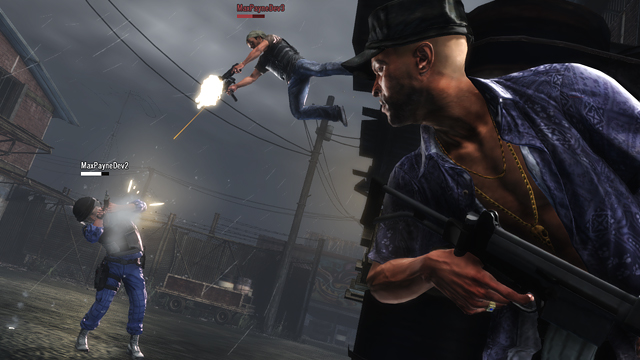 With Max Payne 3's multiplayer avatar system, you can customize your online warrior literally from head to toe.
Previously:
Get a Taste of Max Payne 3's Multiplayer Loadouts
Max Payne 3 Multiplayer Video: Part 1 Part 2
Max Payne 3 Multiplayer Hands-On Press Round Up
Kotaku Praise Max Payne 3 Multiplayer as 'Essential'