From NYC to São Paulo: Behind the Scenes of Max Payne 3's Voiceover, Mo-Cap & Scanning Sessions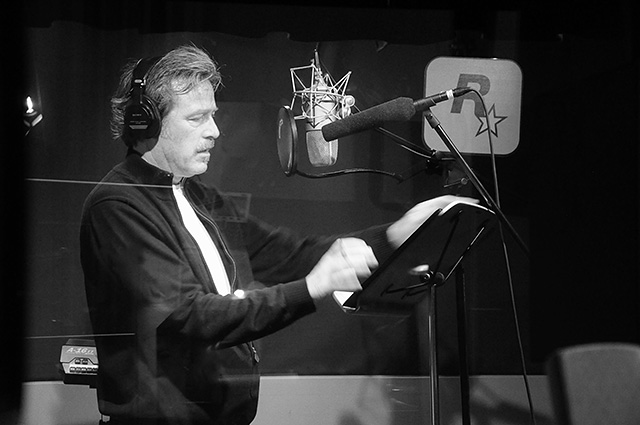 The inimitable James McCaffrey voicing dialogue in our Rockstar NYC recording studio.
From New York City to São Paulo – the casting, voiceover recording, body and facial scanning and performance capture of Max Payne 3 was in itself an epic-scale production and adventure, spanning across continents and with a dynamic cast of hundreds. While the game's principal stars are portrayed by actors recorded and motion captured at our NY homebase (including the inimitable James McCaffrey returning as Max Payne himself), in order to fill the many Brazilian supporting roles from paramilitary soldiers to Branco office employees to favela residents and more, we made several production trips to the heart of São Paulo for a series of intensive dedicated recording and body scanning sessions.
Today's installment in our behind-the-scenes series on the making of Max Payne 3 provides a glimpse into this aspect of the game's cross-continental production - with a special look at the work invested in the performances for the game's single-player as well as multiplayer experience.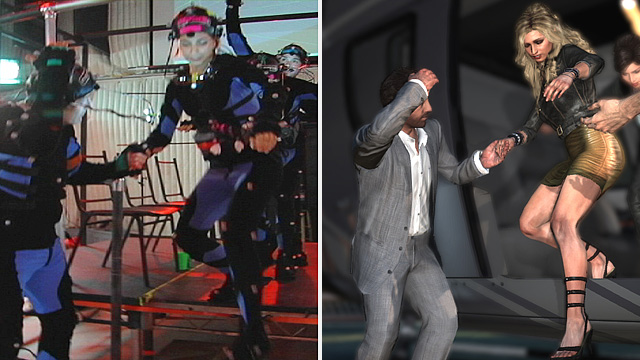 Left: McCaffrey and actress Benedita Pereira in motion-capture suits performing at the Rockstar Long Island studio; Right: The finished product with Max assisting Fabiana Branco out of the family helicopter for an ill-fated night of reveling at Club Moderno.
Nova Iorque

Securing James McCaffrey to reprise his role as the signature voice of Max Payne was an early step in the casting process – one we knew would delight long-time fans of the franchise, his very voice (alongside that signature theme song cue) sparking waves of nostalgia when we unveiled the game's Debut Trailer last fall. With a larger script than either of the previous Max titles, James spent close to 50 hours in the voiceover booth alone, working on in-game dialogue and Max Payne's signature inner monologue.
Beyond the cumulative months on end spent voicing dialogue in our NYC recording studio, the game's principal cast also donned performance suits for extensive shoots at our Long Island based motion-capture facility. Rivaled by only a handful of others worldwide, the L.I. facility is a state-of-the-art grade of mo-cap studio with proprietary technology to capture an unrivaled range of motion for animation resulting in the fluid and believable movement you see when Max dives into action.

The game's principal cast was directed through every story cutscene as well as stunt work needed for dynamic range of motion required for gameplay. Many sets required extensive build time with stunts and body falls from intense heights. Joining Mr. McCaffrey (who performed many of the advanced stunts himself, save for some of the more dangerous Shootdodging™ and acrobatic dives handled by pro stuntmen) was a fantastic cast of actors including Portuguese novela star Benedita Pereira who plays the Portugal-born Fabiana Branco. As seen in one of the images above, and as with any of our game's mo-cap performance work, vast credit is due to our actors for being able to believably act out a scene taking place in a helicopter ride over the skies of São Paulo whilst actually sitting on a stage in Long Island wearing bulky and awkward capture suits.

São Paulo
One of the largest countries in the world, in both population and sheer land mass, Brazil is also one of the most diverse – with distinct Portuguese language dialects and important cultural uniquities that vary from one city or province to the next. Limited in the possible talent pool of authentic Paulistano-born acting and modeling talent here in New York, and with a need to fill hundreds of supporting character roles in the majority São Paulo based levels of the game's story and multiplayer, we embarked on our own mission to South America for a series of casting, scanning, and voice recording sessions.



As Vozes
In trips taken specifically for voice recording, Lazlow, Rockstar's Director of Audio Content, led a team of directors, vocal coaches, translators and sound engineers to record over ten thousand lines of Portuguese dialogue spoken in the game. With a heavy focus on tough and authoritarian VO talent needed, our local producer and sound engineer Bruno Pompeo of Maria Fumaça Productions helped in rounding up an awesome cast to provide the vocal presence of the game's Crachá Preto paramilitary, Comando Sombra gang members, UFE troopers, favela residents and more.
Notable among the cast's Paulistano voices are local Brazilian reality TV star and tattoo artist, Zumba Treze who voices a commanding UFE officer in the game – as well as up-and-coming São Paulo rapper (and affiliate of Emicida's Laborátorio Fantasma label) Tiago RedNiggaz who voices a character in the favela levels – both of whom are shown in photos taken during the sessions in the slideshow above.

Listen here for a first-hand account of the trips as revealed by Lazlow himself recently during an appearance on the Opie & Anthony radio show.

Os Rostos e Corpos
Separate from the voice recordings, extensive sessions were also held casting and scanning local models to serve as the faces and bodies of the game's extras, supporting roles, and Multiplayer character skins (particularly for narrative-based game modes like Gang Wars where teams of Brazilian gangsters and soldiers face off against one another).
A Paul-Bunyan-sized mixed martial artist, a golden-locked dancer, a muscle-bound Mr. Universe contender, and even a bona fide beauty queen were only a handful of the local Brazilian talent cast to fill the hundreds of these bit parts across the game experience. Conducted at the renowned Locall Studio in the Vila Ribeiro De Barros region of São Paulo, two studio spaces were required for this leg of production - one for wardrobe where actors would change into various costumes to suit each character and the other containing the large amount of advanced scanning equipment the development team lugged south.

In wardrobe, there was a wide variety of outfits tailored to the specific roles: elite forces police uniforms, smart clubbing shirts and dresses, string bikinis, hot pants, business suits, bulletproof vests, workman boots and more were on hand as needed. Once dressed, the models were ushered into the scanning studio for image capture - each individual scan taking up to 30 minutes to complete as the head, torso and limbs are all shot separately (and longer if the actor moved or blinked at the wrong moment). As seen in the body scanning production image in the slideshow above, the poles that are visible in the photos not only ensure the actor remains stable for prolonged periods of scanning, but also to position them correctly throughout.

Included in the casting sessions and serving as the basis of just a few of the character models you'll see in the game were Brazilian Ju-Jitsu world champion Paulo Guimaraes, who appears both as a sniper and as a bearded foot-soldier out to take Max down; the towering Daniel Borges, who competes in vicious Vale Tudo (Portuguese for 'anything goes') bouts and shared his personal tactics for busting skulls (why anyone would be insane enough to get in the ring with this man-mountain is beyond us) who appears as a rifle-wielding commando; and the beautiful Sarah Ferreira, a Miss São Paulo pageant contestant who appears as a dancer in the game.

Once all of the scanning has been completed, the yielded raw files then serve as a foundation for Rockstar 3D character artists to artfully design and embellish into original models. As seen in the slideshow's presentation of Mr. Borges' transition from photograph to 3D head to a muscle-bound, imposing Crachá Preto solider.