Live-Streaming Max Payne 3 Multiplayer Events Continue this Fri & Sat - Another Chance to Win Your CREW Emblem Controllers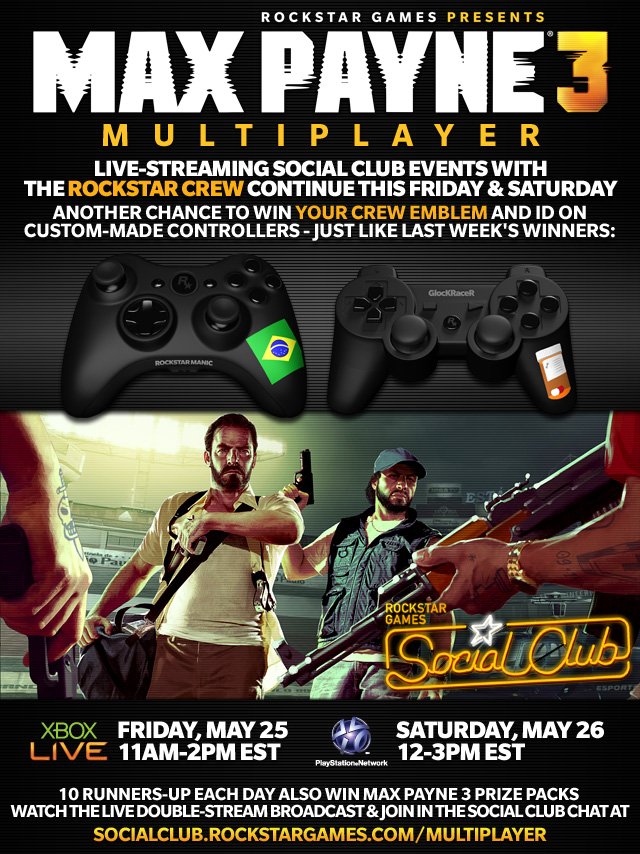 UPDATE: Today's Multiplayer Events have concluded. Thanks to everyone for taking part and we'll see you again for a full quota of Max Payne 3 Social Club Multiplayer events on PSN, Xbox Live and - for the first time - PC on the 1st, 2nd and 3rd of June.
Last weekend, we celebrated the launch of Max Payne 3 with the very first Social Club Multiplayer Events where players and CREWS from around the world joined our own Rockstar Studios devs for some fierce Gang Wars and Team Deathmatch competition.

We also introduced our first Grand Prize giveaways of exclusive custom controllers, sleekly black-on-black matte'd out, branded with your ID and with your Crew's emblem hand-painted on top.

We're pleased to announce the winners of last week's set: therealmanic (aka ROCKSTAR Manic on Xbox LIVE) representing his own lone wolf Crew, the São Paulo Cartel ("São Paulo's Finest") and glockracer (aka GlocKRaceR on PSN) representing the massive public Rockstar Crew of Max Payne fans, Payne Killers. Production is now underway on their custom controllers as seen in the artist rendition above (runners-up for the 10 Max Payne 3 Prize Packs are still being confirmed).

Envious? Not to worry - your next chance to score a pair of these truly unique controllers is imminent.

Join us on Xbox LIVE tomorrow, Friday May 25th from 11am-2pm EST / 4pm-7pm BST and then on PSN this Saturday May 26th from 12-3pm EST / 5-8pm BST for another pair of Max Payne 3 Social Club Multiplayer Events throwing down in modes from Gang Wars to Team Deathmatch across two live streams, with the newly enhanced Rockstar-hosted chat, Social Club Playlist Leaderboards and more all at http://socialclub.rockstargames.com/multiplayer.
Remember you can now join the event straight from the Max Payne 3 in-game menus by jumping into the Social Club Playlist activated during the scheduled event times.
GAMERTAGS AND PSN IDs
Official Rockstar players are marked with a special visible in-game dog tag logo:
• MaxPayneDev1
• MaxPayneDev2
• MaxPayneDev3
• MaxPayneDev4
• MaxPayneDev5
• MaxPayneDev6
• MaxPayneDev7
• MaxPayneDev08
• MaxPayneDev9
• MaxPayneDev10
• MaxPayneDev11
• MaxPayneDev12
• MaxPayneDev13
• MaxPayneDev14
• MaxPayneDev15
• MaxPayneDev16
Don't forget that in addition to our live streaming scheduled Social Club events, members of Rockstar Studios worldwide will also be online playing Max Payne 3 Multiplayer every single day through June 15th - a non-stop month with the folks who all helped create the game itself. We'll be playing about 2-3 hours each day with devs from Leeds, Lincoln, London, New England, New York, North, San Diego, Toronto and Vancouver taking turns to show you how it's done on both consoles seven days a week (and on the PC version beginning June 1st).
Make sure you're following us on our Facebook, Twitter, Google+ and Steam (for PC) pages to get the word each day of exactly when we're loading up, loading out and heading into Gang Wars, Payne Killer, Team Deathmatch and FFA Deathmatch along with info of which Gamertags/IDs we're using that day.