Rockstar Game Tips: Max Payne 3 Reticle Options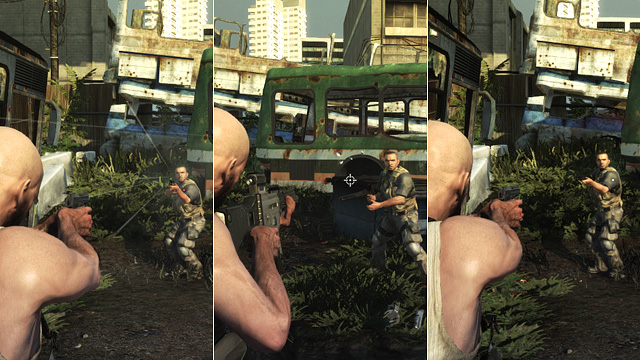 [Left: Max aiming with the Default option. Center: The expanded crosshairs displayed when choosing the Weapon Specific reticle. Right: No color change indicator is present when aiming over an enemy using the All White option.]
In Max Payne 3, there are three reticle settings you can choose from in the Gameplay Options Menu to suit your shooting and targeting preference.

The Default reticle is a subtle white dot on the center of the screen that changes red when you are aiming over an adversary. Additionally, each weapon type in Max Payne 3 has its own unique Weapon Specific reticle - Assault Rifles have a more traditional crosshair and Shotguns display the blast radius around the reticle. For an extra challenge, you can also choose an All White option that is similar to the default option, but doesn't change to red when you are over an enemy.
A look at the three reticle options is above and you can also check out the different reticle displays in our Design & Technology Series video on Targeting and Weapons. To access the Reticle options in game, pause and enter the Settings Menu, and from there select the Gameplay option.
Max Payne 3 Game Tips:
Targeting and Additional Settings in Max Payne 3 | Getting Started