Bad Guys Gone Good... and Vice Versa - Part Three: Tom Horn (The True West - History that Helped Inspire Red Dead Redemption)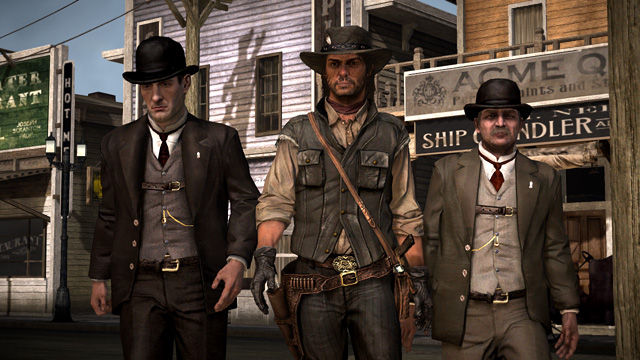 (Marston escorted by Red Dead Redemption's morally dubious government agents, Edgar Ross and Archer Fordham.)
In the dying West, the line between lawman and outlaw was a thin one, and no one walked that line more ambiguously than the subject of part three of our True West series of Red Dead Redemption historical research insights, Tom Horn – the man who infamously remarked, "Killing men is my speciality. I look at it as a business proposition, and I think I have a corner on the market."

Tom Horn was born in 1860 to a Missouri farming family, and an abusive mother and father who routinely beat him to break him of what they called his "Indian ways." After a last world-class beating at his dad's hands that left him in bed for a week, the teenager ran away from home to make his own way.

Even as a child, Tom was a prodigious hunter of wild game; perhaps this explains how, after living on his own a while, he landed in the US Army as a teenaged army scout under the famous generals Nelson A. Miles and George Crook. Rising through the ranks, he eventually played a lead role in the capture and surrender of legendary Apache leader and warrior, Geronimo.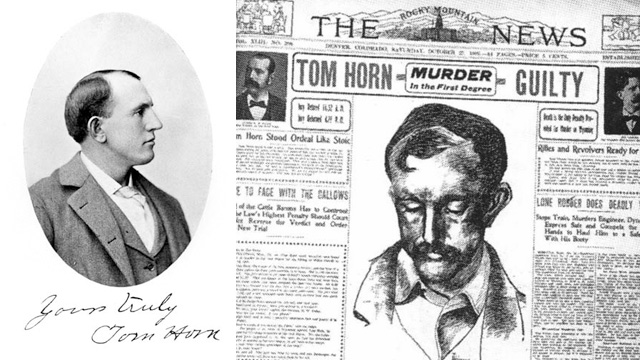 (One of the Old West's most infamous good guys gone bad. Left: Tom Horn in his earlier, and more reputable years. [Wyoming State Archives, Department of State Parks and Cultural Resources]; Right: Horn's conviction as it appeared on the front page of the Rocky Mountain News, October 25, 1902.)
Following a stint as a successful ranch hand and champion steer wrestler, Horn next worked as a deputy sheriff in either Colorado or Arizona (accounts differ) before being recruited by the Pinkerton Detective Agency, the fearsome organization that revolutionized modern law enforcement practices. Cold, calm, efficient and unstoppable once on the trail of his targets, Horn was nevertheless pushed out of the Agency less than five years later due to his persistent habit of scandalous killings that made even the brutal and ruthless Pinkertons look bad.
By the turn of the century, Horn finally did away with any pretense of legal authority and began working as a freelance "Range Detective"—in reality, a hitman for hire—taking $500 (or what would be $13,000 in today's dollars) from rich land and cattle barons in Wyoming to hunt down and kill any cattle rustlers or agitators they wanted to disappear. Horn was said to stalk his targets for days, learning their habits and movements; posting up out of sight, Horn killed them with a single shot to the head, then left a rock under their head as his signature. While there was indeed an ugly rash of cattle theft in Wyoming, Horn had an even uglier reputation as a stone-cold killer. When Willie Nickell, the 14-year old son of a shepherd was found shot to death, Horn was fingered for the murder by a local deputy and quickly convicted by the outraged locals. Horn was made to weave his own hanging rope during his last days. His last words before being hung dead were said to be, "Hurry it up. I got nothing more to say."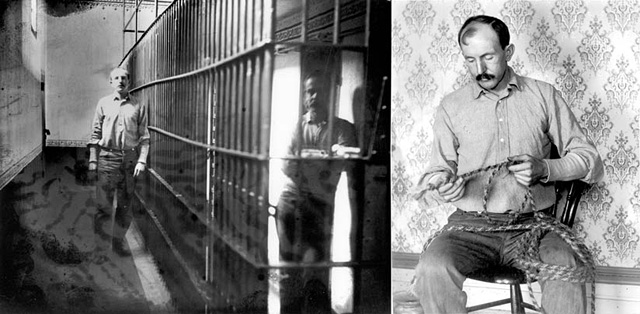 (Left: Outside his jail cell in a Wyoming prison; Right: Horn at the end of his own rope, awaiting execution. [Wyoming State Archives, Department of State Parks and Cultural Resources])
His legendary life and its corrupt end were immortalized on the big and small screen, first in the 1979 made-for-TV movie Mr. Horn (starring David Carradine as Horn) and the following year in the major motion picture Tom Horn, where Steve McQueen portrayed the detective-turned-hitman. Historians still dispute the legitimacy of the conviction but all agree, Tom Horn was perfectly capable of such a killing and undoubtedly had committed other murders for which he went unpunished.


Coming Next: New Inventions Sweeping the Nation at the Turn of the 20th Century


Previously:
Part Two: Pearl Hart
Part One: Frank James
Brand New Red Dead Redemption Video: The Law