First Days of CREWS Multiplayer Action: Standout Squads

INTERNATIONAL CREWS

With Max Payne 3 now on shelves across North America and Europe, we're seeing a virtual U.N. of killer CREWS lighting up the multiplayer leaderboards. Fighting for liberté, égalité et fraternité are the French Crew, who intend "Pour montrer a tous ce que nous valons" - to prove their worth to all. Over the border, the German Outlaws have amassed a force 20 strong and already have some experience points on the board; showing classic Germanic stoicism, they are prepared to "let the gun do the talking." Further south, the Spanish Forces have a message for all Spanish-speaking Social Club members: "si entiendes esto, este es tu sitio! UNETE!". Meanwhile il Tricolore flys proudly for the Italians Inside whose motto makes their game plan clear: "bigger the guns, bigger the pain!"

PRIVATE CREWS MAKING NOISE ON THE BOARDS
One international Crew is already proving to be a talking point on the Xbox 360 Max Payne 3 multiplayer leaderboards: with 28 members, French Crew Payne Capitale currently the highest placed private Crew on the Deathmatch leaderboards and 3rd Overall. Also impressive is Ten Knobs Crew, who with just 15 members, have taken to Payne Killer as their multiplayer game mode of choice and are currently showing as #27 in the worldwide Xbox 360 leaderboards. Proving the courage of their convictions, the New York City Kings are a tight-knight Crew of 5 and are placing a very respectable #40 as of now on the worldwide Team Deathmatch boards (and their Feud win percentage ain't too shabby either at 71% of the time of writing). They say they are "looking for serious members only who will practice regularly and compete" - so if the shoe fits, hit 'em up…
Over on the PS3 leaderboards, Pick Your Poison and Pro Kill You are jostling for position to make a mark as esteemed private Crews cracking the overall top ten. With similar membership numbers currently in the 110s and similar XP, currently Pro Kill You is showing at #9 whilst Pick Your Poison are just behind at #10. While there have been no in-game Feuds yet between those two, we're looking forward to the carnage when they eventually meet each other in Team Deathmatch. The brilliantly-named T BAGGIN YO MOMS are proving to be a force to be reckoned with amongst PS3 playing Crews, with the DireWolvesOfWinter also sniffing around the worldwide top 40 of Payne Killer and the top 20 of the Overall PS3 leaderboards. Elsewhere United Killers Inc, led by the tireless Soopaman_2k, are representing well at #25 as of writing on the Deathmatch leaderboards - and we'd be remiss not to shout this troop that caught our eye in the top 50 there: the CBWA aka CAREBEARSWITATTITUDE.

FAVORITE EMBLEMS
The CAREBEARS have managed to match their Deathmatch prowess with their Emblem-making skills, creating one of our favorites on the site this week - when Ice Cube meets the Care Bears, everybody wins. Others include Rodsta94's hilarious grouchy cartoon Mexican which will represent the Fansite Banditos (led by our homeboy SimpsonsFan007 from Team Xbox) around the site and in the game. Westley's Crew have taken inspiration from an unlikely source, the 80's fairy tale The Princess Bride, in theming their Crew - complete with an impressive likeness of Inigo ("…you killed my father. Prepare to die.") Montoya in their emblem. Two Crews acknowledging the city settings of the Max Payne series, NYC Soldiers and Sao Paulo's Finest have thrown up some truly intimidating artwork to inspire fear into their foes online, while enemies of BasedGod will be reaching for the 3D glasses to get the full effects of their gallery of floating castles and chimpanzees.

DEADLY DUOS

Rather than use mad emblem skills to recruit a swarm of followers, some Crews out there have elected to keep their member list ultra-exclusive - opting for a Tango-and-Cash, Starsky-and-Hutch, Cagney-and-Lacey type approach to online warfare. The Gruesome Twosome have closed out their recruiting policy at (you guessed it) just two members, and have designed a pretty special emblem to honor their duet of death. Meanwhile, the enigmatic insist has taken a full week to warm to such ideas as teamwork and comradeship, taking a full week to recruit the second member of his clipboard-wielding crew of safety fanatics, the Risk Assessors.

OFWGKTA CREW

Finally, those following us on Twitter may have seen a surprise session on Thursday held with the OFWGKTA CREW aka Odd Future. Tyler the Creator, Taco, and L-Boy (who are Taynard, TacoTakesDumps, and JilScott at Social Club respectively) from OF swung by Rockstar HQ to throw down in some Max Payne 3 FFA and Team Deathmatch as seen in the snaps below. Golfwangers can apply for membership in the official OFWGKTA Crew at http://socialclub.rockstargames.com/crew/ofwgkta_crew. Stay tuned as we'll be hosting many more of these impromptu Max Payne 3 CREW sessions with friends of Rockstar all throughout the summer and beyond - follow us on Twitter to make sure you get the word.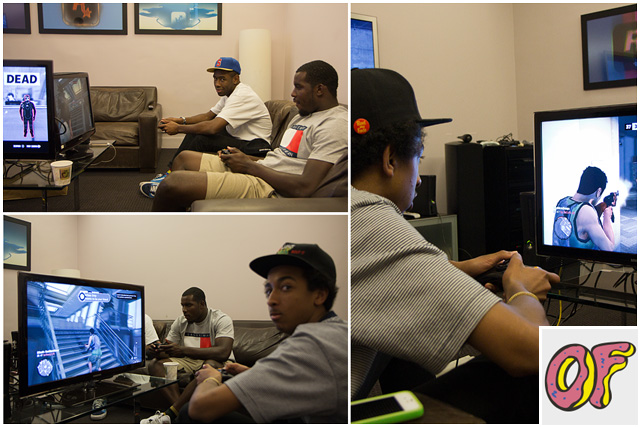 Stay tuned for next week's Featured Crews report as we're keeping a close eye on the rivalries of Crews-to-beat 911 NYC and PCC Crew amongst many others...

Previously:
Enlistment Roundup: The First Days of CREWS at the New Rockstar Social Club