The First Official Max Payne 3 Multiplayer Events at Social Club - Win Custom Controllers with Your CREW Emblem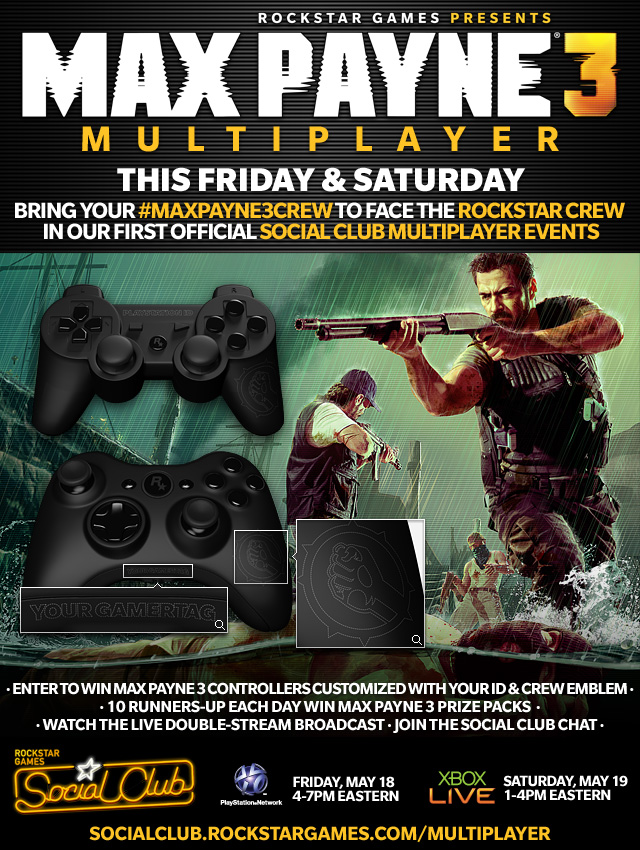 *** THANK YOU: This weekend's debut Social Club Multiplayer Events for Max Payne 3 have concluded, but there are a lot more in store. Join us next weekend Friday May 25th at 11AM - 2PM Eastern on Xbox LIVE, and Saturday May 26th from Noon - 3PM Eastern on PSN. We'll have more great giveaways, plus the live-stream, chat, leaderboards and more. Stay tuned also for announcement of who won our first pairs of customized CREWS controllers soon.

Get ready for the very first of many official Max Payne 3 Social Club Multiplayer Events lined up, kicking off this weekend in grand fashion - this Friday May 18th from 4-7PM Eastern on PSN and this Saturday May 19th from 1-4PM Eastern on Xbox LIVE (with many more dates to follow into June and to be announced all summer long and beyond).

This is your first chance to rally your CREW to face off with and against the ROCKSTAR CREW of Max Payne 3 developers from Rockstar Studios worldwide on the live streamed broadcast (now with a double-stream as announced last week). For the first time ever, there is now a special in-game Social Club Multiplayer Event Playlist that you'll see in your Multiplayer menu of playlists active only during the scheduled event times. Just jump into that playlist to look for the Rockstar Crew (Gamertags and IDs below) in lobbies or to start your own game - there's also now a Social Club Event Leaderboard for players and CREWS to show and prove at each event.

Plus we're giving away a truly unique special grand prize - on both Friday and Saturday during event hours, we'll have a sweepstakes open at the Event page to enter to win a pair of PS3 or Xbox 360 controllers customized with your ID and your CREW emblem. These bad boys will be blacked out, hand-painted with a serious matte black finish and solid black buttons and your CREW emblem proudly tailored on. 10 runners-up each day will also win a Max Payne 3 Prize Pack with an official tee, bullet keychain, pill box and deluxe sticker pack.

You can also join the live Social Club chat on the Events page to spectate, comment on the action, and talk about your favorite Max Payne 3 moments and modes. The Social Club chat has also been enhanced with new features to show which of your Social Club Friends are logged in so you can call out your mates and Crew members at will.

GAMERTAGS AND IDs
Official Rockstar players are marked with a special visible in-game dog tag logo:
MaxPayneDev1
MaxPayneDev2
MaxPayneDev3
MaxPayneDev4
MaxPayneDev5
MaxPayneDev6
MaxPayneDev7
MaxPayneDev08
MaxPayneDev9
MaxPayneDev10
MaxPayneDev11
MaxPayneDev12
MaxPayneDev13
MaxPayneDev14
MaxPayneDev15
MaxPayneDev16
And don't forget that in addition to our live streaming scheduled Social Club events, members of Rockstar Studios worldwide will be online playing Max Payne 3 Multiplayer every single day through June 15th - a non-stop month of Max Payne 3 Multiplayer with the folks who all helped create the game itself. We'll be playing about 2-3 hours each day with devs from Leeds, Lincoln, London, New England, New York, North, San Diego, Toronto and Vancouver taking turns to show you how it's done on both consoles seven days a week (and on the PC version beginning May 29th).
Make sure you're following us on our Facebook, Twitter, Google+ and Steam (for PC) pages to get the word each day of exactly when we're loading up, Loading Out and heading into Gang Wars, Payne Killer, Team Deathmatch and FFA Deathmatch along with info of which Gamertags/IDs we're using for that day.