CREW UP: Register and Rally Your Crew Now at the All-New Social Club
As promised on Monday during the official reboot of the Rockstar Games Social Club, now is the time to register, recruit and rally your Social Club CREW - or find a solid Crew to join that is poised for absolute domination in Max Payne 3 Multiplayer. Each Crew can also create their own original signature crest using the robust Emblem Editor toolkit. Read on for more detail - or just head over to the SC now to Crew up...

FORM A CREW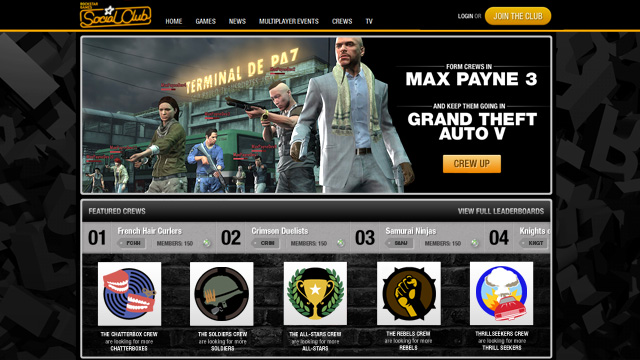 That's right, you can now create or join your own rough and tumble CREW in preparation for slaughter in Max Payne 3 Multiplayer. Hit the CREW UP button on your profile page and you can browse Featured Crews looking for recruits or invite your mates to join your ranks to blast through Gang Wars and Team Deathmatch together, racking up XP and starting online Feud beefs come next week. Every Social Club member can belong to up to 5 Crews, so form your allegiances wisely.

All Crew leaders can also designate their squad as a particular type of Crew that best describes their M.O.: All-Stars who consider themselves elite players and strive to hit the upper echelons of the Leaderboards, Soldiers who are in for serious teamwork and killing field success, Rebels out to just kick some ass and make their presence known, Thrill Seekers who prefer mayhem over ranking up and cheevos, and Chatter Boxes for those gregarious socialites of the Social Club we know from official Event chats.

The CREWS page also contains info on the in-game benefits Crew members get in online Multiplayer. You'll receive an XP boost whenever you fight as part of a Crew or battle against rival Crews and their members online. This means you'll effectively unlock bigger and better weapons more quickly than if you're flying solo. And because this feature is linked through the Social Club, you can represent your Crew across PS3, Xbox 360 and PC.

CREATE YOUR CREW EMBLEM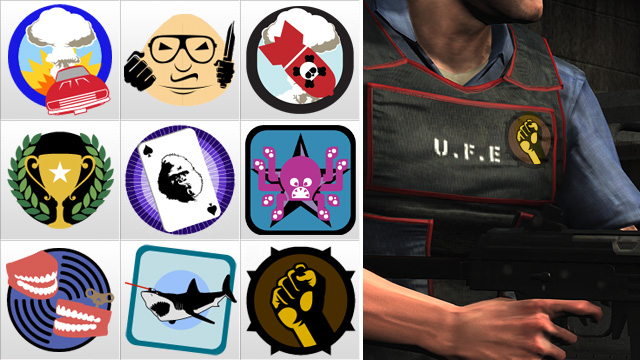 Create an original battle crest to be displayed on your Crew's online Multiplayer avatars by crafting a unique emblem with this new and robust customization toolkit. The Emblem Editor is packed with thousands of shapes, colors and icons and tools to create limitless possibilities to properly represent your squad and to intimidate, psyche out or stupefy the competition.

For those who are all thumbs whether it's PhotoShop or MS Paint - no worries - the Emblem Editor is super easy to use and there's a helpful tutorial to step you through it all and get you started. Any Crew member can create and propose an Emblem crest by uploading it to the Crew's gallery, and it's up to the designated Crew leader to issue the seal of approval and assign it to represent the team in online Multiplayer.

FOUNDER CREWS

Any Crew created between now until next week Tuesday May 15th will have the honorable distinction of being a FOUNDER CREW. Members of Founder Crews will have a special two-stripe designation on their in-game Crew tag to let everyone else online know of their O.G. veteran status. We're also planning some other special benefits and perks for members of Founders Crews down the line so please stay tuned for updates and notifications to your Social Club profile.


The time is now - head to the Social Club, and Crew up: http://socialclub.rockstargames.com/crews. Drop a shout in comments to let us and others know what Crew you've joined or created.