Emicida "9 Círculos" (from the Max Payne 3 Original Soundtrack)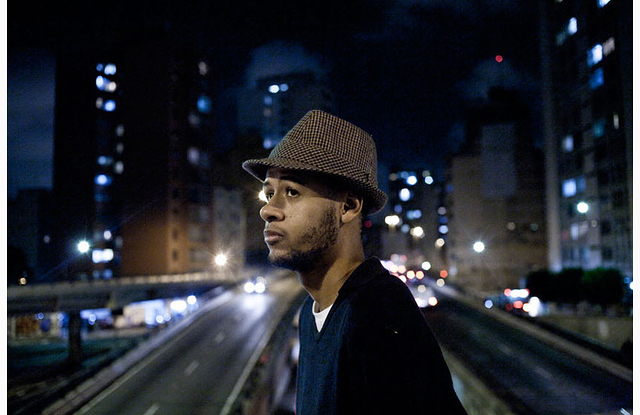 Emicida, a leader of the rap scene in Brazil's hip-hop capital city of São Paulo - and winner of Act of the Year in the 2011 MTV VMB Awards - has just released his original track, "9 Círculos (9 Circles)" composed and produced exclusively for Max Payne 3 to his fans at www.emicida.com. Produced by Emicida's in-house beatmakers Casp and Nave Beatz, you can now listen to the song in full above and at the Rockstar Games Soundcloud page.

The inspiration for the song according to Emicida, is his hometown city of São Paulo itself, where Max Payne 3 is set - as he explains:
"O caos da maior cidade da América Latina, a insegurança, o medo envolto nessa atmosfera de corrupção, crime, pobreza, luta por justiça e todos os elementos que compõem este ambiente... A composição é dividida em duas partes. A primeira é algo como um conflito interno, e a segunda é uma visão mais política, com um olhar sobre fatos recentes, uma vez que o jogo é lançado neste momento que estamos vivendo agora. Acho que a música faz jus à São Paulo que vemos hoje... Ter uma canção cantada em português num lançamento mundial é muito especial para a música brasileira. '9 Círculos' passeia por uma brasilidade bem interessante, flerta com maracatu e samba. É um texto bem cru sobre a realidade das ruas, estou feliz com isso."

("The chaos of the largest city in Latin America, the insecurity, the fear that revolves around this atmosphere of corruption, crime, poverty, the struggle for justice, and all the elements that are part of this environment... The song is divided into two parts. The first part is something along the lines of an internal conflict, and the second is a more political insight, with a glimpse over current events that we are experiencing right now as the game [Max Payne 3] is released. I think the song lives up to the São Paulo that we see today... To have a song sung in Portuguese in a project released worldwide is quite significant to Brazilian music. '9 Círculos' contains a Brazilian flavor that is quite interesting, and it flirts with the maracatu and the samba. It possesses a raw content covering the reality of the streets and I am really happy about that.)"
We're very proud to have this original composition in Max Payne 3. For all of our non-Portuguese-speaking fans, we've also gotten with Emicida for a faithful transcription of the lyrics into English so that all of you can listen and read along to see how the lyrics relate both the Max Payne's tortured state of mind in the game - and to the volatile world of the city of São Paulo. Read the lyrics below - and stay tuned for a special remix of the track as well, to be released soon.
"It feels like a crack hit, but it's just paranoia.
Off I go, carrying my gun - the enemies keep an eye on us
Of course, it stresses and tires me.
Whiskey, neon, dim lights and she dances.
It's me and my demons - like always.
Cigarette... stiff drink... without hope,
Everything that talks, lies.
It's tough at rock bottom - when the pain's yours, you feel it.
Love I sought, like slow samba.
Lights are out, legs are shaky.
An addict, with a cross on his chest, staring at his sad reflection.
Life draining through his fingers,
Like water from the basin - cold, Ave Maria (Hail Mary).
Brother, a human being in an inhuman state - f**ked up bro,
Which Orixa is going to clean me up?
2012, the world is ending, and f**k it...

…

Let everyone know the sky is falling,
What is worse, to hit rock bottom or to keep falling?
How many hells have I crossed, passed, without an angel to sing to me?
How many oceans have I crossed without a light to guide me?

...

Hearing only click-clack-click-clack--boom!
...

Police here kill more than Tuskegee,
Murderers all around, but the people are calm like Kenny G,
Ghetto like ND [a reference to Brazilian MC Naldinho],
Mouth stutters if they see we're still public enemies,
It's 1, 2, quick to flare up, Do-Re-Mi and boom,
It's over - without a single camera zoom,
And from the government, all that reaches us is pain,
In the hood, it's tear gas and flash bombs from those who haven't got enough morals to say anything.
Dark soldier boots, frightening futures,
I join my gang on the walls, I cover up and swear,
I'm gonna pay it back with interest,
I keep it real, no mistakes, pure, I investigate but won't endure it.
I hold on,
I cure myself of the obscure ideals of the government, the cartel, the clan,
My role is to teach the people to say "uh huh?"
Without spreading their legs like a can-can dancer,
It's up to us to hate my people's enemies, you see Kassab?
They burn favelas, control the media and distort information,
Your term's days are numbered, but our fight will carry on."