Latest Max Payne 3 Previews: A Multiplayer Bullet Time Primer, "After the Fall" Comic Book Interviews & More
As we get ready to countdown through this last week towards Max Payne 3's launch on Xbox 360 and PlayStation 3 in North America, check out a roundup of some of the latest and greatest previews and interviews about the game and about the original comic book produced by Marvel that debuted last week...
As a supplement to their recent Max Payne 3 Multiplayer hands-on feature, Kotaku has produced a very helpful video to illustrate for fans how Bullet Time® functions in multiplayer. Check it out above and at http://kotaku.com/5907699/how-muliplayer-bullet-time-works-in-max-payne-3 for a nifty walkthrough.
NowGamer
also talked with Lead
Max Payne 3 Multiplayer
Designer Charlie Bewsher about the fine details of the game's unique online modes. Below is a brief snippet...
"Getting this much detail into Max Payne multiplayer was vital to Rockstar. It has succeeded... Through GTA4, Red Dead Redemption and now Max Payne 3, Rockstar has fast become a multiplayer force to be reckoned with...

Bewsher explains, 'I think so much of what makes Max Payne 3 feel fresh simply comes from the core game, in that it's a state-of-the-art shooter, with incredible movement mechanics, Bullet Time and Max's unique gritty feel.'"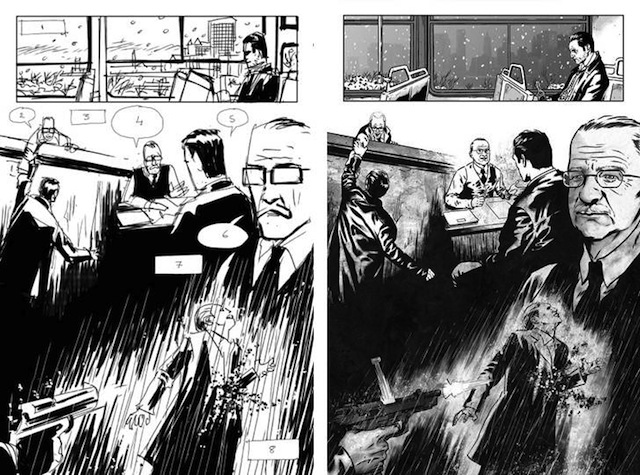 A sketch-to-ink page layout from "After the Fall" by Fernando Blanco.
And finally, with
the release of the original comic Max Payne 3 Issue #1: "After the Fall"
on Friday, co-writers Dan Houser of Rockstar and Sam Lake of Remedy discussed the genesis of the project, their formative comic reading experiences, Max's tormented past and more in a series of interviews with
Kotaku
,
MTV
and
Mashable
.
Stay tuned for news of Issue #2 in the original comic book series - as well as for more previews over the coming week. Also make sure you're following us on
Twitter
and
Facebook
, where we often retweet and share previews as they happen.
Previously: