Update: The Max Payne 3 Major League Gaming Pro Exhibition to Air Online on May 14th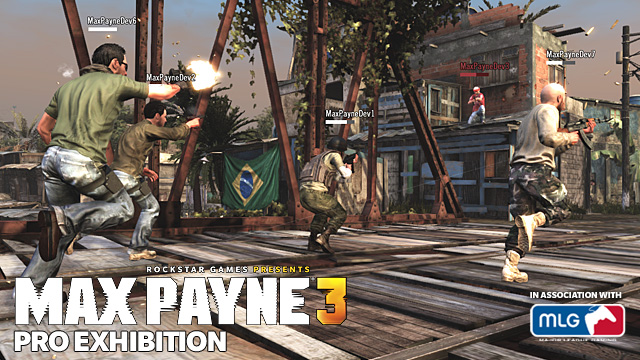 *** Update: We're pleased to announce that this weekend's exhibition will be broadcast online at 8:00 P.M. Eastern on Monday, May 14th both at www.majorleaguegaming.com and here on the Rockstar Newswire. Check it out to see MLG teams and pros fight it out in 4 vs. 4 Team Matches and Deathmatch tournaments and compete for a total cash prize purse of $30,000.
Today we've invited 16 of the world's elite professional gamers to battle it out in Max Payne 3 Multiplayer at Major League Gaming's Headquarters here in New York, for an exhibition event that will be televised online just prior to the Launch of Max Payne 3.
Keep an eye on
our Twitter feed
for some sneak previews from the event later today, as well as first impressions from some of the competitors listed below. And stay tuned for more news later this week on the airing of the
Max Payne 3 Pro Exhibition
on
Major League Gaming
and the Rockstar Newswire.
• Strongside – Mike Cavanaugh
• Nadeshot – Matt Haag
• Walshy – David Walsh
• Gandhi – Scott Lussier
• Tsquared – Tom Taylor
• Scump – Seth Abner
• Hastr0 – Mike Rufail
• CDNthe3rd – Caeser Noriega
• Nickmercs – Nicholas Kolcheff
• Crream – Ken Lawson
• MrsViolence – Kelly Ristigian
• xJawz – Samuel Joseph Betesh
• Predator – Gabriel Figueroa
• CDjr – Emmanuel Brito
• Stainville – Tosh-Mcgruder-Cummings
• Aches – Patrick Price