Beaterator Breakdown: Looping Around the Competition (iPhone / iPod touch) (Part One)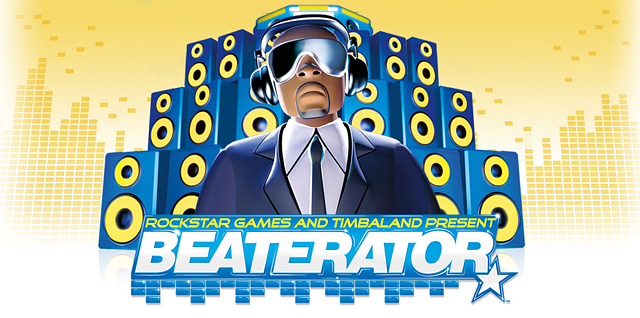 The dynamic functionality of Beaterator for iPhone and iPod touch easily allows anyone to create powerful and innovative mixes. Mastering the art of looping will propel your content above the competition, and help you stand out amongst the crowd when uploading your masterworks to the Beaterator Community at Rockstar Social Club. Here are some tips that will help hone your looping skills:
A Starting Point - The Loops screen is a great starting point for making a song. Play around with the various Templates – found in New Song on the Main Menu – until you find one you want to work with. Spend a little time jamming to get a feel for the arrangement of loops, and replace or remove any you don't want. Then tap the 'Record' button and start jamming for real. In no time at all, you will have recorded the basics and can then go to the Song screen to do some finer editing.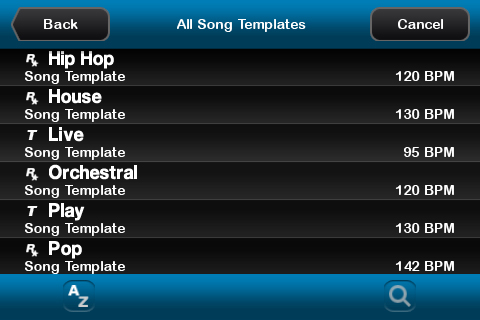 (Selecting the right Template is the first step to getting your musical creativity flowing.)
The Loop Picker - Use the Loop Picker at the bottom of the screen to change which loops you will place in each track. Whatever loop is shown there will be the loop you place down when you tap in the song. The available loops for the track you tapped will be slightly brighter, and all the current loops for each track – that is, the loops displayed on the Loop Picker bar – are brighter still. While in the Loop Picker, you can tap a loop to preview it. If you want to change the loop, tap and hold a loop to remove it, and tap the empty loop slot to browse for a replacement.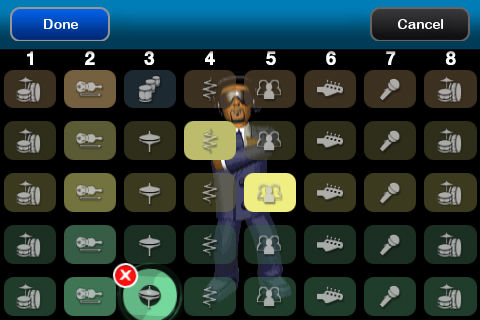 (Experiment with different loops until you find the right rhythm.)
In addition to these tips, use the Transport Slider to quickly scroll to other parts of the song. Access the Transport Slider by touching the small horizontal line icon on the top of the Loop screen or Song screen. Also, don't forget to make use of the Mute Tracks feature when you are working on specific parts of a song, especially when working with effects. Remember to keep it simple! If your song starts to sound bad, you might be mixing too many loops together at that point, or even mixing loops that don't sound quite right next to each other.
Stay tuned for more looping tips in the future. If you haven't gotten your hands on it yet, head over to the App Store and cop it – it's only $2.99 for a limited time - get on it!
Previously:
Beaterator Breakdown: The Power of the Synth Editor (PSP)
Beaterator Breakdown: Getting the Most out of Trigger Velocity (PSP)
Teaching Music with Beaterator (PSP)