Rockstar Game Tips: Cracking the Codes in Chinatown (Grand Theft Auto: Chinatown Wars - iPhone) (Part Three)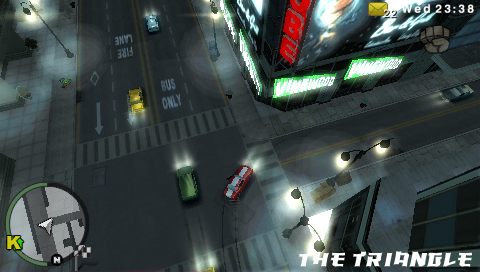 (Day or night, there's always action afoot in Liberty City.)
Now that you have the ability to create an instant arsenal of weaponry and replenish your cash/armor at will, wouldn't it also be nice to bend the in-game time continuum?

With this last cluster of cheats for Grand Theft Auto: Chinatown Wars for iPhone / iPod touch, you can make the days run as fast as you'd like. These cheats are perfect for catching up with random encounters that only appear during certain times of the day (there are 14 total random encounters in the game).
Cheats are spelled out using the magnetized letters on the Mission Replay Board located in any Safe House.
Time cheats
Advance an hour - JUMPHR
Advance a day - JUMPDAY

Move forward a whole day.

Advance six hours - JUMPHRS
A cheat is entered successfully when all of the magnetized letters go back to their original position on the board and a piece of text appears at the bottom of the screen with the load-out name you selected.

Of course, you can de-activate any cheat reloading your previous save (just make sure not to overwrite your save with the cheat active).
Previously:
***
Are there tough missions in a particular Rockstar game that you'd like some hints or help with? Let us know via comments here on the Rockstar Newswire, or
send us an email
and we'll try and give you our best tips and strategies.