Rockstar Game Tips: Cracking the Codes in Chinatown (Grand Theft Auto: Chinatown Wars - iPhone) (Part Two)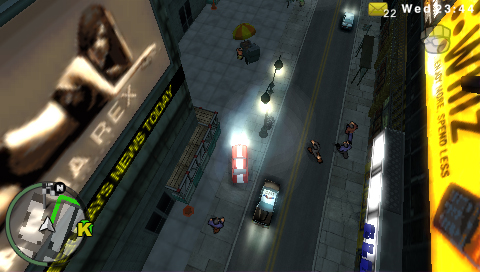 (Huang rolls through Liberty City looking for trouble.)
Hot on the heels of last week's drop of Weapon Cheats, as promised, here is another healthy assortment of cheats to help give you that extra edge as you navigate your way through Huang Lee's epic story on the iPhone / iPod touch.
This set of Chinatown Wars "Player Cheats" will garner you additional cash, armor, health, wanted level fluctuation... and a special weapon that snuck its way in there.
Just like last time, cheats are spelled out using the magnetized letters on the Mission Replay Board located in any Safe House.
Player Cheats
Money - CASHIN
Armor - SHELLY
Health - LIFEUP
Wanted level up - COPIN

Increase your wanted level.

Wanted level down - COPOUT

Decrease your wanted level.

Explosive Eagle - BOOMCAN


An explosive-freakin'-pistol.
A cheat is entered successfully when all of the magnetized letters go back to their original position on the board and a piece of text appears at the bottom of the screen with the load-out name you selected.
Stay tuned for the final set of Chinatown Wars iPhone / iPod touch cheats very soon…
Previously:
Cracking the Codes in Chinatown (Grand Theft Auto: Chinatown Wars - iPhone) (Part One)
Serving the Fiends in "Half Cut" (Grand Theft Auto: Chinatown Wars – PSP Exclusive Mission)
Jumping to the Top of the BASE Jump Leaderboards (The Ballad of Gay Tony / Episodes from Liberty City)
***
Are there tough missions in a particular Rockstar game that you'd like some hints or help with? Let us know via comments here on the Rockstar Newswire, or send us an email and we'll try and give you our best tips and strategies.