Rockstar Game Tips: Cracking the Codes in Chinatown (Grand Theft Auto: Chinatown Wars - iPhone) (Part One)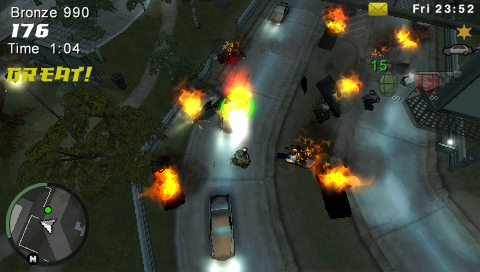 (Huang Lee burns it up during a flamethrower Rampage.)
Grand Theft Auto: Chinatown Wars is now available for iPhone and iPod touch and currently burning up the top 10 best-selling apps chart. As many of you are getting into all of Chinatown Wars' handheld mayhem, you're no doubt learning the streets of Liberty City can be unkind to strangers that aren't carrying the right protection. Weapons can be purchased at the AmmuNation online store available within your PDA, but if you lack funds, the cheats below should help you get your hands on a nice arsenal of firepower.
Cheats are entered on your Mission Replay Board which can be accessed by visiting any Safe House (you can find the Board on the far right side of the Safe House). The Mission Replay Board has a jumbled set of magnetized letters that can be used to arrange all kinds of words - spell out the letters below to input the following cheats:
Weapon Cheats
Weapon cheat 1 - LOADOA

Grants: grenade, nightstick, pistol, minigun, assault, micro smg, stubby shotgun

Weapon cheat 2 - LOADOB

Grants: molotov, teaser, dual pistols, flamethrower, carbine, smg, dual-barrel

Weapon cheat 3 - LOADOC

Grants: mine, chainsaw, revolver, flamethrower, carbine, smg, dual-barrel

Weapon cheat 4 - LOADOD


Grants: flashbang, bat, pistol, rpg, carbine, micro smg, stubby shotgun
You will know you have entered a cheat successfully when all of the magnetized letters go back to their original position on the board and a piece of text appears at the bottom of the screen with the load-out name you selected. Once you exit your safe house, you can switch weapons by pressing the pause button in the upper right hand corner (a screen with all of your current weapons will pop up).
Be on the lookout as we reveal more cheats for Chinatown Wars iPhone/iPod touch in the very near future.
Previously:
Serving the Fiends in "Half Cut" (Grand Theft Auto: Chinatown Wars – PSP Exclusive Mission)
Jumping to the Top of the BASE Jump Leaderboards (The Ballad of Gay Tony / Episodes from Liberty City)
Doing "Odd Jobs" to Get Ahead (Grand Theft Auto: Chinatown Wars)
***
Are there tough missions in a particular Rockstar game that you'd like some hints or help with? Let us know via comments here on the Rockstar Newswire, or send us an email and we'll try and give you our best tips and strategies.