Grand Theft Auto IV: Complete Edition Official Social Club Multiplayer Event on PSN (April 5, 4-7PM Eastern)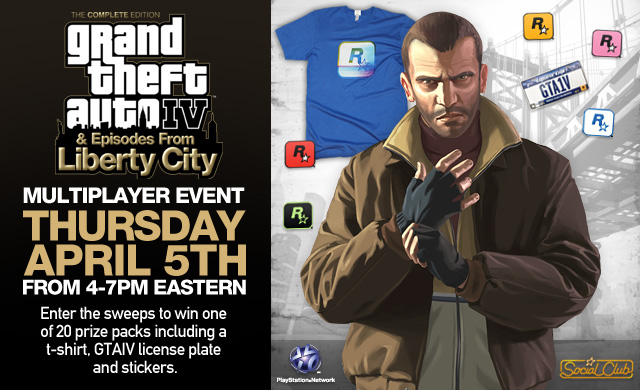 Update: The event and sweepstakes have ended. Thanks to everyone that joined in, whether you were watching, chatting, playing or just entering the sweepstakes...
The Spring calendar of Social Club multiplayer events heats up this month with a double dose for PSN, beginning Thursday April 5th with an afternoon of Grand Theft Auto IV: Complete Edition from 4-7PM Eastern, and continuing in two weeks on Friday April 20th with Red Dead Redemption: Game of the Year Edition in the same time slot.
Hope to see everyone on both days, but first things first: the GTAIV event. We'll have a live video stream on the multiplayer events page, and you can also join in the chat and enter to win one of 20 prize packs. Winners will receive a t-shirt, GTAIV license plate and a bunch of stickers – all delivered to your doorstep.
We'll begin the event in GTAIV and later switch over to The Lost and Damned and The Ballad of Gay Tony, about an hour for each. We recommend staying in the chatroom on the multiplayer events page while playing so you'll be able to let us know your IDs. Any version of GTAIV or the episodes will be compatible with us, so don't worry if you don't own the Complete Edition. PlayRockstar12 will be in original Grand Theft Auto IV multiplayer for the entire event for those that don't have the episodes.
Read on for further details for the afternoon of GTA multiplayer action...
OFFICIAL ROCKSTAR PSN IDs
Participating PlayStation Network Rockstar Games IDs for this day will be:
PlayRockstar10
PlayRockstar11
PlayRockstar12
PlayRockstar13
Only add one PSN ID to your friends list to play. If you have a different version than the Complete Edition disc for Grand Theft Auto IV, no worries as you will be compatible with us.

FINDING US IN-GAME
Where's Rockstar? Pay attention to the live chat on the Social Club Multiplayer Events page. We'll announce where we're at in there. We'll begin in Grand Theft Auto IV in GTA Race, and later progress to the two episodes. Use the in-game cellphone to select the mode we're playing during the event.

NEED A PARTNER?
For team-based modes such as Team Deathmatch, gather your friends using Party Mode. You can also hit up the chat during the event or just post your PlayStation Network ID in the Comments section below.

ABOUT PARTY MODE
Party Mode is an easy way to get your group together and find matches. Here are the three quick and easy steps to get you up and running:
Save your current game. To get started, fire up the in-game mobile phone by pressing "Up" on the keyboard. Select Multiplayer > Party Mode > Yes.
Next, open up your phone again and select the Friends option to invite at least one person into your Party Mode game.
Once your team is ready to roll, open up the in-game phone again and select Games > GTA Race.
Previously:
Recap of the Red Dead Redemption Official Social Club Multiplayer Event on PSN (March 8) with Screens, Fan Video & Prize Winners
Recap with Fan Video, Prize Winners and Screens from the Official GTAIV PC Social Club Multiplayer Event (February 24)
Fan Video, Prize Winners & Screens from the Feb 10th Red Dead Redemption Social Club Multiplayer Event on Xbox LIVE