The True West - History that Helped Inspire Red Dead Redemption. Bad Guys Gone Good... and Vice Versa - Part One: Frank James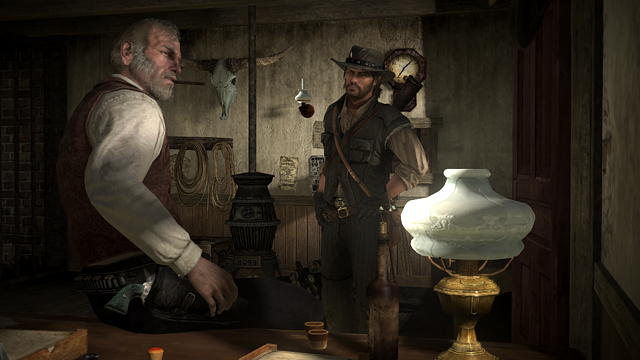 (In Red Dead Redemption, former outlaw John Marston finds himself on the side of the law, joining forces with a local marshal. )
The turn of the 20th century – the period in which Red Dead Redemption is set - was a tumultuous time of change; as technology and industrialism brought on the death of the old, wild Western frontier of the 1800's, the Native American population was decimated and relegated to military-style reservations, and the American people extended the nation's boundaries as far as California, Oregon and Alaska.

What tends to get lost in the romanticism of the era's wild steeds, picturesque plains, dusty saloons and tumbleweeds – is the abject savagery and treacherousness of the West – and particularly in those twilight years.

Unlike the pure fantasy of most videogames, the conditions that amount to Red Dead Redemption's backstory – changed man, former outlaw John Marston being strong-armed back into a life of violence by a desperate and underhanded government agency – are very real.

The True West series here at Rockstar Newswire will offer up, for the first time, just a bit of the historical insight unearthed and detailed by our internal Research department during the development of Red Dead Redemption to help ensure as authentic an experience as possible. In the coming months, we will be exploring a wide array of intriguing true touchstones of the last days of the wild West that we hope you all find as fascinating as we do.

Today we introduce the series with "Bad Guys Gone Good… and Vice Versa" – profiling a range of actual legendary heroes and villains from the Old West who responded to the new period of progress and potential prosperity by changing their ways, for better or worse. Bad guys turned tame, good guys gone bad, and a few who managed to exploit their own legends for fame and profit.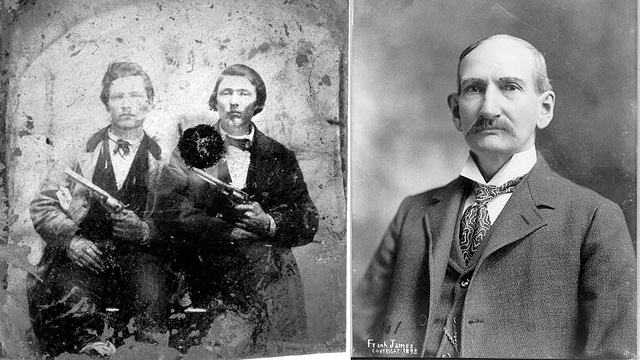 (Left: That's Jesse on the left, Frank on the right – the notorious James brothers pose with their pistols for a rare studio portrait taken in their gunslinging heyday circa 1866 [Denver Public Library, Western History Collection]; Right: Frank James in his 50's, an older, settled man gone legitimate. [Wikipedia Commons])
Part One: Frank James, brother of Jesse (1843-1915)

The Bad Old Days

Frank James isn't as notorious as his brother Jesse; but the older James brother was the first to bust his gun—during the Civil War as a member of pro-Confederate guerillas called the Bushwhackers.
It was a small step from their dislike for the Man (aka the Union Army), to their life of violence and grand larceny. Forming the James-Younger gang with Jesse, Cole Younger and Cole's three brothers, they embarked on a seven-year spree of murder and armed robbery.
A disastrous attempt on a Minnesota bank broke up the James-Younger crew. When his brother Jesse was killed by their friend Bob Ford, Frank personally turned himself in to the Governor of Missouri after 20+ years of mayhem.

A Changed Man?

Thanks to the showmanship pioneered by Buffalo Bill Cody, Frank and his friend Cole Younger found an eager market for sensationalizing the daring exploits of the bad old days, so they formed The Cole Younger and Frank James Wild West Company and began touring in 1903. When not ripping off his own legacy for prurient dime-store novel readers, Frank pursued an odd jumbling of jobs: from shoe salesman to lecturer, and from AT&T operator to burlesque theater ticket-taker to betting commissioner in New Orleans. A modest farm owner at the time of his death, Frank passed away in 1915.


Coming Next: Pearl Hart, a woman "good-looking, desperate, discouraged and ready for anything"