Rockstar Warehouse Update: Announcing Reduced Shipping Rates on Gear for the Entire European Union - Celebrate with an International 15% Off Sale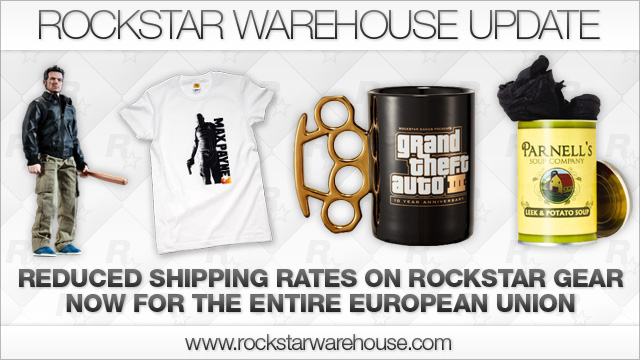 Today, we're happy to finally announce significantly reduced international shipping rates from the Rockstar Warehouse online store, meaning way lower shipping fees for all fans in Europe when buying Rockstar gear, collectibles and apparel (stay tuned for the sale of PAL games as well coming soon).

If you're a customer in the EU, just visit www.rockstarwarehouse.com and you will be automatically detected by location and designated to select from EU shipping options. Store pricing will now display in Euros (except for UK customers, who will see GBP pricing). Please also note that our default product pricing accounts for the base item price plus import and VAT fees in compliance with EU regulation, but total charges for European customers at the end of checkout will still result in a 20% savings on average* as compared to previous costs when purchasing from the US-based Rockstar Warehouse. (* See our Support FAQ article here for more details including a breakdown of savings by several EU territories)

To celebrate, we've kicked off an International 15% off sale today until March 26th 2012 on all available Rockstar gear, apparel and collectibles (everything except games). So if you've been hesitating to pick up a long-coveted item from the Grand Theft Auto III 10 Year Anniversary Collection like the nearly sold-out Claude Action Figure, GTAIII Lithographs, or any of our popular posters, soundtracks, tee shirts, caps, and more - now is the time.
If you don't see your country listed and would like more information or have any other Rockstar Warehouse questions, feel free to contact our Store customer support team here.