Congrats to Vinny D'Agostino, Raymond Lum & Lee Merryman: The Three Social Club Members Who Will Get a Tombstone in Max Payne 3's Cemetery Map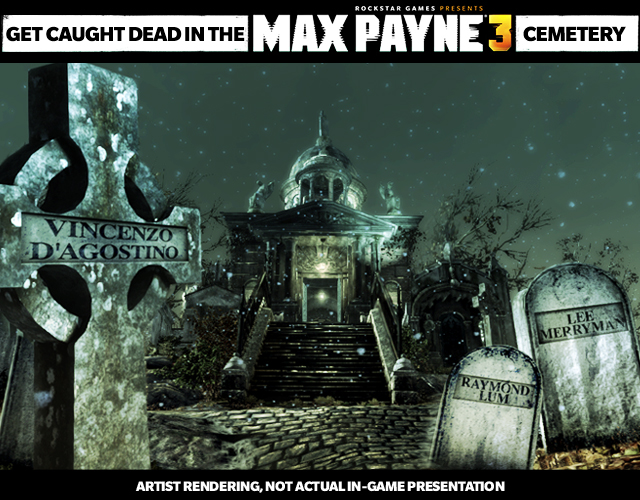 Update: Congrats to Dan Mason, Jeff Favaloro and Michael Clarke who won GameStop's sweepstakes and will also have their names featured on tombstones in the Cemetery Multiplayer Map.
Congratulations to the three lucky Social Club members who will each get their name etched into a tombstone in Max Payne 3's Cemetery multiplayer map for all to see online: Lee Merryman (FuzzyBigVito), Raymond Lum (1-800-BOOK-HIM) and Vincenzo D'Agostino (vince_42069) as part of our Get Caught Dead in the Max Payne 3 Cemetary online event.

We're especially happy to see good old Vinny (aka @VinnyNasty on Twitter) getting a chance to be represented in the game as he was a very active participant and strong contender in the #MaxPayne3 casting event we held earlier this year. Having been chosen at random amongst thousands of entrants, we're glad to see the luck of the draw on the side of one of our most long-time Social Club members and hardcore Max Payne fans.

Speaking of the #MaxPayne3 Twitter gang cast of characters - stay tuned as we should be revealing how they look in the game within the next week...