First Four Multiplayer Faces Have Been Selected in the #MaxPayne3 Casting Event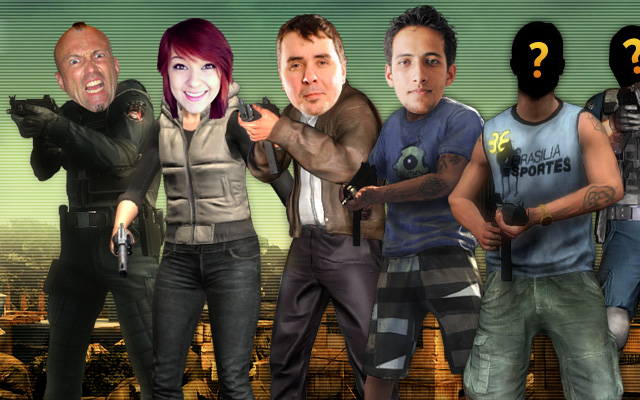 Congrats to our first four #MaxPayne3 multiplayer gang members, (from left) @HaraldFraenkel, @Alexisssx3, @Wheelerj28, @ElvisMarques. We still have another four to pick, so keep using the hashtag for your chance to be noticed and selected.
Today we're proud to announce that the first 4 people have been cast (of a total eventual 8) in our special #MaxPayne3 casting event via Twitter.
For the week ending December 23rd, @HaraldFraenkel of Germany and @Alexisssx3 of California, US are our first pair of Max Payne 3 multiplayer gang faces. And for the week ending December 30th, @Wheelerj28 of Canada and @ElvisMarques of Brazil are our pair. Congratulations, lady and gents.
Harald won us over with his incredible look – with the classic shaved head Mohawk and aggressive demeanor, looks totally like someone who'd be believable facing off in an online deathmatch.

Alexis "Lou" caught our eye with her gauntlet-throw below in our direction and quite true claim that every multiplayer gang needs a bad ass female assassin.
@RockstarGames you need a real gamer for the chick! guarantee I could smash you in the multiplayer! #MaxPayne3

— Lou (@Alexisssx3) December 23, 2011
Dave Wheeler is known up in Winnipeg, Canada as morning show mouthpiece of local rock radio station Power 97 and caught our eye with his campaign to proudly let his listeners virtually shoot him in the mug should he be cast.

And Elvis Marques is a devoted fan hailing from Max Payne 3's locale of Brazil - it's only right that this unit have at least one Brasileiro verdadeiro, and who better than a member of the troop who call themselves the #MaxPayne3 Family (shout to scareface1970, keep it up and good luck!).

This is the last week to be chosen so keep using the #MaxPayne3 hashtag everyone to make sure we notice you! Also make sure you're following us on Twitter, and checking your DMs regularly.

Hit the official event page at http://www.rockstargames.com/maxpayne3/casting for all the details and for official rules. We'll be casting through this Friday, January 13th.