Announcing the Jan-Feb 2012 Official Social Club Multiplayer Events Series Calendar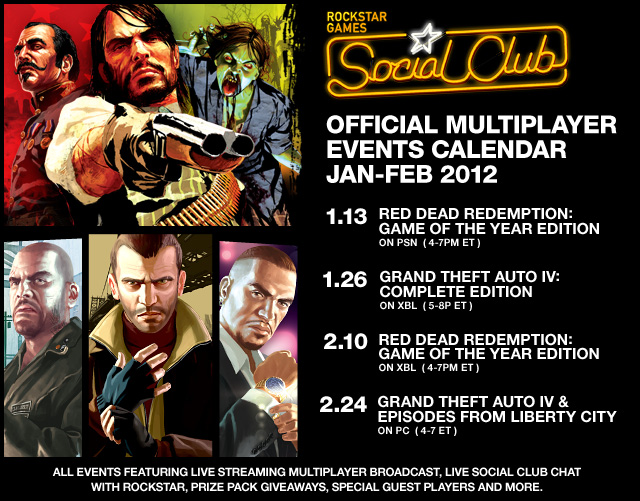 Announcing the first scheduled Official Social Club Multiplayer Events of 2012 with our January and February slate of Red Dead Redemption and Grand Theft Auto IV sessions across PSN, XBL and PC. Mark your calendars to join us for live streaming online multiplayer action plus live chat with Rockstar and other Social Club members at the Events page, along with prize pack giveaways, special guest players, and more.

Look for another calendar with dates for March and beyond after we've announced the release date for Max Payne 3 - for now, let your mind run wild with what the future will hold by reading up on the first multiplayer details for Max Payne 3 as revealed at IGN this week.
CALENDAR OF MULTIPLAYER EVENTS
Friday, January 13 (4-7PM Eastern)
Red Dead Redemption: Game of the Year Edition w/ Triple XP
For PlayStation 3 on PSN
The first multiplayer event of 2012, battling it out on PSN with you and your whole posse across modes from the entire Red Dead Redemption online multiplayer experience - including Undead Nightmare's Undead Overrun. (Note you do not need the Game of the Year Edition specifically to play in this or any of our Red Dead events. Any version will do as long as we're playing relevant modes.)
Friday, February 10 (4-7PM Eastern)
Red Dead Redemption: Game of the Year Edition w/ Triple XP
For Xbox 360 on Xbox LIVE
Red Dead on Xbox LIVE with everything from Grand Prix Horse Racing to Gold Rush to Stronghold to Undead Overrun and plenty more. As with most of our events, we'll have 20 runner-up prizes and one Grand Prize. Good luck...
Friday, February 24 (4-7PM Eastern)
Grand Theft Auto IV & Episodes from Liberty City
For PC on Games for Windows LIVE
Yup, 32-player mayhem crashing things up in Race, going wild in Free Mode, and some classic Deathmatch - will be just part of this one.

These official multiplayer events are your chance to:
Play online multiplayer with Rockstar Games, including folks from some of the development teams who helped create the games themselves
Enter Social Club member-exclusive event sweepstakes at the multiplayer events page during the event, including prize giveaways you won't see anywhere else like custom controllers, consoles and more
Watch the live video stream broadcast of the online play at the official multiplayer events page
Join the live event chat to discuss the stream and challenge other players as the action unfolds
HOW TO PLAY WITH ROCKSTAR
Look for Gamertags, IDs and details on how to find us in each event to be posted a day or two before each of the dates listed below. Keep in mind that the easiest way to get in on a game with us during these playsessions is to send a friend request the night before and then request in the chat or the corresponding Newswire post to be invited.

If you want more chances to play with Rockstar or, as mentioned, get more +XP in Red Dead, be sure to follow us on our Twitter and Facebook pages. At unscheduled dates and times, every now and then we like to tweet out that we're about to play one of our titles online, and we invite everyone by posting a Gamertag. If Triple XP is happening, we'll let you know about how long it will be on. We've recently been keeping it on at least 24 hours a week. Watch closely for the next one...