Recap & Screens from the Red Dead Redemption: Game of the Year Edition Official Social Club Multiplayer Event on PSN (November 18)
Congratulations to Alvin Ogando of Florida aka Social Club member NeoArod, for winning the Grand Prize in our Red Dead Redemption: Game of the Year Edition PSN event on November 18th. NeoArod will receive a pair of the limited-edition custom Red Dead Redemption PlayStation 3 controllers seen below - note that these coveted pieces are not available for sale and only acquirable in special sweepstakes events like this one. So along with the controllers, NeoArod will also receive the burden of preventing his friends from "accidentally" taking these stylish and rare items from his house. Best of luck in protecting your newfound riches.
The runners-up for the event (ChicagoEnigma, XboxLoof, D.E.LB, beardlace, Donn_88, hubbletrouble, lilmacki, ahetFIN, Markcoos, cdman17, funtimfrankieg, DR.PHILY, Arnooow, DeathStreak_UK, Master07Disaster, 1337Pilot, Austinsgrandpa, miked0292, HelterSkeltered and HerseyBoyRockz) will each get a Rockstar prize pack containing a t-shirt (like the reality warping Psychedelic Tee) and a collection of stickers.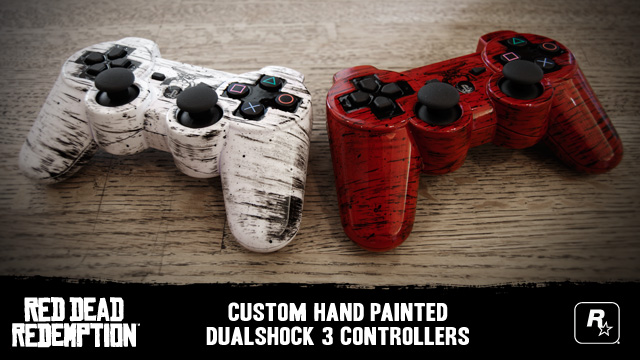 Cheers to everyone that participated, by chatting with us during the event, watching the video stream, playing in-game or just stopping by the multiplayer events page to enter the sweeps. And especially thanks to our special guest players from the Konsole Kingz squad in Atlanta who possed up on PSN with us, doing a stellar job keeping zombies off our back in Undead Overrun. Shout to CJ, Sergio da Pro and of course Sheneka Adams for joining us in the multiplayer mayhem, you can check their own full recap at the Konsole Kingz site.
Its about to go down @iamShenekaAdams is in the house. We bout to go live on #RDR pic.twitter.com/2VKfBg7qTweeted via web
Favorite
Retweet
Reply
KONSOLEKINGZ
KONSOLEKINGZ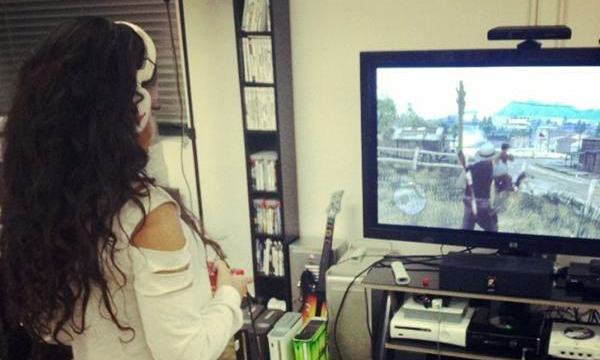 Check out some highlight reel screens from the afternoon playing Gang Shootout, Undead Overrun, Grab the Bag and more with ye Social Club members and our guest players:
Below we've provided a list of participants that joined us in-game and in the chat. Let us know if you believe someone has accidentally been left out:
1337Pilot
1800-Tequila
357_Magnum
471gamerclub
AFMM2012
ahetFIN
Alan-Gabriel-R
ALeX651
alicia_awesome
alisuger
allvoxman
al_the_stal
ANTXO-GHETTO
Anuman123
Ariel_Massacre
arturo26mx
Ashese93
Austinsgrandpa
Axt_BR
Azborn_Txraised
A_Fat_Chihuahua
BABIEGIRL323
bad_hair_girl
bandsy1690
barkzaan
Batzem
Beanster22
beastfin
beast__
beltring94
beretta__9mm
BIGBUDS_ROCKSTAR
Bigrat1966
bikinisntchmnstr
BJN01
Blackcore1
broncodriver88
Bryanom7
call24
CaseyTheVA
CCrookz
ChezTommy
ChicagoEnigma
chrissy139863176
Christobell46
chuckstix
conorSuper
coole26
coolflash990
cool_alex10
Corp_Death
Dark_fusion42
ddc256
deanjae
denisiscena

DerKuchenman
Donn_88
dopeylori
DPGODOI
emmi18176860
Errol123245
EvilBABIEGIRL323
Fantastic_Mr_Cat
FeelThePayne
ferguson99
first-man
flipmowd
FRA1Z3R
franciscoepedro1
FugetSudo_Jr
GameSpirit
GarfieldLouis
Geethika
GibsonGuy15
GM-Shenmue
goaaala_baer
GoTmilkjelly
gravvity
Greuzleu
GTAIV_King
GTAROCKS132
gudari0
Gunsandknives
gy7uyhgfrtfft
Haraldinio
HerseyBoyRockz
hogiacymru
hubbletrouble
Huot-the-beast
hypnoticshane1
Infamous20
irishpaschal
IvoPinho
IWIHooligan
ja1250
jaky2008
JamesRDRM
jason-kills-you
JCumbiero
JeffreyOwns
jinx405
joa_nyc
Jojooooo42
Joker-64
jonjonnc
jonte951
Joris42
Josh6714
JUSTUSdoit
kajutka

kalajj
KazzaRu
KelticKennedy
kevin5020
Kingz4Life04
Kinnellephant
KONSOLEKINGZ
KryptoWonderDog
LiL-A-King1
lilmacki
lola3006
lord_essex
louis1993
Macedo99
malucobrasileiro
Marney-1
Master07Disaster
McDevlin182
MCKing
McSeries23017
mcswinning
meltron69
messerjedi13
miked0292
MisterBunny
MJDUBBSJR
Mungy-The-Clown
Munkyx30
NakkiNL
Newgen18
nikobelic2500000
OLICKHERY22
OsloGamer
paskill75
perfectElPistole
pergamentkamama
petete_correa
PinHead_86
PureDorian
Qaikwow
Rafioso
RedMasterTNMT
RED_DEAD_DEVIL_6
rikk789
robbysvendender
Roberty8
RockstarInformer
Rogue_Renegade03
Rollaw
Rstar_master622
Rue_Star
R__P__G
Samsuxx
Samucagrc
santii69

sarhamas
Sasuke313
SasukeUchiha313
sb1goose
scareface1970
sergiodaprokkz
ShaunassNZ
sheneka19
Shizzors
sietse-h
skeje
slydewayssr
sM000000Ke
SnakeVenoMan
SOMETHINKDARK
SouthPawShooter
standupsteve
stavros97
streetheart
SuperGGfr
superweed25
SvenDender
S_Slaughters
Th3CrazyKid
TH3_BL33D3R831
theaussieboyzz
TheAwsomeOpossum
TheCloven
TheIvaneh
TheJLC
therealtreefitty
tommygun630
toneyanthony
tony421
Tony_dize
UBETARUN
valzukka
VerbalGhost
vibbelito
vince_123
vince_42069
viskaz
WhatNow49
whiteboypkrwood
willisi10
XeOn_24
XxAssassin78xX
yatusae
ya_tu_sae
zakk917
Zarhan
zell9275i
zellraiden
Zidane
Our next event on the calendar is coming up this Friday December 2nd, playing Grand Theft Auto IV PC from 4-7PM Eastern on what happens to be the third anniversary since its release in 2008. We'll have a live stream, chat and you'll be able to enter to win one of 20 Rockstar prize packs.

Last but not least, if you want to be kept up to date on multiplayer events, including loads of Triple XP, follow us on Twitter and Facebook to get the word at the moment we're going online. It's never scheduled and we only announce it there...
Previously:
Recap & Screens from the Red Dead Redemption: Game of the Year Edition Official Social Club Multiplayer Event on Xbox LIVE (November 3)
Recap with Screens, Video & Prize Winners from the Grand Theft Auto IV: Complete Edition Official Social Club Multiplayer Event (October 21)
Recap, Fan Video & Screens from the Red Dead Redemption: Game of the Year Edition Official Social Club Multiplayer Event on PSN (October 14