Rockstar Warehouse Update: GTAIII Anniversary Knuckleduster Mugs, Max Payne 3 T-Shirts & Posters Now Available
Check out the latest contraband added for purchase at the recently re-launched Rockstar Warehouse – featuring premium items in demand ever since they debuted as limited giveaways at our Comic Con booth earlier this month in NYC...
Grand Theft Auto III Ten Year Anniversary Knuckleduster Mug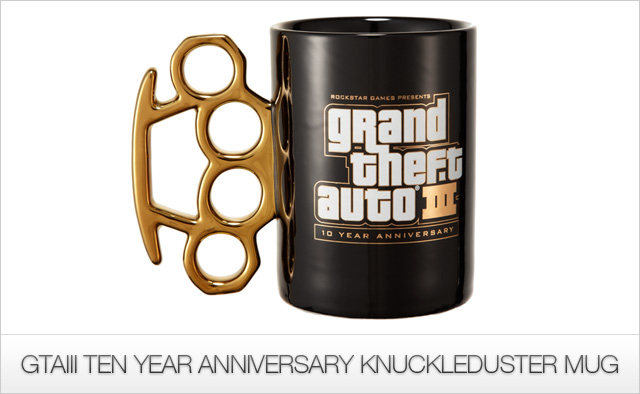 Coveted since Comic Con, the Grand Theft Auto III Ten Year Anniversary Knuckleduster Mug features: a "brass knuckle" handle that is electroplated with Titanium, a Grand Theft Auto Ten Year Anniversary logo that is printed with white ink and real 18kt gold, and a white Rockstar logo printed on its base. $20.

First Max Payne Items for Sale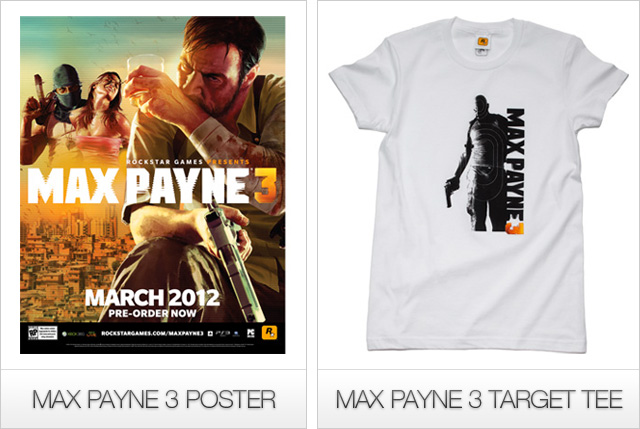 Max Payne 3 Poster
Added to the Rockstar Posters collection, an official 22"x28" poster of the artwork that accompanied the First Trailer release for Max Payne 3. $15.
Max Payne 3 Target Tee
This soft white 100% cotton tee features Max Payne as a marked man - with gun range style target across his torso. The back side of the tee sports a small Rockstar logo right below the neckline. Hit the product page for multiple views. $20.

Previously:
Claude, 8-Ball, Misty & Kenji: New GTAIII Anniversary Lithographs and Digital Desktops
Rockstar Warehouse Relaunch with New Gear, Improved Shipping and More
Announcing Grand Theft Auto III: 10th Anniversary Edition for Select Mobile Devices & the Limited Edition Claude Action Figure