Interrogate the L.A. Noire Detectives Part Two: Your Questions Answered About Motion Capture, Prop Souvenirs, Disturbing Sequences & More
Presenting part two in our special Interrogate the L.A. Noire Detectives series, with your questions (as submitted over the summer via Twitter, Facebook, mouthoff, and of course here at the Newswire in comments) answered directly by the detective cast of the game. Thanks again to the game's stars, Aaron Staton (Cole Phelps), Sean McGowan (Stefan Bekowsky), Keith Szarabajka (Herschel Biggs), Michael McGrady (Rusty Galloway) and Adam Harrington (Roy Earle) for not bristling under questioning and giving us all some great candid answers. Today's questions cover a range of topics from the acting experience of performing for the game, insights on the motion-capture process, thoughts on what prop the actors wish they took home with them and much more. Look for part 3 to hit soon which will be comprised of one-on-one questions asked to specific actors about their individual characters and experiences, including a special battery of questioning for the game's lead, Aaron Staton.


MrTLJennings (@TLJennings18 on Twitter) asks:
This is to all the actors. They've each come from Film/TV acting and the main thing I wanted to know was: What was the most different thing, for you, [about] performing for L.A. Noire?

Aaron Staton:
Night and day. It was the difference between 2 cameras [on TV] and 32 [with MotionScan]. Every acting experience is a different one depending on many factors: the script, the character, the medium, etc. I'm sure that acting in
Avatar
was quite different than acting in a movie without any special effects. And the same goes for videogames, I'm sure. But I can say the scripts are much, much longer in videogames. The script for L.A. Noire was about as long as two seasons of a network drama or four seasons of a cable drama.

Sean McGowan:
As an actor, I'd say the one thing that connects all forms of acting, i.e. movies, theatre and now games, is that you want your audience to believe you. To really buy into what you are saying. So on a basic level, as actors, essentially our job is to make you believe what we're saying. Dramas or comedies, if you don't buy the actor you'll never buy into the story. With L.A. Noire it was a bit tricky to figure out the perfect balance of how much is too much. Am I standing too still? Am I moving too much? Am I overacting because I feel like I have to push? In the end, I'm not sure if I ever really got it! Haha… I hope I did.

Keith Szarabajka:
That it was a film noir type piece, with lots of tough cops and tough guys and dames you couldn't trust. I had a ball doing it.

heycheri (@heycheri on Twitter) asks:


How would you describe your experience playing this role in comparison to other roles you've played? Has this been more fun, interesting, different, etc?

Sean McGowan:
My experience with this role was nothing shy of amazing. I had never done anything like this before. In fact NO ONE had. It was brilliant to be involved with something so new and challenging.

Michael McGrady:
It was much like doing a play. We had no real props or stage furniture per se. Everything was bare bones as the atmosphere, much like green screen, was put in place via computer. We had to do the scenes over and over several times. Memorization wasn't easy either. We had to show up with lines memorized. There were thousands of pages of script to cover all of the different scenarios. It was a lot of fun but grueling work too, long hours over several months. [The game's writer and director] Brendan McNamara was fantastic. He kept it light and fun to work on, allowing us moments of zaniness to get through the day.

faithashw (@faithashw on Twitter) asks:


How much of the action that happens in the game is Mo-Cap? E.g. When Cole is running / climbing over walls, or when everyone is in a gun battle, was this all Mo-Cap?

Adam Harrington:
That would be a technical question. I do know that we shot every scene with all the action, running, climbing, fighting, and with Roy, lighting and smoking all those cigarettes (although for the shoot and the good of my lungs, they were hollow paper tubes).

Sean McGowan:
We mo-capped a ton of stuff. All the cinematic scenes where you don't control Cole were motion capture. Also other stuff, like us running, walking and waiting around were mo-capped because Rockstar wanted the characters to BE us. When Bekowsky runs into a gunfight with his gun drawn: mo-cap.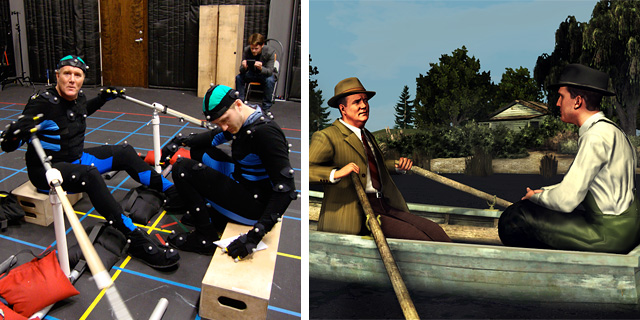 Detectives Galloway (Michael McGrady) and Phelps (Aaron Staton) in mo-cap; and the in-game finished product, rowing along the tar pits looking for clues.
OtokoNoShufu (@otokonoshufu on Twitter) asks:
You often hear about how after a large movie production wraps, actors will sometimes take a prop or other item as a souvenir. If the same rule could have applied to L.A. Noire, what would you have taken off set as a memento? Evidence props, costumes, etc.

Michael McGrady:
I took a Styrofoam ball home as a memento and one of the orange T-shirts we had to wear in the facial recognition (Motionscan) portion of the shoot.

Adam Harrington:
Well, I'd be an idiot if I didn't walk with Roy's Coat or tie… other than that I think I would've asked for his lighter!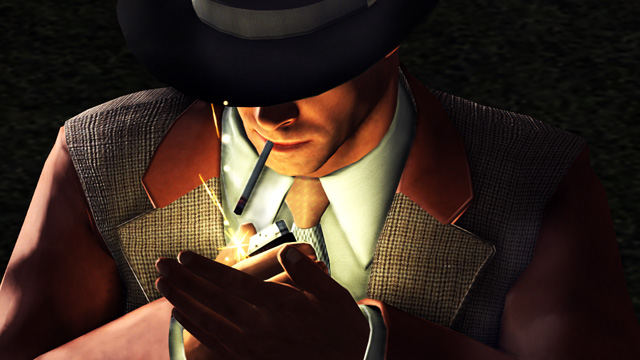 Love him or hate him. L.A. Noire's Roy Earle as brought to life by Adam Harrington and the wonders of MotionScan.

@jiggyteddy asks:

Were there any particular scenes that any of you found difficult or perhaps even disturbing that really tested your nerves?

Keith Szarabajka:
When they find the family burned in the house, that was pretty rough stuff. But, you know, they're just lines. And I just say them as I see them. Sorry to be realistic.

Adam Harrington:
LA Noire was set during a very corrupt and racist period in LA's history, and I had to accept that in order to commit to Roy's attitude and dialogue at times.

In one of the more harrowing cases in L.A. Noire, Phelps and Biggs arrive at the tragic scene of a family burned to death in their own home, while working the Arson desk.
PhuahEJ91 asks:
Would you ever consider an alternative career as a detective?

Sean McGowan:
I think anyone who fights crime for a living and keeps the world safe is a very special breed of human. Those people are amazing. So to answer your question, no. I would be a horrible real detective because I would say things like, "What do you mean I can't shoot him?" and would also probably be the worst back seat driver that my partner ever had.
Stay tuned for part 3 in our this special continuing series, which will pick up with questions specifically asked to individual detective's actors – including Michael McGrady's opinions of the sarcastic Detective Galloway, Sean McGowan's musings on the psychology of Bekowsky and Phelp's brotherly relationship, Aaron Staton's experiences reuniting with his Mad Men castmates and much more.
Previously:
Interrogate the L.A. Noire Detectives: Your Questions Answered – Part One