Recap & Screens: Red Dead Redemption Myths & Mavericks Official Social Club Multiplayer Event on Xbox LIVE (September 23)
Thanks to everyone who made it through to our official Red Dead Redemption Myths and Mavericks Bonus Pack multiplayer event help on Friday September 23rd, when we threw down with all the new multiplayer characters and in all the new map locations updated in the free DLC currently available for download - and flipped on some Triple XP all the way throughout to boot.

Joining us in all the action and ensuring an extra hellaciously hilarious session were some friends of ours from the Opie and Anthony radio show - namely Erock, Roland, Cokelogic, Travis, and Danny. If you heard them on the live video stream but were unable to figure out who was who, Danny (GT: HelloExactly) was the most vocal of the group, declaring war on the skilled and elusive ONE posse, represented by ONE CraZyCrack, ONE oODollarsOo and ONE witwicky84, promising tomahawks to the face "every time" and bemoaning the ubiquity of everyone's favorite feline, the cougar. Thanks fellas for coming through - good times.
Playing #RedDeadRedemption at @RockstarGames http://yfrog.com/hsoiwqsjTweeted via web
Favorite
Retweet
Reply
erockradio
Erik (Erock)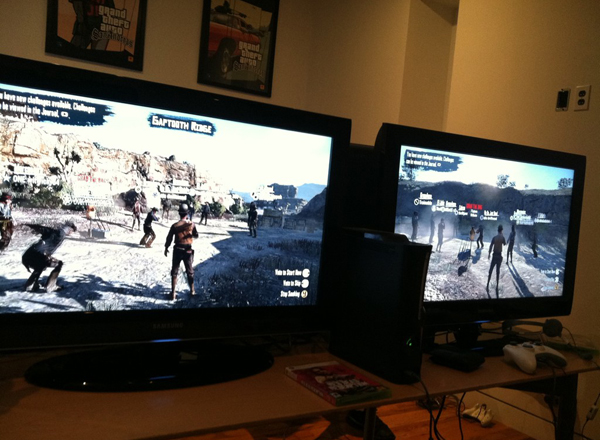 @erockradio Thanks to @RockstarGames and the O&A fans who joined in today http://yfrog.com/h712563622jTweeted via web
Favorite
Retweet
Reply
And here's our slideshow of just a few memorable snapshots of action from the event.
Awesome. If you were there, you should be below in our roll call. Thanks for participating, and let us know if you think we've accidentally left anyone out.
1337Pilot
1800-Tequila
97dodde
ADX SCARLETT
ahetFIN
AJ_127
alekos98
ALS2QUICK
andrewbts
Andy Boy 2011
AndySipowicz
Anglo Patriot
angryvegetarian
AntricLive
apeaape
Ariel_Massacre
ArousedI3uffalo
azerty36080
azooz_11
badfishis
Ballisticmatter
bikinisntchmnstr
BluntzNDollarz
bobavaderfett
BondJerry007
bowki0529
brannie009
bufflezero
BUGEYE02
butheadpat
Butzelbaer
cahill7
cameron_720910
camtgj
CannonLars
CanuckChippah
Ca___Fe
Chaosking244
chicagofarker
CliffWilliams
Cmarra95
COK3LOGIC
Conaaando
convex airplane
cooljuanita
CosmicRobin309
Cousin Dave 360
Craigyroo
creekjohnson
Critical_NL
CrockTheRock
CUBEMAN
Cuckoowax
cuzzythewolf
D1GiTAL
D3v1ous 01
D4RK x ILuzIoNs
darkcaptainTR
Darken Owl
darklord 1974
DarthSeptic
DaSillyGoose
DavedCoverdale
DaViper83
defiantgamer
DevilishDennis
devshade
didi727
DillHawk242
DistantExile
Dr-Sus3
DruggieFresh
dwej1973
dwnsmk
DziiRe
Egc-Gamerwiz
eliaspman
EmBaker96
emerson1818
emmi18176860
Emsalsiz31
Erockradio
Fabio_1990
falidar
FARRIS88
FEAR alfjocker
FEAR HUNT3RL0RD
FEAR Kelemvor00
FeelThePayne
Filoniasty
Flanagunn
FML412
Frunnkiss
FugetSudo_Jr
Fullmetal003
GinormousK
GM-Shenmue
gman33
Gr33D17
GUnsmoKE67
Harmonix_001
HazyHills
hellier75
HelloExactly
HollowMurders
HUNT3RL0RD
Husaria
iagogaliza
IAmAlwaysTheBest
idrivehi
I Ghastly I
Ikillyouforjoy1
InsectOverlords
IRa5taZz
iTsxDeAtH
IWIHooligan
Jack_MrManga
James_JAmeson
jbcal
Jeff_McRae
jenbooks
JermanTheKill
jesse45
Jforty1011
JiTTeR_KiLLeR
Joeenu
JoeMUFC
John Marston
Josh2494
juninhoplay3
Juppert010
Kingofps3
Kinotsu555
KothAlgo
KoV Killdemic
LedTriv
leetgamer_87
l Ghastly l
Liberty_King
LiL-A-King1
LocoElBob69
lord_essex
louis1993
Mactavish89
Madsen92
Marney-1
Marston_Bellic
maskedhobo
mattpx12
McIldemon
MetalBoxFan
METALLICACorn
MichaelK
MILKOMANIA
MinisterHam
miraclemitch
Misandope
Mogems
molesuit
MOONDAVICH
MortiS v2
MR WALSHAW
Mr_Torque
MSFeather
Musterd333
Narcotictic
NaZDel90
neoman192
Newgen18
Nicholad
nickojber
nikobelic2500000
noobsmith
norbertojp
Noru112
NyQuil Samurai
olipop
ONE CraZyCrack
ONE oODollarsOo
ONE witwicky84
ONE_EYED_EEL
OrIGInalPyRO
otis drriftwood
OverTheUnder93
Paulo-RT
PerfidiousSinn
Perseus1956
phelps1247uk
PheralStrife
Pistol_Paul
punkkstr13
PURPleHAZE11127
PyratRum
quickkiller580
Quickkiller775
Rafioso
RaiNeezZ x
RastafariZombie
ReadDeadfan12349
respect8711
revolverkiller71
RockstarInformer
Rollaw
rookie371
Roscoe1891
Rovariss
Ryder41
S1OW Amigo
saiprathap
SalazarTheGreek
Sandboxgamesrock
SARGENTFallestTI
SavageRabidBeast
scareface1970
scarlettnscott
segnus
Sethelz
shiva29
ShroomieMcGee
slick351
_SLinC_
SmileyDaWarlock
SOULLESS GING3R
SPAS SNIPER GOD
starcraft563
steffgaming
Superman4392
TearlessXion
The-Two-Gun-Kid
TheCloven
The Dovahkiin
therealtreefitty
thriftjam
tidy l3uffalo
Tio Aly
tirofijo2010
tony421
torpedo36
Trainable
twin GUNNRS
TWoods_826
UEI333
UltraBlumpkin07
Unclejollyroger
Underground641
UnholyKnight60
vince_42069
ViperGuns
virus879
vision2020
vRudolph
Wall of Yawn
walshaw
willyjmcguire
XeOn_24
xIProJoeDx
xmrbrownie
XR7 Rob
XSG2 ASSASSIN X
xX7heWarheroXx
xXAlexDe1argeXx
XxJokErB01
XxSplit
xxxxxxSiDxxxxxx
Yuppienalle
zIrOnxOuTlAwz
And now begins our brand new Oct - Dec calendar of events. We kick things off on PSN this Friday, October 14th at 4 PM Eastern in honor of this week's release of the Red Dead Redemption Game of the Year Edition (we'll also have 3XP active on both PSN and XBL during the event). Stay tuned for more info in the coming days leading up to that session including our PSN IDs.

And if you want more chances to play with and against us, look for unscheduled impromptu playsessions announced on Twitter and Facebook. This almost always involves a good surprise helping of Triple XP for Red Dead - so be sure to follow closely...
Previously:
Recap, Screens & Fan Video from the GTAIV & Episodes from Liberty City Social Club Multiplayer Event on PC (September 9)
Recap, Screens & Rockstar Gear Winners from the Aug 26th Red Dead Social Club Multiplayer Event
Winner of Customized Red Dead Redemption Xbox 360 Controllers + Recap & Screens from the August 4th Xbox LIVE Social Club Multiplayer Event