Interrogate the L.A. Noire Detectives: Your Questions Answered – Part One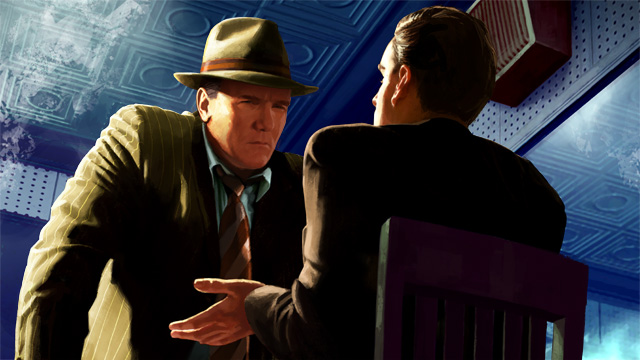 This summer, we asked all fans of L.A. Noire to turn the tables on the detective cast of the game, flip that interrogation lamp on, and get cracking with your hard-hitting questions. Across Twitter, Facebook, mouthoff, and of course here at the Newswire in comments, Rockstar Games Social Club members supplied tons of questions for the actors about their experiences, opinions, impressions and recollections. All five of the main desk detectives were kind enough to oblige with some very insightful and interesting answers – Michael McGrady (Rusty Galloway), Adam Harrington (Roy Earle), Sean McGowan (Stefan Bekowsky), Keith Szarabajka (Herschel Biggs) as well as the game's lead, Aaron Staton (Cole Phelps). Cheers to all who submitted questions - fantastic work, the lot of you – below we present part one of this special edition of Asked and Answered, and look for part two to be published very soon…

heycheri (@heycheri on Twitter) asks:
Is there anything interesting you can share with us about your audition process (if you auditioned at all for the role)?

Sean McGowan:
The audition process is such an organic thing that you really never know what to expect. Because this was such a secretive project I actually thought I was auditioning for a movie. Sometimes with a period piece, like L.A. Noire, I'll try my best to dress the part i.e. old school jacket, tie, and slacks - even comb my hair a specific way. There is nothing worse than walking into an audition for a 1940's cop dressed in sneakers and at T-shirt. Just doesn't feel right.

Michael McGrady:
I did audition for the role. Primarily because I knew it would be a very different experience and that the technology was progressive and cutting edge. I like to be a part of things that are grassroots.

Adam Harrington:
When I auditioned for Roy Earle, it was all very low key, but it was the concept and the technology that I knew was going to change things.

Raindrop84 asks:
Do you recall any funny incidents related to working on L.A. Noire?

Sean McGowan:
I have to say some of the funniest moments in working on the game were watching how uncomfortable everybody was in the motion capture suits. You literally are in a skin-tight, spandex body suit wearing a funny cap on top that makes you feel like you have a condom on your head. You couldn't "see" anything, but they still felt extremely revealing. After a little bit we all got used to it. I mean, what are you going to do? There were hundreds of other actors who came in for sometimes just one day of work and you could see they just didn't feel right. They felt a little more exposed than what they're used to. But again, what are you going to do? Too funny.

Adam Harrington:
I think one of the funniest memories was getting used to not having pockets to put your hands in, for about an hour of the first day I just kept thinking, "What do I do with my hands?"

Michael McGrady:
There were so many.... When we first had to put on the tight Lycra suits with little Styrofoam balls all over them for the motion capture portion of the shoot, we all stood there for a moment, and burst out laughing, we looked ridiculous. Especially the little beanie hats we had to wear also with foam balls on them. As you might imagine there were a lot of "balls" jokes being flung around the entire shoot. Such as "Don't touch my balls," "I've lost one of my balls" "My balls are coming loose" etc. It was adolescent to say the least, but very funny too.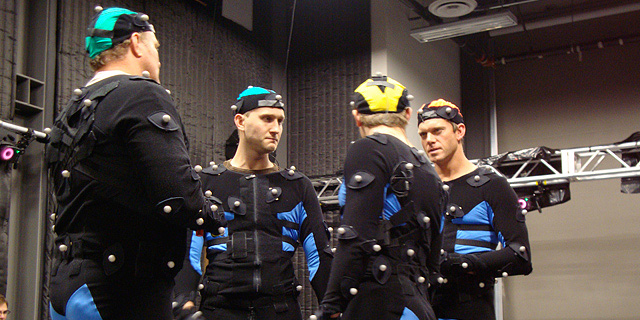 On the set and suited-up for motion capture.

faithashw (@faithashw on Twitter) asks:
What do you think of the whole MotionScan experience, and would you do it again?
---

@ErichDachwitz asks:
What, in your opinion, was the most challenging part about acting in the MotionScan rig?

Sean McGowan:
MotionScan was intense and like playing a "new game", you have to learn the controls i.e. how do I move, jump, shoot. So in MotionScan when your ass hits that chair for the first time, not only do you feel like you're in
2001: A Space Odyssey
and talking to Hal, you also have this strange feeling of, "what the hell do I do?" It takes a bit of getting used to. Like, how much can I move? How still do I have to be? Can I look left and right? How much does this thing really pick up? Well, the answer to that is it picks up EVERYTHING! [The most challenging part was] definitely going through hair and make-up! That was no joke. We would be in the chair for sometimes 2+ hours being poked and prodded because it all had to be perfect for the scanning system. The way it works is that we couldn't have any single hairs sticking up or a split in the way our hair was combed where light could shine through. If there was one of those then we would come out funny when scanned, so the hair team completely had their work cut out for them. So did we. However, we all lived. There was some consternation with the production manager when I showed up the first day and wouldn't let them cut my hair, as I was in the midst of shooting several episodes of
Cold Case
and my look was already established for that show and I couldn't change contractually. (I had no idea how many days I was working on L.A. Noire at first. It ended up being quite a few.) It just meant they had to work a little harder on my hair, which was a major factor in terms of prep time and shooting. Evidently, the special cameras go berserk if so much as a single hair is loose or there is any space on the scalp or in the hair. So Ollie, the production supervisor/technical director, spent a lot of his time making sure everyone's hair, including mine, was just right. I'm not sure that's what he signed up for when he developed the hardware.

Michael McGrady:
It took time to get used to it but once I sat in the chair and focused I would fall into a rhythm that made the time in the chair go much faster. Two hours at a time was all any of us could handle in one sitting. We usually did two sessions per day.

Keith Szarabajka:
It's like voiceover, only you have to be very familiar with the material if not have it memorized. For MotionScan, you must have it memorized! And when you shoot 70 or 80 pages in a day, that's a lot of memorizing.

Adam Harrington:
Once I got used to MotionScan it became like anything else, a method to do your job. I for sure would do it again considering the amazing results, although I'd prepare better for how cold the room is!

Dodoayres asks:
Did you play the game? If so what do you think about the [MotionScan] technology and the sensation to control yourself in the game?
---

beep41 (@beep41 on Twitter) asks:
Did you play LA Noire after the release? If you did, did you find it weird playing yourself?

Aaron Staton:
I didn't think I would find it weird, but I did. The first couple of times I saw the game was in short increments while we were still working on it and the whole time I was just floored by the tech so that's all I was really thinking about. But once I sat down with my own copy of the game and started playing through I became increasingly aware that it was me up there.

Sean McGowan:
Kind of - I love games and think that they are such a kick-ass medium. However, my problem is finding the time. I did fall in love with Red Dead Redemption. Once I got into it, I didn't come up for air for weeks. As for seeing myself in [L.A. Noire], I was lucky to be closer to the beginning so I blasted through the opening, found myself, felt my jaw hit the floor and called my best friend and told him to buy it immediately. I wonder if I ever will get used to seeing myself like this. It's crazy! I have played the game a fair amount and I still get surprised every time I do because the tech is so good in the game. For instance, I'll be running around some random street and actually recognize someone I know! In the game! And I'm like, "WAIT, I didn't know Jamie worked on this! AWESOME!" Also, one of my best friends is deaf and she can read lips. She told me that she can actually read the lips in the game in some parts. That's just too cool.

Keith Szarabajka:
I am the world's worst gamer. My sons laugh at me whenever I try to play with them. I usually end up dead before I figure out what I'm looking at. But I have picked up the game a couple of times and I think its look is really cool. Very noir, very 40s. It is weird seeing yourself in CGI graphic form, but kind of cool. I like it. Makes me look thinner. And younger.

Michael McGrady:
I have seen myself in L.A. Noire. Friends and family, including my son, who is a gamer, have sent me clips via e-mail etc. And of course my son and I have played the game together as well. It was cool to say the least.

Adam Harrington:
I think the last time I really played a game, before L.A. Noire, was Space Invaders by Atari, that's how much of a non-gamer I was. Having played a few games now, I'm amazed at what's out there, and the quality of them. I'm pretty new to playing games, so I was all thumbs when it came to playing - although I did enjoy the YouTube movies out there of people running Roy over with cars.

Kilerro asks:
If you played the game, what was your favorite case?
---
AJBeals asks:
What desk or department was your favorite?

Aaron Staton:
I'd have to say
Arson
. By that point Cole was a shell of whom he'd set out to be in life and each interrogation and interaction was affected by that.

Sean McGowan:
So far I'd say the
"Fallen Idol" case
. No, not just because I'm in it, but also because I really dug the movie set and the battle that ensued. Oh, and those hidden cameras in the casting house? Creepy as all hell.

Michael McGrady:
"The Red Lipstick Murder"
[and
Homicide
Cases] of course.

Adam Harrington:
I'll take the fifth on that one. I'm too big a fan of everyone's work to pick just one.

A scene from "The Fallen Idol" case off the Traffic desk in L.A. Noire.
OtokoNoShufu (@otokonoshufu on Twitter) asks:
Did you have any particular favorite stand out moments or lines for your characters in the final game?

Sean McGowan:
I loved the moment near the end of the "Fallen Idol" case where two gangsters tell Cole that he's "polite, but dumb," and Bekowsky responds with, "but I'm a lot less polite you smug son of a bitch," and goes on to berate them for another 10 seconds. I thought that moment came out really well and showed you that as nice as Stefan is, he don't take no shit.

Adam Harrington:
So many, but for some reason, "save it for the D.A, Chico" always stands out. I think it's such a funny line, so full of contempt and dismissal and swagger.

DContaminate asks:
Do you have a favorite "film noir" movie? [If so] why do you like it / recommend it?

Keith Szarabajka:
I love the entire genre, mainly for the look but also the major players like Robert Mitchum, Humphrey Bogart and yes, even Alan Ladd. Bogart's my personal favorite actor,
The Maltese Falcon
being my favorite movie of the genre. Although my favorite Bogart movie is
Casablanca
, which I think may be the most perfect movie ever made. Mitchum, I had the pleasure of working with on
The Equalizer
. He was a walking, talking tough guy in real life, his own film noir. Nice as hell to me though.

Michael McGrady:
I like
Touch of Evil
. It is a classic Noir film.

Adam Harrington:
I enjoy the genre as a whole, but I saw
Touch of Evil
again recently, and I was reminded of the brilliance of some of those camera shots.

faithashw (@faithashw on Twitter) asks:
What detective character in film history did you use as inspiration to play your character? Did you watch a lot of film noir to prepare for the role and to familiarize yourself with the genre/ the world, or were you all already into and familiar with film noir?

Adam Harrington:
I re-read some of the classic noir novels; I didn't want anyone's specific performance in my head before we began shooting, although I knew going in that my character was a nod to Kevin Spacey's wonderful character in
L.A. Confidential
. I also grew up having seen Humphrey Bogart's work and when you're working in the noir genre, it naturally informs you.

Michael McGrady:
I have played so many detectives in both film and TV over the years that it just came naturally. Noir is not a particular type of acting, it is a genre to be sure, but that has more to do with other elements beyond the acting.

Sean McGowan:
I have to say one of my favorite movies is
L.A. Confidential
. Russell Crowe as Bud White was definitely on my mind a lot when playing Bekowsky. It was fun to take the bulldog of Bud White and add Bekowsky's smartass humor to it. That's a fun combo to play.

Keith Szarabajka:
Although I never really try to imitate anyone, I'm not very good at it. I just try and be as honest as I can with my line readings. And let them land where they may. I can do accents pretty well, but not impressions. Except for Bogart.

@Blairness asks:
Have any of the guys seen any of the fan art or fan fiction about their characters [for example from: http://f**kyeahlanoire.tumblr.com] and if so what was their reaction?

Sean McGowan:
I have had a few fans send me their art of either me or Bekowsky and it's all very flattering. I mean who doesn't want someone else to draw a picture of you!? Fantastic! I'm just happy to know that people liked Bekowsky and liked the game.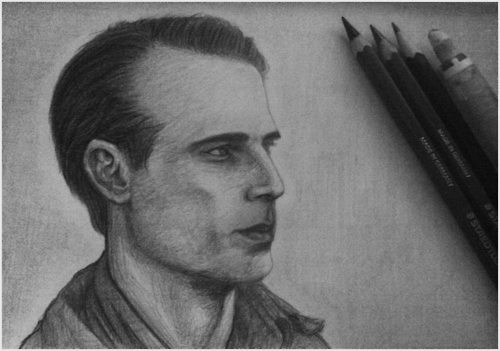 Pencil sketch of Bekowsky found on fyeahlanoirefanart.tumblr.com/.
Stay tuned for the next installments of Interrogate the Detectives soon, with more questions about their characters, performances, and a battery of questions especially for Aaron Staton (Cole Phelps)....


Previously:
Last Day to Submit Questions to the L.A. Noire Detectives