Recap, Screens & Rockstar Gear Winners from the Aug 26th Red Dead Social Club Multiplayer Event
Big, big thanks to everyone that joined us at our most recent Red Dead multiplayer event on August 26th for a serious session of both Red Dead Redemption & Undead Nightmare online action on PSN. The event kicked off a full evening of Triple XP that didn't end until around 4:00pm the next day.
Also congrats to the 20 lucky Social Club members who won a Rockstar prize pack (t-shirt & stickers), including LiL.A.King from Germany who was good enough to send us this unboxing vid of his prize pack - danke, bruder!
...and to Pistolero_1980 from the western frontier of California who really went all out...: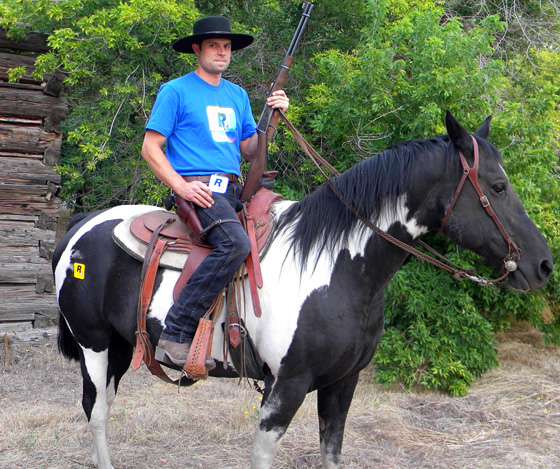 Also special thanks to our friend Onision of YouTube fame for posse'ing up with RedDeadDev3 as a special guest player bringing his own brand of gunplay and mayhem to the event...
@RockstarGames WAS FUN!!!! :Dless than a minute ago via web
Favorite
Retweet
Reply
Onision
Onision
Yup! Check out the photostream for a few screens of action from the event.
Below is a roll call of attendees. If we've accidentally left anyone out, be sure to let us know:
357_Magnum
1800-Tequila
1983Corvus
a0215180
a1b3rth85
Agent_BALLS
ahetFIN
Akamisfit
albinoferret
alicia_awesome
ALMT03
AltairAltair
alz_4_eva
androo26
AnerchX
ap0606
Apollos-Foxhunt
archikiller12332
aykutbaba
aymanmovic
Banasty
batik89
bbr1116
beast__
beefstrangler
BenBraddock
BestInThaWorld
Billybobbomb
BinBin071
BitEater
BJN01
BlackCore1
BleedingShock
Blood-Hunter55
bmp_one_82
BooBookittyFck
boog10192
boswandeling_23
bowki0529
bpunisher89
brannie009
bushisprez
cameron_720910
Ca___Fe
cdman17
cedraltx
charlie-06
charliebar-ly
Christobell46
CiTARO39
cKy4life
clem108
clrawe
CMarra95
ColdQueenB76
connor4755
conor8188
conorSuper
cooljuanita
cool_alex10
CorgiJulien
CP9003
csimama919
cuzzythewolf
D-I-9-9-Y-MU-FC
DA-O-N-PRO
Daigou01
DE4DFIRE
deadman96
deathstar5566
DeLeonJaramillo
demonteds
denthepen
DerKuchenman
Desmeo
dethstar5566
DevilishDennis
DiamondJim12
didi727
djrobert0
DoctorPeace
DOCTOR_appie_NL
DOCTOR_drama_NL
DOCTOR_stein_NL
DOCTOR_zebra_NL
Dogsoldier_3
DOMINICAN_kid13
DOOMGAMER666
DrivingRain
dr_lerkin_merk
Dr_Strange5
dwnsmk
dyon25
edwardy99
ElementalBliss
Elise_86
emmi18176860
Epic_Killer_92
Errod88
Evil-lag2103
ExpertGunslinger
FAMILYBOARDS
Fantastic_Mr_Cat
Fereyle
ferguson99
fernando5000br
filmpro_82
Frankie_BTie
frtgbvxsw
FugetSudo_Jr
FuzzyBigVito
fxg_10
gamaray826
gameaddict077
Gamerzworld
garabato_a
GarfieldLouis
GBHude
Geethika
GiZooD
gkosan7
glory1201
GM-Shenmue
gman33
Gokmen-Kilic
Gritz_Wonderbolt
GTAIV_King
GTAMAN420
Gtamen
gtaveeb
GTKx369xNitro
gusana313
GV-Rafioso
HaimSheli
hamad05554
Hariiz
hdmi123
hell_raiser_604
hOO7LIGAN692
Husaria
I3LaZeR913
Icey_Boy_12
iIBaZzArIi
imSOwhoah
iNickRockz
InsectOverlords
iStiv
IWIHooligan
j2mm_EST
jadyjay
JAGallant
JakeYoung
jander403
jaredim
JesusBatman
JihadJohnson
JimmehD
jjsadle
jnzooger
joa_nyc
Joeenu
Jojooooo42
Joker-64
JokerSecondo
jopower_killer
Joris42
joselol1000
josue999
Jr41653
Juarez88

juggernaut79
julero
JuliaMS
Jumra_
justin_mitchell
k4rizm4
karma0809
kevinkillr1
Kilerro
kim1983f
Kingz4Life04
klpo33
kon0787
KyameronX
l-TobZz-l
lakalt
laura_lulu1
LedTriv
LEMONID
lewisgold99
Liberty_King
LiL-A-King1
Litchyovgy25
Lixx68
lollietje
Loonafication
Lord_Loren94
louis1993
lucas5670
luisklebitz
Macedo89
majed6
makdady12
markbeason43
MattAssassin14
MatthewWJL
MCLAgamer
melih354
Melle71
MISS1SSIPPI
mottitotti
Mr-Swaggahollic
MR.RED_DEAD
MrAlexbradley
Mr_Kevin01
mystic247
NAKPT
Narcotictic
naxo_1584
nickwall
NikoBelic47
nikobelic2500000
One_Crazy_Idiot
Onision
pacers2015
patje_rotterdam
pdogownzall
pepe11n
Perseus1956
PhenomenonIV
PhirePower
Phoenix_Talon
pistolero_1980
predator4536
pressurewire
prince603
privateguy123
psychojoker420
q8.vip
QueenB---
r3ym0nD
RadicalPredator
rafoojergar
RAIN_Tokaisha
RcKstRtiMeOwT
ReadDeadfan12349
redji59
red_cat
REPUBLICBOI
Rokrchiqlp
Rollaw
Rootless-Bwoy
s0oitsz
sammyboyxD
santi30V

saraiva7
SAV-UK
scareface1970
schakal_spiritus
schnapin
SelflessGhost
SethBriars1
Sickboy808
Siren18-Naka
skribz9
Skyzofrag
Slaughter182
SLECED_32
SleepWorker365
sloppyasswipenum
Smilethenbleed
SmokeyIII
snakemarston
SnakeVenoMan
SolidAlpha
Splattersleaze
standupsteve
StarRock123
StevilKnievel
StivGTA
stonecoldconnor
strikkebil
Suilean_Gorm
SvenDender
terence44
terencewilliam44
thejoker9510
TheLowRider512
themralexwa
TheRealEdDK
therealsituation
therealtreefitty
theugly369
The_Hitman
Tiago_Aq
tiger123man
tiMeOwT
tirofijo2010
tivita
TommySkeet
tonkratos
torpedo36
tremyo22
TURKALURK
tyber79
Ulfen_493
Ulkyss2
Underground641
usmcwife13
usmcwife130311
vampirez91
VerbalGhost
Vin-Vin-1
vince_42069
viskaz
vojtik666
Warrior-Geronimo
Will-Jolene
willisi10
WolfRogers
WoWizard
Xargo16
xElijahx
xKeirz98
xloiiiiiicx
XMarine01X
xShadow187x
XSTRO_TR1CKSTER
xXViniciusVBXx
xXwisstoner
xxxAbsoluteZero
XynXiYa76
y1user
yadekul
Zebra404_
zellraiden
zorro_junior
ZuesPrez
Don't miss our next live streaming Red Dead Social Club multiplayer session which will be a Red Dead Myths and Mavericks Pack official event happening on Friday September 23rd with Triple XP in effect. Check the current calendar for full details and stay tuned for our forthcoming October - December calendar to be published soon.

Finally, be sure to follow us on our Twitter and Facebook pages as we quite often announce at a moment's notice there that it's time jump online and play. This includes surprise sessions of Triple XP for Red Dead...
Previously:
Winner of Customized Red Dead Redemption Xbox 360 Controllers + Recap & Screens from the August 4th Xbox LIVE Social Club Multiplayer Event
Recap & Screens: Red Dead Redemption & Undead Nightmare Social Club Multiplayer Event on PSN (July 22)
Recap & Screens: Grand Theft Auto IV: Complete Edition Social Club Multiplayer Event on Xbox LIVE (July 7)