Winner of Customized Red Dead Redemption Xbox 360 Controllers + Recap & Screens from the August 4th Xbox LIVE Social Club Multiplayer Event
Big thanks to EVERYONE for helping make our most recent Red Dead Redemption & Undead Nightmare Xbox LIVE multiplayer event on August 4th truly an epic one.
Congratulations are in order to Social Club member ThatAsian aka Michael Hazy from Pennsylvania on being the lucky winner of the pair of specially customized Red Dead Xbox 360 controllers as pictured below.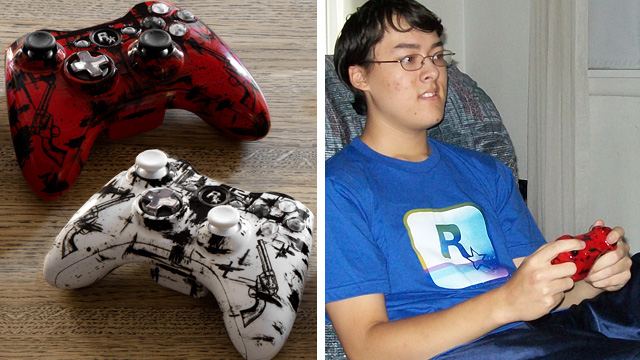 Left: Both controllers are individually numbered on the back and are the first for Xbox 360 to be given away in a sweepstakes. Right: Lucky Social Club member ThatAsian already getting busy with the new controllers and rocking his new Rockstar Psychedelic Blue Tee to boot.
Also special thanks to our good friend on Twitter, actress and gamer Casey McKinnon who joined us as a guest player and invited all of her followers to come throw down in the multiplayer action:
Time to play #RedDeadRedemption!!! Join me or watch online (my avatar is a zombie w/ rotting bewbs!): http://t.co/PNigxDITweet Link
Favorite
Retweet
Reply
Casey McKinnon
caseymckinnon
Make sure to join us for our next scheduled event on Friday August 26th when we'll be playing Red Dead Redemption & Undead Nightmare on PSN from 4-7PM Eastern. Check out the rest of the events calendar for the list of events through the end of September.

And check out our slideshow with screens and highlights of just a few memorable moments of Red Dead & Undead action from Aug 4th...
Thanks again to everyone who came through to this event, one of the biggest (as evidenced by the massive roll call below!) since the first weekend after the release of Red Dead in May 2010. Deep breath and here's all those that were there according to our records (if we left anyone out just shout in comments to let us know and we'll add ya):
2pac985
1983Corvus
a1b3rth85
AcEiSSpades
AdonisXVII
Adrenaline Ace
AdrianVO
AFR0VINCE
afroboss
Afrovince
Agent_BALLS
AllegroGrub
AlmondAdam
AnalogousPit
Andaasonsan
andy_rofl
AnkotheGreat
AnthonyE11
Apophis_Creed
applefanboy247
armpit_92
ASBOpaul
AtomicTaco
AtR MuffinNinja
aurel5962
Aws0m3 Sk1lls
ayrtonsennagp
AZAlex_71023
B1eed1ngThumbs
baCk_FLaSH
bacon in a can
Ballisticmatter
barca26
batman660
baxykisu
BeastsOfLegends
beast__
Beelzebeau
BeetleComet
benja1945
Berra_86
BigBuddhaPB
BigCountry2
BIG_STRONG_NIKO
bikinisntchmnstr
Bilips rus
BIoodyEagle
blackball1988
BlackMambaDS
Bleeding Mantis
BleedingShock
BloodyGunslinger
BlueAARC13
bluePeel
BlyssBlack7
BonesJones
bpunisher89
Bruquio Truquio
BSA_Ace
Budden11
BUGEYE02
c7shock
cajun52
cameron_720910
caseymckinnon
catlum
ch-a2009
ChampKind
Chigg60
Chromath
chuliq
ciaranf95
ClosedLlama17
ColonelSanderson
connortpope
convex airplane
cookyboys
CorgiJulien
Covahkron
Cr0wSt0rm
Crazy-Noodle
crimeonwings
CriminalDarkstar
Crunchatizmecpt
CSIXTY
DAEHOIDAR
DaJudgeinator
DaLgakiran15
Danetrooper
daniel.dvs95
DanteMartin
Da REAList BW
darkcaptainTR
DarkMuffinNinja
Darksyde JEFF
Dasplatzchen
daveywhite
dawson123
db1068
DeadIock
DeadlyTarget
DeanoBeano
death genesis
Death_Genesis
Demented x21x
denisiscena
DepressedOptomis
devilsharlot
Di5turb3d_One
DirtScooter 250
DKKempster
DntMessWitRohan
DoctheKewlKid
DoctorPeace
DOCTOR_appie_NL
Doglonega
DoritoZz
Dr Kewl Aid
DrofSound
DS Black Mamba
Dukeofibanez
duplicitron
DutchVanDerLind
dwnsmk
Eastie_
egwgfenix
Elbowshot
Elektr0ns
eliminator333
ellobeznillos
Emilviper
emmerin
Endgame54
enjoi48
epicmeatwad
epsilonprogram
Evan7117
EvilDeadKev666
ExcutedGear99
Exterminated
F1NN DA HUMAN
f3L1xh3
FauxCommando
FckJuice
Fealty90
fgCxHECTiC
FiFiville
Flanagunn
Flint Beastwood
Flydownyer
FR3SHSHoTz
frankietx1
FRODOUBT
frodo_tee_bagins
frostylemoncola
FugetSudo_Jr
FunkDad-E
game king kevin
Gatsurai
getthgunsout
GHERO1014
Ghostf0r3al
gizzard14
GM-Shenmue
gman33
GoLd SaVaGe x
GoLd SiNNeR x
GoldSinnerX
GoldyMatt
Gonzalo151
GooseGonePostal
Goulart9
Grant Smiith XD
gravethunder13
Greatn3ss87
GreatWhite000
GreenGiant360
GrimDEATHGEAR
Groovy MonkeyZz
GTA-ViLLAiN
gta742
GTKx369xNitro
Gtrfrk87
GurnB
hamsta cam
Hannan55
HanZo14
HD x PoPtArTzZ
headofcake
HEAD OF CAKE
Henrymann
HiiMFinal2
hitcheur
hitmane1
HoodieZombie
hudbenz
Hunts55
IAMDARKGRIM
iAmSarcastic
ID_Phoenix
IGCDemented
iiSkittlez v
ii x RiiOT KiiD
ILethalAssassiN
ILikeVideo-Games
iModz131
infectiousmonkey
insanepopel
InsectOverlords
iPROxASSASS1Nzz
IrateOdin
irishdirtydog
Irishman916
iRotten_13
IvanR36
IVIorGz
J3nnavieve
Jack-Trey
jarod9
Java_syntaxerror
jaybird960
jazztown
JermanTheKill
JesterCanada
JeweledDuck1405
JIDDO2195
JihadJohnson
jjDarkeye
jmlane
Johnny-boy360
joryyo13
josuetrixgta4
JO_357
JupiterZero
JustoDaDon
KazzaRu
KDawg50
kennyp702
Khaotikar
KHCloud

KILLAH KRUNK
KILLA KARATEKID
king_themaster
kisuu
kone244
koniorking
KrazyIrishMan17
Kronick iluzion
KwMclovin
L0B0C0P911
L2DaZ17
L3GIT NO0B
LedTriv
legendarykiller8
LeleCarvalho
Lhobaf
Liberty_King
LiL-A-King1
liliavan93
lil_romo
lokoalteradoalci
Louis_Shines
luk12poland
MANEbearPIG
mapitas
MarkOfTheSpence
Marston876
MasonXD
Mattaggie2k8
MattethYou
MatttCz
matty256
Maxime Bull
MCLELLANMUFC
McSeries23017
MelloChaos13
Mellowtay
Menso2
mercanaries
michaelm21
Minikea
Mini Madara
MiniMadara
MISS1SSIPPI
MissBehaving
Mizz Dynamitee
Mom 0f The Day
MonteB
moviemaster1993
MR.CHECO
Mr.reach
MrMonster13
MrNoScope54321
MrSmiley2010
MuffinManHorne
Myxologyst
n0_one
Nabdotmp3
nanibem
nerfingsmurf
nico51
nigelscores
nikobelic2500000
nirdberd
Nismomuch
nogutsnoglory13
ofshadows
Ohsomilky
o iJiMsT3r x
oklahomafan999
OneEyedLuke
ONE_EYED_EEL
opi_chino
oTomcatZo
OU S00NERS FAN
Overkill Daemon
OverTheUnder93
Pailorin
PaleVampire
Parkour Godz
patrickb1973
Pel001
peterfoxx
Peter_CB_1991
peytonPanda
Pinko49
Pizzaman_Assass
PJ11548
PLAYERZZ 4 L1F3
PokyLeaf
polskaduma
Poncie17
POZEST
predator4536
PRO COPPERTAIL
ProGamerZ28
Pro_CoppperTail
PsykiCK_LizARDbe
PTRRAP
PtVoRt3x
pwned1711
Pyro Unicorn
Quantum_Prime
QuillPrincess
Rafioso
RALFIE07
Ralyxx
rawesley
RedDeadKiller99
RedKiller666
redscorpion92
Reidbynature
rensje4
RestingBootShoe
Retana
Richiethekid
Riggo68
righteousBAND1T
river_city98
Rollaw

RSGizzle
RubberSoul1990
RunQ_LaZe
Russian2622
Rwhite45
Rykin122
s1nders
SamB98
samy-760
sbatchelor
Sblackmage
scareface1970
scarlettnscott
scubasteve590
sealavenger
sealprotector
sergent_afro89
SFX6669
Sgt Squ1ggles
Shanetrain11
shizlemnizle
SHOCKLEY33
Shogibo
Shrimpuffs
SizeableOrange2
skenter4
Sniper13AD
SoiledApple1
Sonny_Jamms
sonofableach
Sorkinatar
SpaceGhoul
SPAS SNIPER GOD
Spence69
StealthyShanker
Sterla
StevilKnievel91
StingrayX
StompingSnakes
StoneyMcChronic
Storieman
Strawberry Catz
strikkebil
stringierkiller
Super_Soldier23
T-burger
T0oRare2Die
T0XiCxTriGz
TaintedHope
taisin
TAPS N GHOST 2
Tassanee
teamplayer29
tenshi3
The-Two-Gun-Kid
the8deadlyfist
thecakebar
TheDandyManCan
thedocKewlAid
TheElectricWorm
THE EV3NT
theFatlash
the judg3 Aj 77
TheLoser96
TheMadGamerTV
thep33kdude
therealtreefitty
TheSinisterChees
thriftjam
TiToVpR3
TKE-1009
Torpedo36
Toxic Effex
TOXiCxTriGz
TPuente
Triggern0metry1
trippypoop
Tu-Fallen
TurtleShotz
txwolf63
TyrannoDuck
uknown caller
UltraBlumpkin07
UofMfanJJ
urboss99
VCBraska
Vessis
vince_42069
viskaz
VitaminDeez
vZ Dragon Zv
Waggie
WarL0rd95
White Wolf 89
wielku
WIGGYA
windyfood
WolfRogers
xdemonboy89
xDEVILS HARLOTx
XeOn_24
xGSFx_Zombie
xi6688846993ix
xMunchy29x
xslayer24
Xx aRm0 xX
XxB0bbyLitexX
xXJOHNMARSTONXx4
XxLoneyStonerxX
xxrobert1999xx
XxSideCarxX
XxTMurDockTxX
XxxS0ULFLYxxX
YakFace
ynot18is9
YounggunzZ
zaxman12341
ZegramSpyder
ZulkyM260
zznwyJ
Follow us on Twitter and Facebook to get the word when we decide to just play games for an hour or two so that you can join in. We'll drop our Gamertag or ID in a tweet and Facebook message, and all you need to do is send us a friend request. We've also been known to do a good amount of impromptu unannounced Triple XP sessions as well, so get with the program!
Previously:
Recap & Screens: Red Dead Redemption & Undead Nightmare Social Club Multiplayer Event on PSN (July 22)
Recap & Screens: Grand Theft Auto IV: Complete Edition Social Club Multiplayer Event on Xbox LIVE (July 7)
Recap & Screens: Red Dead Redemption & Undead Nightmare Social Club Multiplayer Event on PSN (June 24)