Recap & Screens: Red Dead Redemption & Undead Nightmare Social Club Multiplayer Event on PSN (July 22)
T'was a grand afternoon of Red Dead Redemption & Undead Nightmare multiplayer last Friday July 22nd on PSN in our latest in the Official Social Club Multiplayer Events Series calendar, as we got wild and weird in multiplayer modes from the original game and from the DLC, and as players across both platforms soaked up plenty of Triple XP on until the following morning.
For those of you on Xbox LIVE, be sure to join us on Thursday August 4th when we'll be playing more Red Dead, this time from 5-8PM Eastern. We'll have a stream, chat and a special giveaway. Oh, and more Triple XP.
Read on for a recap of the PSN event from last Friday, including some screens of some standout moments.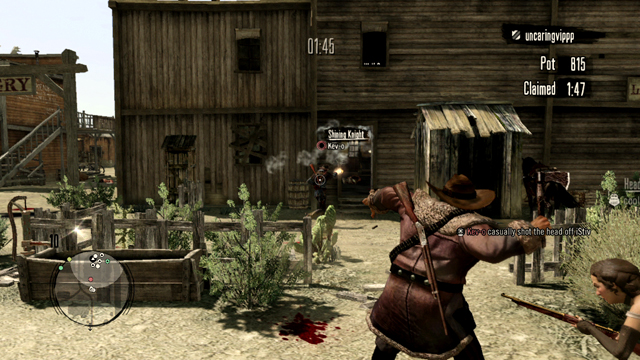 In Land Grab, cool_alex10 defends behind RedDeadDev3 as the Rockstar throws a Tomahawk into Kev-o's back. Ouch.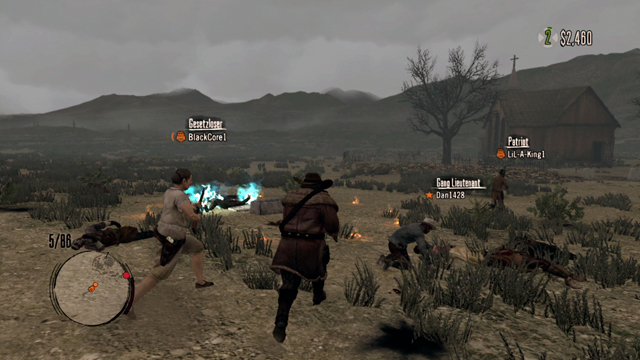 All may seem quiet, but what you see here is LiL-A-King1, BlackCore1, Dan1428 and RedDeadDev3 reloading and preparing for the next wave after downing dozens of zombies. They ended up making it through 18 waves in Undead Overrun for a total of $181,381 and 3000 XP.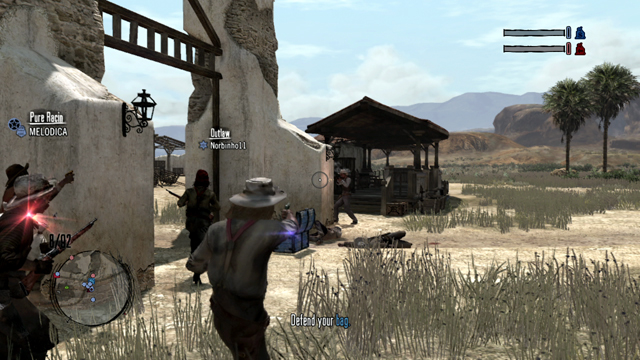 RedDeadDev3, MELODICA, iggymonkey93 and Norbinho11 defend bag carrier toneter from NaXo_1584 (middle) during Hold Your Own in Chuparosa.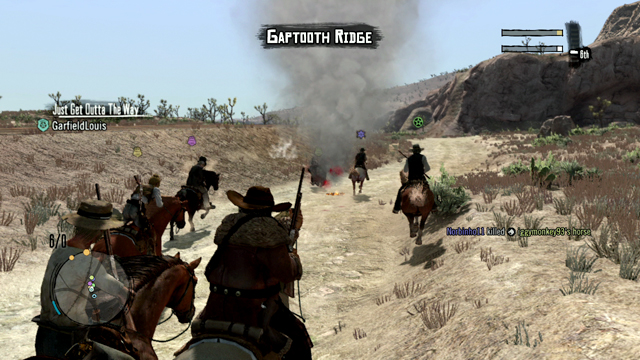 GarfieldLouis and RedDeadDev3 prepare to buck down MELODICA, toneter, beastfin and Norbinho11 at the beginning of a race through Rathskeller Run in Grand Prix Horse Racing.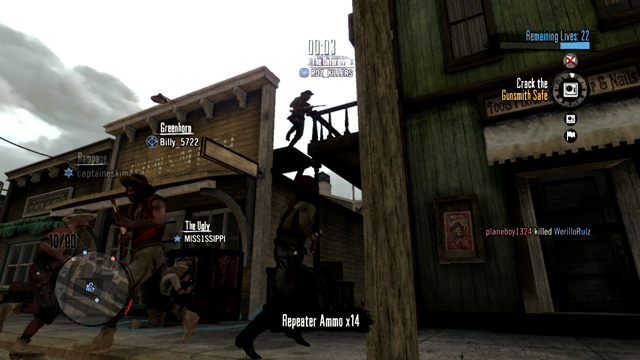 RDZ_KILLERS jumps down from above to help defend MISS1SSIPPI with RedDeadDev3, captaineskimo and Billy_522 during Stronghold in Blackwater, part of the Liars and Cheats Pack.
Thanks to everyone that came through, whether in-game, in the chat, watching the stream or just stopping by to enter the sweepstakes and score some gear. A list of attendees according to our records is below, but do be sure to let us know if we've accidentally left anyone out...
1800-Tequila
1996chimpo
abenja1
ABI-D-
acid-raiser
AdrianJ
alazarus
allen4ben8
alleykt123
aloiealjazzaf
andy_rofl
armpit_92
ASU_Sir_Leon
aure2810
a_randay92
B4DM4N1337
balla_fresh
Bastean
beastfin
beast__
benaldo23
bikinisntchmnstr
Billy_5722
BirdieCrazy
BlackCore1
BLACKWELL2525
bmp_one_82
bowki0529
boyboi106
Bristolgoc
buffin16
Buzzcat31X
c5chris
cantermax
captaineskimo
CASPRA
Ca___Fe
Chaco88
christhegreat200
-Christopher-
CiTARO39
clem108
Co-Ed_Mike
ColdQueenB76
coleberg567
conor8188
conorSuper
cooldog123456789
cool_alex10
CorgiJulien
Crash_Deluxe
crazyboy204
creekjohnson
CSIXTY
D52RWT5
dalcowboys92
DALE__GAS
Dan1428
Danny9019
darknight_2012
DeaditeOutlaw
deathdealer-7
denisiscena
DerKuchenman
devilboy3892
devilrat8
Diagramer
didi727
DIXON2008
djbilly-boy
djcsoundsystem
dj_lukatti
dmarcel
donvarone
Don_Pabloo187
dorgace
DoubleDownDave
Dusty_Chaps_1969
dwalker07
e-bull
eliaspman
eliminator333
Elise_86
elitehippo
eoinrade
Eresiel
ethanBUDS
evil-ash13
evsik
ewan1978
Fat_Paulie
Fearless23
ferguson99
fernando5000br
Filmfare
Flashbolt48
fliptyler
Forsyth01
frikisdespain22
FrillySlayerPig
Funkworkz
gabrielle_angel
GamerMayron
Gamesfan1000
GarfieldLouis
Genesicity
ggod1234
gkosan7
GM-Shenmue
gman33
Gokmen-Kilic
GRIMM23
gssgamer
GTAIV_King
Gunmind77
Gunni19
guy246
GV-Rafioso
Hatorohanso
honest_joe
HRQ360
iFaNTaSy45
iggymonkey93
ILikeVideo-Games
ilovelc
ImAMercenary
ima_groupie
importantnote
Infamous92
inkbot_danny
Insano.
Internetman96
ISI_Thuga
iStiv
IWIHooligan
IWIInferno
J-Bar-C
j00_Mamas_Facial
j2mm_EST
jaky2008
JDOGG_79
jeffmb26
Jeff_McRae
jess311420
JET-JOCKEY-
JetPilot5381
jm44rdb
JMooney13
joa_nyc
Joeinternet75
john1234rail
johnmarston2011
John_TheIrishman
Jojooooo42
jonny1987atze
Jonny4312
jool777
Joris42
JPC2929
Juve2109
KARATEL773
Kev-o
khan_tbolt
kidbjj03
killlinyou78
kim1983f
KimeraSyndicate
KingAr-X8
king_themaster
Koopa777
kopzilla
kpiegzik
Kshack
l8zyme
LiL-A-King1
liL_FAMOUS_BOY
Lil_Matt30
Loco-Giganoto
louis1993
LUVTHEFLOWERS
magusikvii
Makruu
malakh78
manny76548
Marney-1
MatthewWJL
maurojessi
Mavericks_Fan_1
MELODICA
meltron69
MISS1SSIPPI
MLDCAproductions
mnman222
mohamed27goose
Monkey__boy23
Mortal91ify
morzsafateruk
MrDiesel69
MrGUNmanBlake14
nathan_ox2
Nathsmit
NaXo_1584
NiceBOB97
nickdandave
nikobelic2500000
NitroKing1
nniksunbg
Norbinho
Nuit_Noire
NullPointerEx
OneHitYouDie-_-
OneTrueEdge
OnTheAIr
Osedax_
Ottowa6
PABLOO_ESCOBAAR
PADDY-BT-
Pain2theMAX
paris-97480
patje_rotterdam
perter1
peterfoxx
Pistol_Paul
Planeboy
pro-890popbox
proxystar
PublicFriendemy
pyo1321
Rafioso
RDZ_KILLERS
Redx165
Red_Dead_GN
reececo
Reidbynature
Reynoldio
Robin1040
Rockboy58
Rollaw
ru5tyo1drumm3r
Rubensfk

Rustylanoire
rusty_2500
rycertan
Samsuxx
santii69
SAV-UK
Scareface1970
scout1337
Scravagor
Sentasi
sergent_afro89
sergiolalito
shadowbane64
Sigil7
sithaer
skids511
SLECED_32
slotjockey
Smithy4481
SmokeyIII
snane99
SnusaDanne
sonofbatman
Spartan1786
Spyro997
StingrayX
StivGTA
StompingSnakes
STOPP85
strikkebil
sunshine0227
superjayd49
Super_Soldier23
Suspiciouso
Talla
Tendoux1
thedeadman80
theIguy10
TheJerman
thekey0092
TheLegendWalks
therealtreefitty
The_Hitman
The_MuFfinMan___
THMxRACER
toneter
tony421
trebser12
T-Rex1991
TRIPTON_
Tysaidsrawrr
Ulfen_493
uncaringvippp
UnDeadBullet
underdogSC
Underground641
utopianacht
vcacav
verguein
viskaz
Volskwagen
vonadala
wadallx
waxsk8
WerilloRulz
whitewolf1975
wilksie235
WolfRogers
WoWizard
Wrestleholika
xanto1066
XeonZ1
XPLAYERLG
xPOORGUYx
xslayer24
xVonCon
xXdjbatteryXx
xxGeNeRaLfLiPxx
XxSOLDIER_VKxX
yadekul
Again, the next event on our Social Club events calendar is coming up Thursday August 4th from 5-8PM Eastern for Red Dead Redemption & Undead Nightmare on Xbox LIVE, with Triple XP and a special giveaway...
Want more chances to play with us, and even more Triple XP opps? Follow us on Facebook and Twitter as we like to just... get online and play every now and then, and the only way anyone knows we're doing so is when we post up a message on those two pages. You can also see our tweet heads-ups about those play sessions in the sidebar to the right here at the Newswire...
Previously:
Recap & Screens: Grand Theft Auto IV: Complete Edition Social Club Multiplayer Event on Xbox LIVE (July 7)
Recap & Screens: Red Dead Redemption & Undead Nightmare Social Club Multiplayer Event on PSN (June 24)
Recap & Screens: Grand Theft Auto IV & Episodes from Liberty City PC Social Club Multiplayer Event on Games for Windows Live (June 10)