Recap & Screens: Red Dead Redemption & Undead Nightmare Social Club Multiplayer Event on PSN (June 24)
Thanks to everyone that joined us on Friday June 24th for an afternoon in Red Dead Redemption & Undead Nightmare, whether you were playing, chatting, watching or just stopping by to enter the big sweepstakes for these two beauties...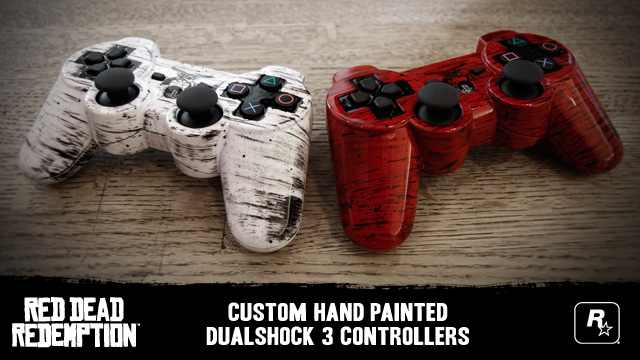 Congrats to Social Club member Wormwood_GC, the lucky winner drawn randomly from a long list of entries, as well as to the 20 winners that will be receiving a t-shirt and stickers. Look for more sweepstakes to come in the future, including a special pair of Xbox 360 controllers.
Join us for the first event on the brand new July-September Social Club multiplayer events calendar later today from 5-8PM Eastern. We'll be playing Grand Theft Auto IV: Complete Edition on Xbox LIVE.
Read on for a recap of some of the memorable moments from the June 24th event from RedDeadDev3's perspective...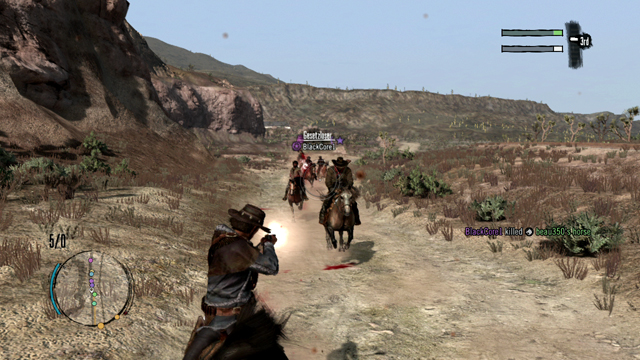 RedDeadDev3 fires at Dymentia during a race through Rathskeller Run in Grand Prix where UltraTwitch ultimately placed first.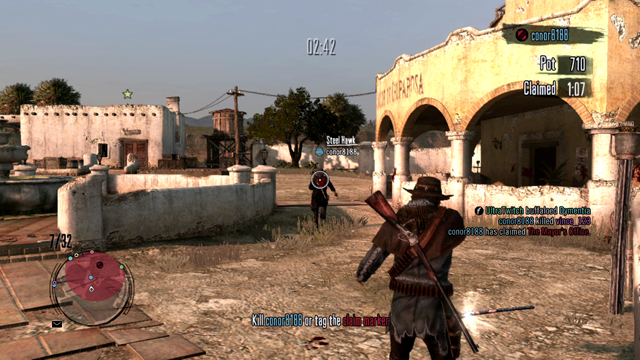 Conor8188 gets a bullet in the back courtesy of RedDeadDev3 during Land Grab. Moments later, Dynamite took the life of the Rockstar, thanks to gumpy4life358 who you can see hiding in the top left.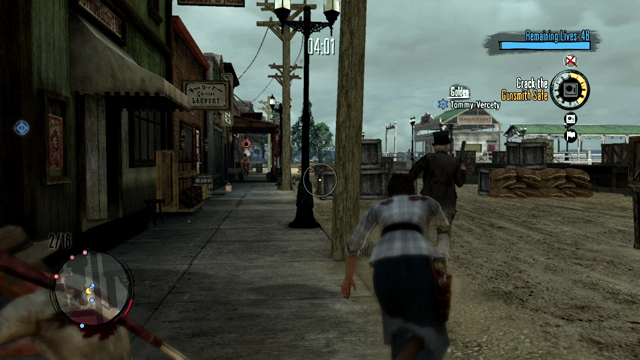 LatinWeed (left) cracks the safe while SLECED_32 (offscreen left), Tommy-Vercety and RedDeadDev3 fight off incoming enemy KICK_ASS_500 during Stronghold.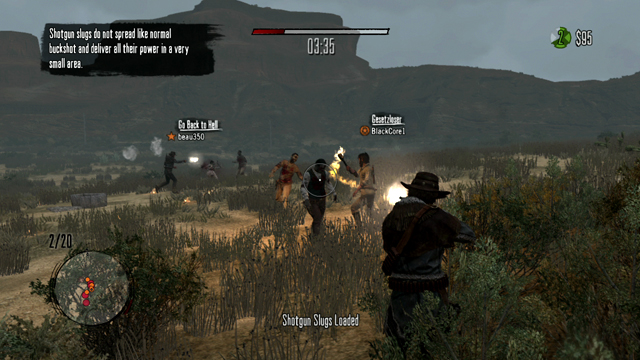 BlackCore1 uses a torch to flame the hordes in Undead Overrun with Beau350 and RedDeadDev3. A number of other people joined in during the afternoon across several rounds of Overrun.
Once again thanks to those that took part in the event, including all of those that played with RedDeadDev4, RedDeadDev5 and RedDeadDev6. We were able to rotate lots of eager players through several rounds. A list of attendees is below, & be sure to let us know if we've accidentally left anyone out...
a9322046
aaron_gill02
abo3lian
Acidegg5
Agent_BALLS
Alby_9595
Ambune
angelo377
appie-NL-
ARabidPigeon
Arab_boy10
Archonyto
ardon68
Artimiz
asddaaaa
ASENSIOOOO-
__Assassin__
AVTR417
axgarr
A_Rabid_Pigeon
B1ERTR1NKER
beastfin
beast__
beau350
Benjames82
bertito444
BigGreenDragon
Big_Boss_001
BIG_STRONG_NIKO
bikinisntchmnstr
BJN01
BlackCore1
Blais1
Buzzcat31X
Camoufrage
camtgj
CanadianChris16
captaincabbage
CarbineNeutral
carlettobianco92
Ca___Fe
cerealkyller
Chalkie010397
Charmstrong420
chewbacon
ChezTommy
Chikenmason
ChiselTip
Chriis-B4dr3
ChristopherBoom
chubbylv1
CircusRock
CiTARO39
clem108
ColdQueenB76
ConnorB91
conor8188
conorSuper
CoolOU812
cool_alex10
coopergang
coorsbright
coquitonyko
coresbright
CP9003
Crash_Deluxe
CriminalDarkstar
CSIXTY
D.E.LB.
DaFrenk_NL
DarkeJD
davidomke
DeathStar671
demon_spawnsmart
DEREK1072
devilish47
dianeselwyn
DippyDog505
DJA747
domecq
Don_Harribo
DrivingRain
DrZywiecStone
Dymentia
eddyboy123
Edstar2409
EghoPT
Ehv-legend
EHV-NieuwGestel
EllieRockstar
El_Kruso
emmi18176860
emzidarling100
enakHiser
EraY16
etytgarcia4
evsik
ExpertGunslinger
Fantastic_Mr_Cat
Fatbalding
ferguson99
fester1066
FIGHTMAN02
finmaster
firidoo
Flashbolt48
fouzy98
Fox-Eyes
frikisdespain22
fuzion17c
g1ngernutz
Galacktamas
GearHawkAccel
Gege42
Genesicity
Genialflunky4
GermanScientist
gloober12
Glycerin_NL
GM-Shenmue
gman33
God2903
GoldPaperClip_41
GrandMasterH
green22435
greg_022306
Greystoker
grez2010
GrooveBmore
GTAHub
GTAIV_King
gtamaster503
guitarherobonham
gumpy4life358
Guy_BAD
Hakuboshi
HampusTheLampus
HardTail67
HawtBod
HeavensReaper
HSaints
Husaria
I-Dont-Reload
iFaNTaSy45
IIIIISHAZAMIIIII
ILikeVideo-Games
Imkillr
IMMRBEEFY
Infamous20
iRotten_13
iSinock
ITANI1
itsJose
iTz-RamboZz
ItZBl4ck0utZ
j8semi8seat
JamesNyte
JamPony93
Jarskah
jasonlambert
jassoX3
jbman13
JDAUDA12
JDOGG_79
jeffmb26
Jiggy4435
Jimi_Jackpot
jk12324
Joeenu
JoePyler
johnmarston2011
johnnyblazeny
Jojooooo42
joltfreek
jonah99marshal
jool777
jorgwkp
Joris42
Jullbert
KameSense
kefka17
kevingonzalez22
KICK_ASS_500
kilergta4
KillerEagle77
Kingpinn187
KlArOs
koekpoep
Konvict-12
krlossa
Kwanita-Midakoda
LacThunder1
LAgamer4life
LatinWeed
le_rajini
Liberty_King
LiL-A-King1
LIL_DIABLO_TOL
liL_FAMOUS_BOY
Livtec7
Loco-Giganoto
lolo123intx
LongArmedDevil
loowjo
lord-henk
Lord_Loren94
louis1993
LoveMuffin
LuigiWood
lump420
m-tommy-t
maclad11
macmardigan99
MadeInBrazil__
Mafia_ThugLife_1
MagnomPI
Makruu
mandudoguyo
Mariuskon
Marney-1
Marston_Bellic
Mateus3355
Maverick_Fan_1
maxseth
maxubj
McKillahh95
MCKing
MELODICA
Meromann
METALLICACorn
MetalMan13
mexicanrobot001
mighty1_333
mikellyoung
MISSISSlPPI
mkernan
MLDCAproductions
MlSSISSlPPI
MMOPlug
MoBN428
Mogar54
mokeyman22
MrRager90
MrRockStar365
Mr_Rager90
Munkyx30
MuRpHy283
muthinator13
myltik777
N9ne0sBaby
napster1108989
nickdandave
nickkostas
nikobelic2500000
NiNjA_SkiLLaZ
nniksun
noahzm
nogutsnoglory13
noodiej
Nuttymike
nytnx1
oFuZioNx
oi_chb
oliingvi
olliepolo
onegodofpsp1
OrIGInalPyRO
paidrotheman
painterkilla
pepe11n
persht
Peru2600
phattyB
plgrockstar
predator4536
Predatorxx24
primocoder
ps3killa
ptracey
QueenB---
Quimera_PT
Radicalscarface
Rafioso
raphyhz21
ratedrkostar
Rboy12h
RDL_Gbonne
red7ine
RedDeadLover
red_cat
ReeferMad
Reidbynature
reisahaken
respect8711
Retro-Spector
RiseUp44
RJamesDMR
rlw9994
rmignacio
Rock1m1
Rollaw
Rootless-Bwoy
RosZzo
RubberFruit101
Russronning

Rustyparker13
Salvuz_44
sarafrechy
SAV-UK
sb12kid
scareface1970
Sentasi
SFX6669
Shawdyy
shne1
sindii
skullvankrush
SLECED_32
SmokeyIII
SnoopThaGreat
SonsofNorway
Spade305
spencer2009
Spinalcrack
steamd_40
StivGTA
Stizzle1778
stoplesses
STR8FUBAR
strackDragon
StripeyTheClown
superfeuer
SweatyDominican
T-Rev23
t1Grizzly
Table123
Techno769
TenatiousS
TheCloven
theprolfiser
therealsituation
therealtreefitty
theusagamer
TheWiggy
The_Hitman
The_Irish_Killa
THE_MUFFIN_MAN16
The_Tau
tiff92
TinySals
Titovera
Tomahawk20
TomBlfc8
Tommy-Vercety
TommyGarcia
toneter
toniolevrai
treedee71
trehjulsykkel
Trickfist98
TwoEyedGunner
TylerTime26
T_N_ID
Uchiha-Renan
ufukdeniz
UltraTwitch
Undertaker_HBK18
utopianacht
veganrichy
Very-Ape-
VikramT
vince_123
vince_42069
Vin-Vin-1
VivianoXP
Warrior-Geronimo
Wass04
WaterGod469
waterguy469
wayne2314
wazzupdude891
weskerlives1
WindyCityRockr
WJT1804
WolfRogers
Wormwood_GC
wxpatchworkwx
X-Zibit
XAL96E_RS
xAldawg95x
xEmm28
XeOn_24
xkingMclovin
XPLAYERLG
XTaRaSX
XxCheeriosxX
xXdjbatteryXx
xXJOHNMARSTONXx4
xxsliceandicexx
yasser_130642
yingerman
YumKaax
ZaneWilkinson
ZelmoG
ZeroNuclear
zombialpha1
ztro10
And again, the first event on the brand new July-September Social Club multiplayer events calendar is later today from 5-8PM Eastern for Grand Theft Auto IV: Complete Edition on Xbox LIVE. Gamertags and details here.
And be sure to check out our Facebook and Twitter pages for even more chances to play with Rockstar, and to get the word when we're turning on Triple XP for Red Dead Redemption. Also see the sidebar to the right with our Twitter feed...
Previously:
Recap & Screens from Red Dead Redemption & Undead Nightmare Social Club Multiplayer Event on Xbox LIVE (May 6)
Recap & Screens from Red Dead Redemption & Undead Nightmare Social Club Multiplayer Event on Xbox LIVE (April 15)
Recap & Screens from March Red Dead Redemption: Undead Nightmare & Grand Theft Auto IV: Complete Edition Social Club Multiplayer Events