Announcing the Official Social Club Multiplayer Events Series Calendar for July - September 2011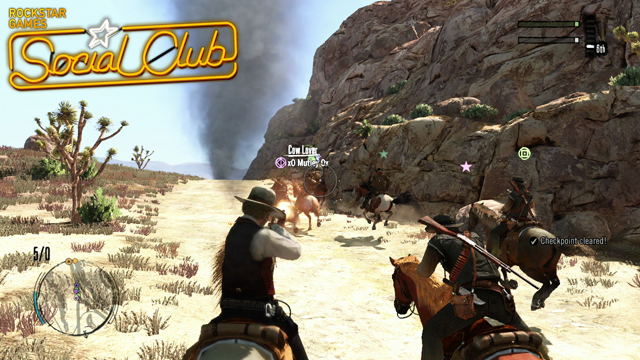 Time to unveil the lineup of official Rockstar Games multiplayer playsessions for summer 2011. The brand new calendar of events in the Social Club Multiplayer Events Series will take us through the month of September, with action in Red Dead Redemption, Undead Nightmare, Grand Theft Auto IV and Episodes from Liberty City.
These events are your chance to get in on a round or two of multiplayer with Rockstar Games, allowing you to chat, shoot, race and ride your way with us through Liberty City and across the western frontier. It's your opportunity to show your skills to the creators of the game, and to see if you have what it takes to take us on. And if you just so happen to be lucky enough to have the opportunity to be our Boss in Cops n' Crooks, trust us... we've got your back.

The official Social Club Multiplayer Events page at www.rockstargames.com/socialclub/multiplayer is the place to be during each of the dates of times listed below. There you can:
Play with and against members of Rockstar Games, including some of the folks who helped create the games themselves
Watch the live video stream of the event at the official Events page
Join the live chat to talk trash while you play or just join in the discussion of the action as it unfolds
Enter event sweepstakes at the Events page (entry period is only during event hours) for a chance to win prize packs of limited-edition t-shirts, stickers and sometimes even limited edition controllers
And now, the calendar...
Thursday, July 7 (5-8PM Eastern)
Grand Theft Auto IV: Complete Edition
For Xbox 360 on Xbox LIVE
Our last console GTA throwdown session from the previous calendar was held on PSN, so this time, Xbox LIVE has dibs. We'll be sure to play in modes across the original GTAIV multiplayer experience as well as both The Lost and Damned and The Ballad of Gay Tony.
Friday, July 22 (4-7PM Eastern)
Red Dead Redemption & Undead Nightmare
For PlayStation 3 on PSN
Come prepared for Triple XP and an afternoon of racing and gunslinging. We may even get into some Liar's Dice. In the past we've had the pleasure of having a goat peering in through the window to spectate on the action. No promises though.

Thursday, August 4 (5-8PM Eastern)
Red Dead Redemption & Undead Nightmare
For Xbox 360 on Xbox LIVE
Xbox LIVE's first turn for Red Dead in the new calendar. Ready those headsets and let's get some Undead Overrun going. Look for a special giveaway in this one...
Friday, August 26 (4-7PM Eastern)
Red Dead Redemption & Undead Nightmare
For PlayStation 3 on PSN
Back to PSN for some Land Grab and Horse Racing Grand Prix. Should be a good time in the chat and on the stream.
Friday, September 9 (4-7PM Eastern)
Grand Theft Auto IV & Episodes from Liberty City
For PC on Games for Windows LIVE
32 players racing, basejumping, shooting and Buzzard'ing...all with glorious high resolution graphics. PC gamers, on your marks...
Friday, September 23 (4-7PM Eastern)
Red Dead Redemption & Undead Nightmare
For Xbox 360 on Xbox LIVE
Triple XP yet again for Red Dead. Come ready for a taste of all of the modes across the complete Red Dead experience.
So mark your calendars, boys and girls. Gamertags, IDs and other details will be posted on the Rockstar Newswire a day or so before each event begins.
And remember that we're on much more often than the dates listed above. We like to get online and play our games at a moments notice, and we're always sure to let you guys know on both our Twitter and/or Facebook pages (as well as the Twitter sidebar on our network of sites). Be sure to follow. Triple XP sessions for Red Dead Redemption will continue as the summer rolls on. We'll see you online...
Previously:
GTA IV Social Club Multiplayer Event Details and Recap of our 5/25 GTA IV & 5/26 RDR PSN Events
Recap & Screens from Red Dead Redemption & Undead Nightmare Social Club Multiplayer Event on Xbox LIVE (May 6)
Recap & Screens from Red Dead Redemption & Undead Nightmare Social Club Multiplayer Event on Xbox LIVE (April 15)