Recap & Screens: Grand Theft Auto IV & Episodes from Liberty City PC Social Club Multiplayer Event on Games for Windows Live (June 10)
Thanks to all of you that joined us on Friday June 10th for an afternoon of multiplayer in Grand Theft Auto IV & Episodes from Liberty City on PC, the latest in the Social Club Multiplayer Events Series.
Be sure to mark your calendar for our next event when we'll be playing some Red Dead Redemption & Undead Nightmare on PSN this coming Friday June 24th from 4-7PM Eastern. IDs and details to be posted later this week.
And now for screens of some of the most memorable moments from the GTA event...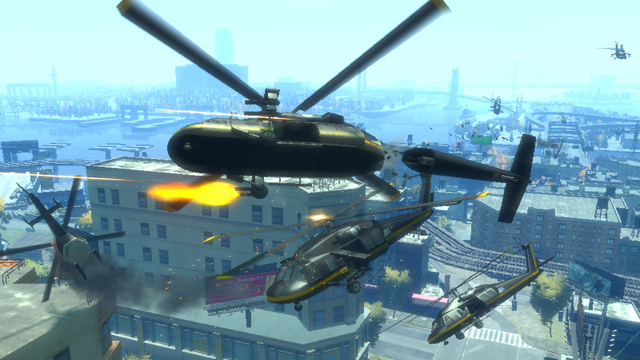 Early in the afternoon we started an aerial race over Liberty City. GwRockstar1 sliced through hodrimeydan41's tail, causing the Annihilator to fall to the ground...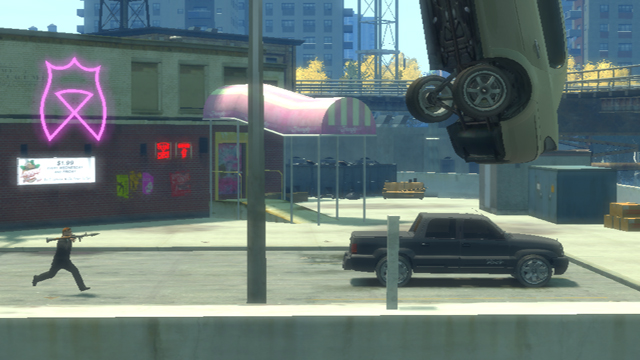 A moment frozen in time. GwRockstar1 (left) runs by The Triangle Club as SpareKirill (top right) flies through the air in a car after speeding up a nearby staircase. An easy target for the Rockstar once the vehicle crash landed seconds later.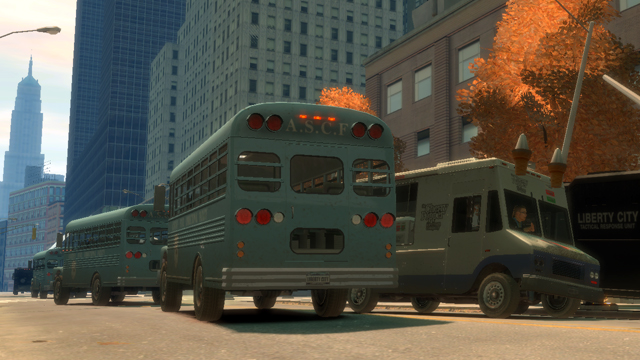 MagistrDNG (right) got turned around in a Mr. Tasty during a few laps in Races mode in The Lost and Damned. We played several tracks including In The Bricks, A Bohan Scramble and Down By The River. Grats to RomanBOY123, Maverickgerman and IWIDeadPool on 1st place finishes during the event.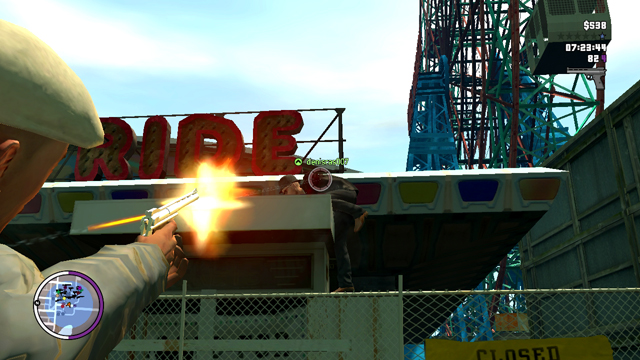 GwRockstar1 spots denisras007 climbing for higher ground next to the Liberty Eye during a round of Deathmatch in Funland in The Ballad of Gay Tony.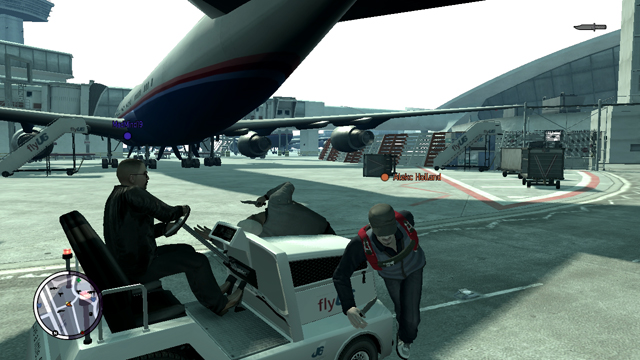 Alekc Holland and GwRockstar1 were having a lovely afternoon knife fight until Madmind19 came along in an Airtug.
176hearthacker
afrochinese
Alekc323bmw
Alekc Holland
andrespark
antondva007
AntoPrivat
appie-NL-
ARabidPigeon
Atari_Elite
B-R4BB1T
b3rk3LIVE
BaranJ
beastfin
beast__
benjamin.ch
BerkeLIVE
BigDaddi
BigGreenDragon
bigtims
BIG_STRONG_NIKO
Blais1
blakhunter77
BoTy quattro
bowser_plus
brent1478
Brimace
Bugra1922
By Niko Berkay
Captain-Rasta
Cartman zombie
Cellisc
chicagofarker
chipdaddy1000
choice41
Chromath
clem108
CondeMafias
CorneLumiere3
CoyoteAbdel
Crimsader
CyberAce
Cybersody
DaFrenk_NL
dan-spam
DarkGunsHBK
DavedCoverdale
DeadlyTarget
Demodulator54RU
denisiscena
denisras007
Deniz777
DesiBOY1
Despie03
Di5turb3d_One
DiCry773
diegorekun
DJ Bia
dj_lukatti
dorito_diablo
DoSia rus
duk14leon
ElementalBliss
Eminem Owns You
eRkistreetLive
fan_GTA
FastDimka1
Fealty90
fernandocax
Ficho Gamestyle
Firstypro
FlashGTA10
Fordfx2
forty4420
forum_fan
FourscoreNoob
FoxKing187
FR_Little
FuzzyBigVito
Gamerzworld
GEEKD UP SQUAD
Genialflunky4
GM-Shenmue
gman33
gmrulz
GoodCrazy
GrandComet
Grimmy423
grzechu96
GtaHotshot
GTAHub
gtamaniac90blunt
GVRafioso
HampusTheLampus
HappyHumanLucky
HarshFire
hect000ur
Hitman1914
hodrimeydan41
hsg cad kid
Huner387k
Husaria
I-Dont-Reload
ibrahimo07
ILikeVideo-Games
ImReact
IpekBellic
I sell beers
ISI_Thuga
IWIDeadPool
IWIHooligan
J.Griff
j2mm_EST
Japi534
Jarvinatour
JaTubr
JayGunzIsKing
Jayshum
JBreeny
JDAUDA12
jdrhoades41
Jeff_McRae
Joeenu
joelrd
JohnJV
johnmarston2011
John_TheIrishman
Joker-64
jonnhny41
khaosdakid86
KidFromBroker
killerofgta
kingbabur
KosmicGreenman

krissu10
--L2--
lawless187
Leshawnkiid
Lethaxx
Levitano2150
Liberty_King
Lickedy
LIL_DIABLO_TOL
lipe2003
LivedboY
LivingDragracer
Loberine
LordPlatinum
louis1993
M2S R33nismo
MAD42O
MadMind19
Mafi3a
MAFIA_SANDHU
MarkieeAi
Marston-
matty256
Maverickgerman
MC_Seeker
Mert4ever
mindless12345678
Morukk
MOUNIR75
Muzzledwolf
n.hawk
N1Zabawa
Newgen18
NikoBelic9221
nikolaibellicov
nikossoul
NTPaul
ogmikey66104
ogthugN1
OrangeWaerter43
Outersham
OverTheUnder93
OwNeDmAnXD
patch173
paulibpn
PeculiarOrc4
penguinsfrommars
PihtoDed
Pilote GIS
PoloDave
prazique
ProGamerArun90
protracer2009
PunkyV
Quickkiller775
R4Y2K
R33nismo
Rafioso
Randomepro1
rapidiment2009
RChristopher
Realblue1
Reidbynature
Retana
RGC HeKuT
RGC Pegorin0
Rickith

Riggo68
Rockboy58
RockstarWatch
RodrigoxGTA
RogueRhino
Rollaw
RomanBOY123
Royner
RS_NYC_20
rube25
sahtebeyaz
samflyy
SARDYNA16
SAV-UK
Savnhga
scareface1970
Scoonie
seemlyfranco307
Shorty187
Signus16
Skywors
slddd_
slickmaster
SoleSoldier87
SombreHorse87
Sonic__
SpareKirill
spiderman4563214
stasieks
StivGTA
Strike951
Studios5107
StuntR Gtubez
SunDevilMike
supemax402
Swishalol
Syoudous
s_kettavan
Taxidriver555
TBOD Maestro
Tee_M_Cee
Teozac
TG_Rocco
The4ourTy67
TheCloven
TheOriginalPimp
TheTaxidriver555
TheViper823
tokiemre05
T_ice17
UnquietSet2002
utopianacht
VB Project
VeiledBasher6
vince_42069
vitoRRo
volcombrandon
WavedPc
WingMega
WolfRogers
WoWizard
WSWEss
xhado1
ym17 2365
Yupanqui
Zain_killer
Ziggernuts
Again thanks to everyone that joined us last week. Hope to see everyone this Friday June 24th from 4-7PM Eastern for an evening of Red Dead Redemption & Undead Nightmare on PSN.
And be sure to follow us on our Facebook and Twitter pages, as well as the Twitter sidebar you see on the right side of this page and several others on our network. We often announce there that we're getting on and playing our games, and that includes Triple XP for Red Dead.
Previously:
GTA IV Social Club Multiplayer Event Details and Recap of our 5/25 GTA IV & 5/26 RDR PSN Events
Recap & Screens from Red Dead Redemption & Undead Nightmare Social Club Multiplayer Event on Xbox LIVE (May 6)
Recap & Screens from Red Dead Redemption & Undead Nightmare Social Club Multiplayer Event on Xbox LIVE (April 15)