Reminder: Today, June 19th - Rockstar Presents the 38th Annual Harlem Skyscraper Cycling Classic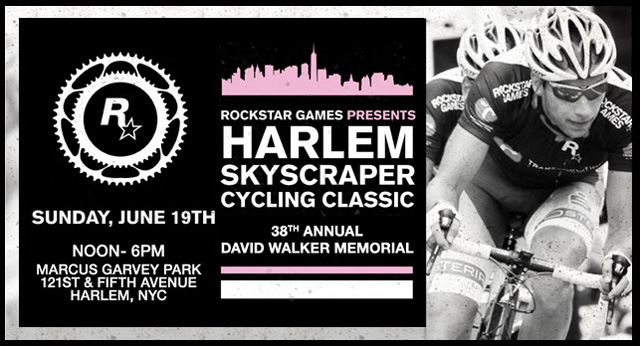 Update: The events have ended. Thanks to everyone that checked out the cycling classic today in NYC, and to those that watched the video stream.
Today, we invite everybody in the NYC area to celebrate Father's Day at the 38th annual Harlem Skyscraper Cycling Classic at Marcus Garvey Park, in Harlem (121st Street and Fifth Ave). A true celebration of all things cycling, the Skyscraper Classic features world-class professional cyclists like Franco Marvulli, Christian Grasmann and Leif Lampater competing in head-to-head racing action plus kids races, men's and women's amateur races, BMX stunt performances, family activities and more beginning at 12:00 p.m. [ET].
For a full breakdown of the day's events, visit our Skyscraper Classic event page at www.rockstargames.com/skyscraperclassic.

For all those not in the NYC area, you can still catch some of the action live - just like last year we'll be live streaming the Elite Men's Professionals main event as it happens, beginning at 4:00 p.m. New York City residents can also watch the broadcast on NYC Live TV, Channel 25. Watch the stream at www.rockstargames.com/skyscraperclassic or right here below.

Previously:
Watch the Trailer for the 38th Annual Harlem Skyscraper Cycling Classic
The 38th Annual Harlem Skyscraper Cycling Classic - Check Out Updated Schedule of Events & Webcast Info
Rockstar Games Presents the 38th Annual Harlem Skyscraper Cycling Classic