GTA IV Social Club Multiplayer Event Details and Recap of our 5/25 GTA IV & 5/26 RDR PSN Events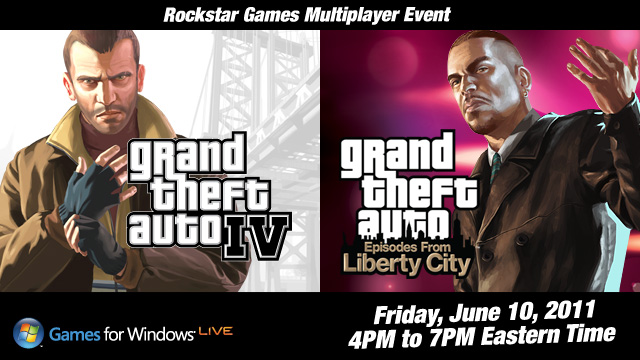 Update: The event has ended. Thanks to everyone that joined in. The next one is for Red Dead Redemption & Undead Nightmare on PSN on June 24th from 4-7PM Eastern. Details coming soon...
It's time for 32 player action on June 10th when we'll be playing Grand Theft Auto IV and Episodes from Liberty City on Games for Windows Live from 4-7PM Eastern, part of the official Social Club Multiplayer Events Series.
This is your chance to play race and fight your way around Liberty City with Rockstar and have the chance to win some prizes in the sweepstakes along the way. Plan is to start things out in Grand Theft Auto IV with some racing and gunplay, and later move on to both The Lost and Damned and The Ballad of Gay Tony.
We'll soon be announcing the events calendar that will take us through the end of September, so keep your eyes open for that. Read below for all of the details on how to find us in-game, followed by a brief recap of the PSN events from May 25th and 26th.
OFFICIAL ROCKSTAR GAMERTAGS
GwRockstar1
GwRockstar2
GwRockstar3
GwRockstar4
HOW TO FIND US
Everything begins in GTA Race in Grand Theft Auto IV. It's optional but always good to get a Grand Theft Auto party going in Party Mode with some friends. Once you're ready and the event has begun, start up GTA Race. Rockstar players will be scattered through a number of different lobbies to allow for the maximum amount of people to play on each day.
As always, stay up to date on which modes we're in during the event by following the chat on the Social Club Multiplayer Event page.
SPECTATE AND CHAT
Can't reach a gaming PC during our play time? You can still follow everything at the Social Club Multiplayer Event page with the live streaming broadcast. We'll also have the chat box running during the event for those that want to discuss the action with fellow fans.

NEED A PARTNER?
Hit up the chat box during the event or plan ahead and coordinate your party by posting your Gamertag in the Comments section below.
ABOUT PARTY MODE
Party Mode is an easy way to get your group together and find matches. Here are the 3 quick and easy steps to get you up and running:
To get started, fire up the in-game mobile phone by pressing "Up" on the D-pad. Navigate to Party Mode.
From here, open up your phone again and select the Friends option to invite your friends (you need at least one more friend to play with Rockstar).
Once your team is ready to roll and the event has begun, open up the in-game phone again and select GTA Race.
RECAP FROM MAY 25TH & 26TH PSN EVENTS
Thanks to everyone that joined us in-game and on the multiplayer events page on May 25th and 26th for some Grand Theft Auto IV: Complete Edition followed by an afternoon of Red Dead Redemption & Undead Nightmare. Read on for a brief recap...
In the first event, MCDrank showed some skills in Deathmatch on the streets of Bohan, knocking down HarryzPS, ohgreatmove and zellraiden within a 10 second span - all thanks to cover behind a corner. 1 death, 11 kills and $1,183 were the final stats for MCDrank, coming in first.
A bit later on in GTA Race, zellraiden placed first in Horse Punch, the track around Middle Park in Algonquin. Second place went to Tommy-Vercety and third to MCDrank.
In Red Dead during event numero dos, Horse Racing Grand Prix in the Rathskeller Series got things started on the right foot. GTempletoni took home top honors, ranking first with 24 points out of 30 possible. Toolshed79 and Scareface1970 came in second and third, respectively.
And lastly, in one of a few Undead Overrun rounds from the day, vince_123, Tommy-Vercety, Scareface1970 and RedDeadDev3 managed to make it through a number of the marauding zombie hordes. Top player of the round was vince_123, scoring nearly 20,000. Props go out to Tommy-Vercety and Scareface1970 who combined for 7 revives. Teamwork(+Dead Eye) = necessity.
Check out a list of participants from the two events below, and be sure to let us know if we mistakenly left someone out:
34gum34
108GrandTheftAut
180Clay
236killercody
700mb700
910notorious
1800-Tequila
a700mb700
abcputt
afrochinese
Agent_Bauer2424
Agent_of_Anarchy
Aguavital
AlaskaPollock
AlexKingXx
alppu2
alwyn_aby
amattski
Ambune
AndyGanteks
anglefireheart
angryvegetarian
AppleDot
Arska480
asbgigio
Ash7269
AstroZombie9
ati_kiraly
baal69k
Batman5273
bawoo94
Baztian
beast__
BennoBlue
Benr83
Berra_86
bgkalin
BIGBADBULLY666
BIG_STRONG_NIKO
BirthBS
BJN01
BlackEntForest
BlackMagic2008
Blackperl16
Blais1
bloodyse7en
Blueburt97
BobGoody
Bonaef
bowshock89
Brad-Rock
BratvaEburg
BriCro
british_goon
Brodingo
Bryan44000
buccaniers
bushisprez
Captain-Rasta
CarbineNeutral
carlex1
cathy2k11
cerealkyller
chacha1226
Chairman-Meowz
Chardd
Chariclea
ChezTommy
chicagofarker
chunkybudd
CircusRock
Cire55x
CiTARO39
clement_1995
club_99
club_bmw_2010
ConnorB91
conor8188
conorSuper
CP9003
craig_1989
Crash_Deluxe
Cybersody
CzarnyIV
D-I-9-9-Y-MU-FC
D3XT3R-M0R64N
D4RK_CaNeR
DA-O-N-PRO
Daffodil-22
Daimakku
dan-spam
darkshadow150
darkstar875
davidbell30
DavidCT96
Davideb87
Dazzler442
dda1996a
DDavidian
DDJ7777
DeathStreak_UK
dec134
DesertBum
Destrois
diegito17
DigitalJester
disturbance187
DJALEC0
djKCMJ
djoz19
DoctorPeace
Doctor_Doak
Doghouse5467
Donpeyote
DONTMEZZTOTHE
Doublethink
DrGonzoPhd
driverjackboy
DSanta
Durstiger-Mann
Dustin6595
dylanmyster10
dylanrivers
Edstar2409
eisenhaua
EkKoZ-
eldrgod1
ElectrikHed
ElJuante7
emmi18176860
Endysintiago
etkachuk
Evsanik
F-2341803
fateddiva
FearsThumbs
fisheryup
flipmowd
fliptyler
Floppay
fluffy-rabbid
Folgore8
FugetSudo_Jr
Funkworkz
FunkyGruffalo
futureChris101
fuzion17c
FuzzyBigVito
gam3fr3ak93
Gamer_4_Ever
GAMER_OF_THE_YEA
GarfieldLouis
Garlicbread316
Genesicity
GermanScientist
GM-Shenmue
gman33
gondzo
Grim_Reaper_369
gtagalaxy
GTAHub
gtr_jonathan
guillertronico
HampusTheLampus
HANIBAL1000457
Harmonix_001
harrywells
HarryzPS
Harryzrs
Haxim_
HeavenDancer1007
hect000ur
Heftyardvarrk
Henning92
Henrique_bar
HenroidAssassin
Hicks001
HighspeedTroll
Hindsight1973
HINFANFOREVER
honest_joe
hoodbk
Hugearse
Husaria
ICECUBEWC
idiotlewis
IIIIISHAZAMIIIII
Iksolver
ILikeVideo-Games
Infinate_Freedom
InsectOverlords
Irish-Ranger-96
irockjayz
iRotten_13
isawasharkbirth
ItaSoL
J.Ortiz13
JackBrowniie

jackzbrownz54321
jake-r15
jakebg
jake_r15
Jamieadam007
JaredTheJoker
JasperKazai
JAssassin5
jeffmb26
Jeff_McRae
jeisonmateo
jenfresita
JoePyler
Joey235
johknee
john33_3526
JOHNNY4TRAIN
Johnny_Rango
Johnn_McQuade
jojo-XCII
jonathan62138
jonjonnc
Jonttutan
joryyo
JRGWRX
JTrocks9
juankfx
Justin7811
KAZUMA2035
keingerede
Kelvinshahwe
kengami23
Kerim12345
KgB_Lil_Roche
kilbo__
Killazz45
killerbeast415
killlinyou78
kingkaz
kingofdeath99
kingofdeath7702
KLae96
kool-man
koolmot
L.A.Noire-FR
LatanzaMientoH
LedTriv
Leigh36295
LENAMENDOZA
lexick
LiamRenn
LiL-A-King1
Lil_Master
linux731
Loco-Giganoto
LordPlatinum
louis1993
luizof
lump420
LVCASINOMAFIA
MAD42O
madderTaMsKi
Mannion1988
manzaH
Marcos-CARP
Markymark555
Marney-1
Martin_Brody
Matizzz
MatthewRex
matty256
Matt_2113
Maulid
maurojessi
MCCOOL82
MCDrank
MCKing
Meepy-
meg_the_egg
meltron69
menacejr
mestreTiago
MexicasianBureau
moebbs
Mogar54
Monkeymo13
morning_orbit
morzsafateruk
Mossypne
Moustachedu95
MrDiegol
mrmoose345
mr_yogi_bear
MsergueiJ
mSyoudous
mtommytwo2
MultiChecker05
n1zmo0
N9ne0sBaby

Nach1n
nashizzle37
Nathan9286
Natk0n
naxo_1584
Neto604
nickdandave
nightmare-28days
NIKITAmj
NikoCop
Nishimano
Nismomuch
njfresh1
North_3nd_Savge
Not_Yet_Rated
O-TownKiller
ohgreatmove
Opazo
ozcar81
p00pyface
P00zilla
parapetti
paulliewallnuts
pensacola_sniper
philipodmario
pieterheurter
piny97
Pistol_Paul
PlatinumXtreme
Poison-Preed
PopeHomelessXIII
ProShoots
ps3killa
purelyhypnotic
QUADRAFORCE
R0ckstarNetwork
r3mox89
Rafioso
RamerizMarine
Rated_RKO16
Ray2795
RayTonz
Rayyyh
ReadDeadfan12349
redeyecult
REDWINGS_FAN_19
renegaum
Retana
revSHIPWRECK
rexyrex
Rezolx
RGC_HeKuT
ribon11
RichyAndJess
Ricky43
rimolaus
RLW-1994
RobParklander
RogueRhino
Rollaw
rookie371
RS_NYC_ALIMC
Rthreetwenyone
RundownInWar
Rykin122
R_Kaim
S-5107
Sanch-Wavy
sarafrechy
Sato2099
SAV-UK
Savnhga
scareface1970
Scene_90
Scoolbidoo
Scoonie
SCOTT-OREO
seamonkey92
sebas64122
Segafs
sephcron
Sgt_Ghost_BR
Shin_low
ShockTrooper
shotter26
Shynkai
shytoonmim
Sik0503
sim-bmx
Slow2Life
SluSlu
smackdvraw
sofix_91
Sohunter
Soren_92
sourdzo420
SovietMidget
stasieks
stevenlgraham

stix10
StReEt-TrOoP
strikkebil
Studios5107
stuntman666
SweatyDominican
Syoudous
T-K47x
T3RROR_SQUAD-01
tadeoyes
tarro01
TBreezy
Techno769
tek55ae86
thebellicsGore
TheCloven
theJJman
therealtreefitty
TheRemco
-TheTruth-
TheUSA_American
THEWILDTURKEY
The_Diablo_436
The_Hitman
THE_MUFFIN_MAN16
thnx4the_ether
tiago_costa
tiff92
tmoyniha
TOC_Ghost
Tommy-Vercety
toolshed79
tor12_2
tr1ku25
Tracer_Neo
Trickfist98
trilakers
TrippyChick89
true_outlaw
Tuta23
tweakmen
TwitchingDead
TylerTime26
Ubiquitous
Uchiha-Renan
Ufm-Campbell
Ufn-Tice
ugurluck
ultimakillz
ultravat
unfabio
unrealman42
usmcwife13
utopianacht
vampirekris11
vaniduva
veganrichy
Vexorify
VikramT
Vin-Vin-1
vince_42069
viperx619
viskaz
vix9er
voetbalbuddy
volcombrandon
WallyBuddz
Wall_dac
waxkiller05
will1010
WolfRogers
wotta01
x-magus
x1xThomasx1x
x5_RoUnDs_LeFTx
xavieret_A
XeOn_24
XhuTz-
xIIThomasCIIx
Xx-hilaly20-xX
Xx-Vinny-Killer
xXBeto23Xx
xXkhalil0xX
xxNuM_NuMsxx
xXvConorvXx
yadekul
yingerman
yosnel79
yungdew
YungStar145
ZebraDasilva
zeeshan810_gta
zellraiden
zimbolino87
zLinks
Previously:
Recap & Screens from Red Dead Redemption & Undead Nightmare Social Club Multiplayer Event on Xbox LIVE (May 6)
Recap & Screens from Red Dead Redemption & Undead Nightmare Social Club Multiplayer Event on Xbox LIVE (April 15)
Recap & Screens from March Red Dead Redemption: Undead Nightmare & Grand Theft Auto IV: Complete Edition Social Club Multiplayer Events